New VW e-up! and sister models get three-star Euro NCAP score
Second-generation e-up! gets only three out of five stars in Euro NCAP crash-testing, with rating also applying to electric Mii and Citigo
The second-generation Volkswagen e-up! and its sister models the SEAT Mii electric and Skoda Citigoᵉ iV have had their Euro NCAP crash-test score reduced from five to three stars in the latest round of evaluations.
The downgrade comes as a result of the cars lacking automatic emergency braking (AEB), even as an option. This system is becoming increasingly common on new cars; it detects obstacles up ahead an applies the brakes automatically if the driver doesn't respond, in order to avoid or reduce the severity of a crash.
Its absence resulted in a 55% rating for the e-up! in Euro NCAP's 'safety assist' category – a significant reduction from the 86% it scored under the 2013 testing criteria shortly after it was introduced as a petrol-engined model.
The second-generation e-up! debuted at the 2019 Frankfurt Motor Show. It delivers a 162-mile range courtesy of increased the battery capacity (from 18.7 to 32.3kWh). It can also be charged to 80% battery capacity in 60 minutes when plugged into a 40kW DC fast charger.
Volkswagen has also dropped the price for its electric city car in Germany. UK prices haven't been announced yet, but in its home market it starts at €21,975 before government subsidies. We expect it to start at around £23,000 in the UK (or around £20,000 after the plug-in car grant).
First deliveries of the new e-up! are expected in the UK from spring 2020. The 82bhp electric motor from the previous e-up! has been carried over, but acceleration has been marginally improved, with 0-62mph now half a second quicker at 11.9 seconds. Top speed is 81mph.
Volkswagen claims it's able to sell this e-up! for less than before due to the economies of scale of producing high numbers of electric cars. In 2020, its ID:3 hatchback will go on sale, followed by a raft of pure electric cars including SUV and Polo-sized models by 2023.
Standard equipment for the new e-up! will include automatic air-conditioning, a docking station for your smartphone, allowing it to handle navigation, media, radio and displays for battery state and range.
There's also DAB radio, Bluetooth and a lane-departure warning system.  A higher-spec e-up! Style model will offer more features and personalisation options.
We've had a ride in the new electric MG Cyberster and it's NOT what we first thought…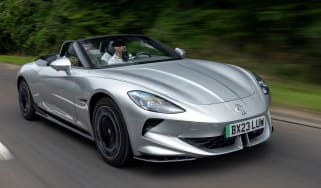 We've had a ride in the new electric MG Cyberster and it's NOT what we first thought…
The MG Cyberster is due to go on sale next year with up to 536bhp and scissor doors – and we've already had a ride in it
Has the UK given up on EVs? New government 'Plan for Drivers' says no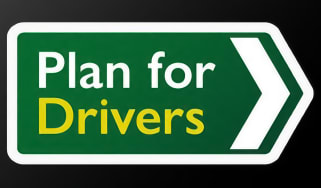 Has the UK given up on EVs? New government 'Plan for Drivers' says no
UK government has announced a new 30-point manifesto which, in part, focuses on electrifying Britain's roads