Volkswagen Arteon eHybrid: price, specifications and on-sale date
Volkswagen's executive four-door coupe gets plug-in hybrid power and Shooting Brake bodystyle with its latest update; prices have now been revealed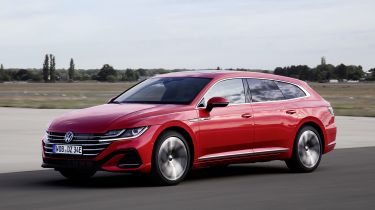 The new Volkswagen Arteon eHybrid is finally here: the four-door coupe is getting a version with plug-in hybrid technology for the first time, along with the option of a new Shooting Brake estate. Prices have been confirmed: the facelifted Arteon with plug-in power costs from around £40,000.
The range of trim levels is small for now, as there are only two options: the £39,905 Elegance or the £40,685 R-Line, the latter of which has a sportier image. The former comes with adaptive cruise control, climate control, digital dials, LED headlights and an eight-inch infotainment screen with Apple CarPlay and Android Auto as standard.
This model also comes with 18-inch alloys, keyless entry and a rear-view camera as standard. R-Line adds 19-inch alloy wheels, different exhaust tips, a sporty body kit and the Shooting Brake version gets a panoramic sunroof.
Shooting Brake is a term previously used for three-door estate cars but the Arteon Shooting Brake has five doors, so it's more like a sleek estate. It costs £40,705 and £41,485 for the Elegance and R-Line trims respectively.
New Volkswagen Arteon hybrid engine and battery
The plug-in hybrid system in the Arteon eHybrid consists of a 1.4-litre turbocharged petrol engine paired with an electric motor and fed by a 12.7kW battery. An all-electric range of 34 miles is quoted, along with a total power output of 215bhp. Power goes to the front wheels via a seven-speed DSG automatic gearbox. This is more or less the same plug-in hybrid drivetrain as found in the car's Volkswagen Passat GTE sister model.
It will take five hours to charge the battery with a three-pin plug, or three and a half hours on a home wallbox. The system will always start in pure-electric E-Mode, with the option to switch to a configurable hybrid mode that can prioritise performance, economy or be instructed to hold onto the battery's charge until needed for an urban crawl. The set-up allows a 0-62mph time of 7.8 seconds and it can travel at up to 138mph, or 80mph in electric-only mode.
Styling changes to the four-door coupe bodystyle are minimal: new LED headlights, a revised grille and some new bumpers and rear lights are about the sum of the updates, along with a choice of new alloy wheels measuring 18 to 20 inches depending on trim level.
The Shooting Brake estate, however, is all-new from the middle of the car backwards: its new roofline allows more space in the back for both passengers and luggage. The Shooting Brake gets 565 litres of storage versus the 563 in the standard car, while rear-seat passengers enjoy 48mm more headroom. Even front-seat passengers benefit from more headroom, with some 11mm extra over the more rakish coupe.
The revised Arteon gets a huge range of active safety and driver-assistance features, either as standard or optionally. These include (but aren't limited to) a 360-degree 'Area View' camera, adaptive chassis control, automatic headlights, automatic emergency braking, lane-keeping assistance, an automatic parking system and blind-spot monitoring with lane-changing assistance.
MINI Cooper Electric: pricing and specs for British-built electric supermini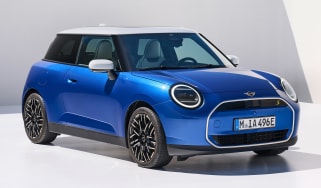 MINI Cooper Electric: pricing and specs for British-built electric supermini
MINI's latest electric hatchback introduces a revolutionary interior design, as well as larger batteries to provide a 250-mile range
Tesla Cybertruck: pricing and specs for Elon Musk's electric pickup truck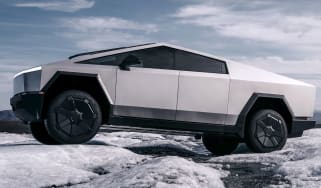 Tesla Cybertruck: pricing and specs for Elon Musk's electric pickup truck
The Tesla pickup truck is now on sale, with a range of up to 340 miles and a starting price of just over $60,000
Electric Renault 5: prices, 2024 launch date and teaser images of the MINI Cooper rival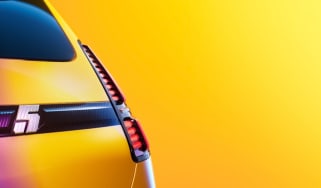 Electric Renault 5: prices, 2024 launch date and teaser images of the MINI Cooper rival
New official teaser pictures for Renault's electric supermini confirm the 5's reveal in February 2024