Volkswagen ID. line-up to include smaller city cars
Volkswagen bosses say electric ID. line-up will expand to include smaller cars, as company increases sales targets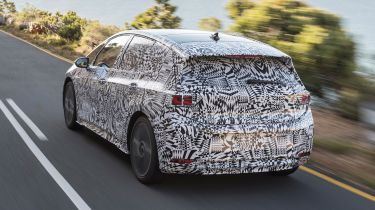 The Volkswagen ID. electric line-up – which will launch with the ID hatchback later this year – will feature smaller city cars in the future, the company's boss has confirmed.
A presentation at Volkswagen Group's annual media conference this morning referenced an 'MEB entry family' sitting underneath the hatch and the Volkswagen ID. Crozz.
"It's a smaller size," CEO Dr Herbert Diess told our sister title Auto Express. "It's sub-Golf size. It's being worked on now. We should expect it around 2023. We have to do this if we want to have the market shares we need, and the spread of electrification we want, but we're coming from the top down. So it won't be too soon."
Last week, it was announced that the next-generation Volkswagen up! would be sold as an electric car only, having struggled to meet sales targets in petrol form.
It seems likely that an electric up! will plug the gap until the ID. equivalent arrives in 2023. Earlier this year, the electric e-up! was pulled from sale due to long lead times and a lack of interest from buyers.
Meanwhile, Volkswagen has announced plans to introduce 70 electric cars to its line-up by 2028, up from the 50 it had previously outlined.
The German carmaker estimates this will lead to 22 million electric-car sales in 10 years' time – seven million more than was anticipated under its previous, less ambitious plans.
Volkswagen is aiming to be completely carbon-neutral by 2050.
"Volkswagen is taking on responsibility with regard to the key trends of the future – particularly in connection with climate protection," said Diess. "The targets of the Paris Agreement are our yardstick. We will be systematically aligning production and other stages in the value chain to CO2 neutrality in the coming years.
"That is how we will be making our contribution towards limiting global warming. Volkswagen is seeking to provide individual mobility for millions of people for years to come – individual mobility that is safer, cleaner and fully connected. In order to shoulder the investments needed for the electric offensive, we must make further improvements in efficiency and performance in all areas."
En route to carbon neutrality by 2050, the company hopes to reduce its CO2 emissions by 30% by 2025, based on levels recorded in 2015.
Volkswagen says it'll have invested €30 billion in electrification by 2023, and earlier this year it claimed the ID hatchback would be the first completely carbon-neutral car ever made.
The car's production line in Zwickau, Germany, is said to be running on renewable energy, while the battery cells are being manufactured in Europe with power from green sources.
Volkswagen is sourcing its batteries from Samsung, LG Chem, SKI and CATL, and is investigating the feasibility of making its own batteries in the future. The company has indicated that solid-state batteries "have great potential" further down the line.
As well as the ID hatchback, Volkswagen Group's brands will have introduced the Audi e-tron, Porsche Taycan, SEAT el-Born and several other models by 2020.
BMW i4 facelift to topple Tesla with huge range and tech upgrades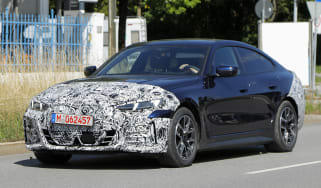 BMW i4 facelift to topple Tesla with huge range and tech upgrades
An updated version of the BMW i4 has been spotted testing, likely sporting a longer range and the latest technology
Electric BMW iX2 is set to take the kidney grille to the next level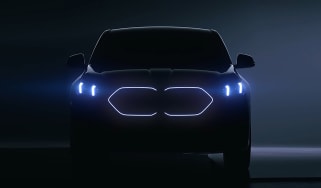 Electric BMW iX2 is set to take the kidney grille to the next level
BMW has teased the highly-rumoured iX2 coupe-SUV, which has been revealed to get enlarged illuminated kidney grilles