Volkswagen and BP team up to boost EV charger rollout
Volkswagen's battery-based Flexpole chargers can reach speeds of 150kW, but don't require high-powered grid connections, making them faster to install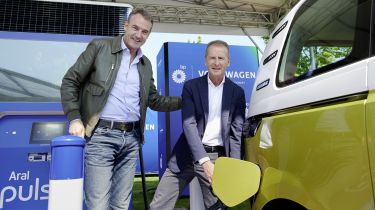 Carmaker Volkswagen and energy firm BP, which operates the BP Pulse charging network, have announced a new partnership to help boost EV charger rollout across Europe, with plans to install up to 4,000 points in Germany and the UK alone over the next two years.
New 'Flexpole' rapid-charging points have been designed by VW for the project. These are battery-based as opposed to the high-powered points currently seen at most UK rapid-charging locations. This means expensive local power-supply upgrades aren't necessary before fitting them, making them faster and cheaper to install.
However, they can still reach speeds up to 150kW, which is fast enough to add around 100 miles of range to some electric cars in as little as 10 minutes. The Flexpole units also feature two charging ports. The first such point is already online and open to the public in Dusseldorf, Germany.
Locations of these new chargers will be integrated into the navigation systems and other in-car apps of Volkswagen, SEAT and Skoda cars, as well as being viewable on VW's charging app, Elli, to help drivers find available points. They won't be restricted to VW Group models, however: any EV driver will be able to use them as part of the BP Pulse charging network in the UK.
According to Volkswagen, by the end 2024, up to 8,000 of these charging points could be available across Germany, the UK and other European countries. The initial rollout in the UK will include BP retail forecourt locations, some of which already play host to regular BP Pulse rapid and ultra-rapid chargers.
Volkswagen CEO Herbert Diess said of the partnership: "Investing in everything from software to batteries and charging is part of our strategy to make individual mobility safer, more convenient and fully climate-neutral. The decarbonisation of Europe's economy requires close collaboration across borders and sectors. We're pleased to team up with BP to accelerate the rollout of the fast-charging network across Europe."
The BP Pulse electric-car charging network is set to triple in size by the time the UK government's ban on sales of new petrol and diesel cars comes into force in 2030, with plans for expansion forming part of a £1 billion investment in electrification by the energy company over the next 10 years.
BMW i4 facelift to topple Tesla with huge range and tech upgrades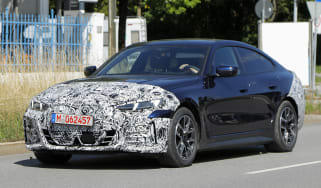 BMW i4 facelift to topple Tesla with huge range and tech upgrades
An updated version of the BMW i4 has been spotted testing, likely sporting a longer range and the latest technology
Electric BMW iX2 is set to take the kidney grille to the next level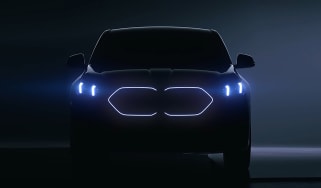 Electric BMW iX2 is set to take the kidney grille to the next level
BMW has teased the highly-rumoured iX2 coupe-SUV, which has been revealed to get enlarged illuminated kidney grilles