Volkswagen Type 20 electric concept revealed
Volkswagen marks creation of Innovation and Engineering Centre California with electric Type 20 concept vehicle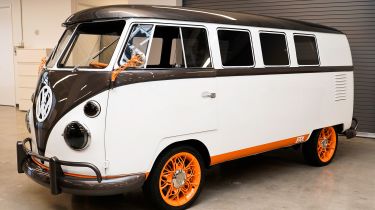 Volkswagen Group of America has revealed a new, all-electric concept vehicle based on a 1962 Type 2 Microbus.
Called the Type 20, the concept was commissioned to celebrate the evolution of the company's Electronics Research Laboratory into the Innovation and Engineering Centre California.
The new centre will be the firm's largest outside of Germany, helping to expand its engineering resources in North America.
"We are excited to move into our next chapter as the IECC," said Nikolai Reimer, the centre's senior vice president. "The Type 20 is a fantastic example of how we celebrate our heritage while striving to advance our technology."
Featuring a 10kWh battery, the Type 20 is powered by a single electric motor producing 118bhp. It also generates 235Nm of torque, although no range or performance figures have been given.
The concept uses 'active pneumatic suspension' developed by Porsche, which uses software to automatically adjust the ride height. VW says the Type 20 will 'rise' when parked as the driver approaches.
Elsewhere, a wide-angle camera provides facial recognition to identify users, while the company's digital assistant is integrated with three directional microphones to allow voice control throughout.
Two of these microphones are located inside the vehicle - in the driver cockpit and rear passenger area - while a third can be found on the front of the Type 20's exterior: here, voice commands are acknowledged with flashes of the LED lights and Volkswagen logo.
The custom wheels, rear-view mirror support and elements of the interior were designed organic shapes found in nature, with a focus on minimising weight while maximising each component's strength.
The futuristic theme continues with a Looking Glass II holographic display on the dashboard, which creates 3D images without the need for special glasses.
Although the Type 20 is a one-off, Volkswagen says it draws parallels with the forthcoming ID. Buzz microbus: the all-electric vehicle is set to arrive in 2022, based on the same platform as found underneath the soon-to-be-revealed ID.3 hatchback and the Skoda Vision iV SUV.
BMW i4 facelift to topple Tesla with huge range and tech upgrades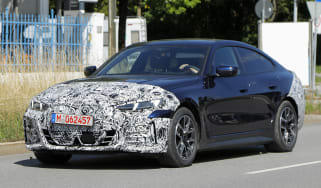 BMW i4 facelift to topple Tesla with huge range and tech upgrades
An updated version of the BMW i4 has been spotted testing, likely sporting a longer range and the latest technology
We've had a ride in the new electric MG Cyberster and it's NOT what we first thought…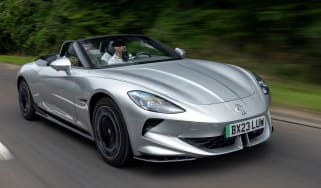 We've had a ride in the new electric MG Cyberster and it's NOT what we first thought…
The MG Cyberster is due to go on sale next year with up to 536bhp and scissor doors – and we've already had a ride in it