Electric Opel Corsa-e rally car begins testing programme in Germany
The rally-prepared version of the Vauxhall Corsa-e electric car has begun testing ahead of its competition debut in late 2020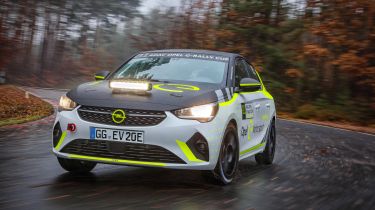 The Opel Corsa-e Rally, the world's first series-produced pure-electric rally car, has begun a testing programme at the Dudenhofen Test Centre in Germany, with two examples taking to the track for durability runs.
"We have two objectives", said Opel motorsport director, Jorg Schrott. "Both cars are covering as many miles as possible, in order to gather the maximum amount of data at an early stage. There is no experience of an electric rally car that we could turn to, so initially we had to rely on calculations and simulations.
"These are being gradually replaced with real data. Other focuses are on loads and temperature management of the battery, as well as adapting the software. I am pleased to report that our programme is going smoothly."
The Corsa-e Rally uses the same 134bhp, 260Nm electric motor and front-wheel-drive setup as its roadgoing sibling (and the Vauxhall Corsa-e model for the UK). The competition version is differentiated by its Torsen front differential, rally-grade suspension and full roll cage.
It also features three driving modes: Competition gives maximum power for 60km (37 miles) and is intended for use when the car is tackling a timed stage, while Rain modifies the car's torque curve for better grip on wet surfaces. Finally, Eco saves power while driving on road sections between competitive stages, or returning to the service park.
Describing the car's handling, Schrott said: "The centre of gravity is low, thanks to the underfloor-mounted battery, and the weight distribution is also very good, which is extremely important for an agile competition car."
The electric Corsa rally car is set to cost from £46,000 and is available from Opel Motorsport (the competition arm of Vauxhall's sister brand) for entry into the Opel ADAC e-Rally Cup in Germany. This is intended as a platform for young drivers to get experience and feed into higher-level motorsport, including the European Junior Rally Championship.
Set to begin in 2020, the single-make cup will feature up to 15 Corsa-e Rally cars and will initially be part of the German Rally Championship. It replaces the Opel Rally Cup of previous seasons, which featured a rally version of the now-defunct Opel Adam hatchback.
Vauxhall Corsa Electric facelift brings sharp new look and tech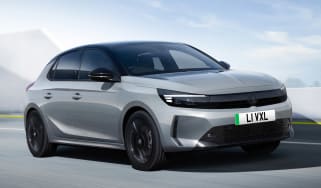 Vauxhall Corsa Electric facelift brings sharp new look and tech
Top 10 best used electric cars 2023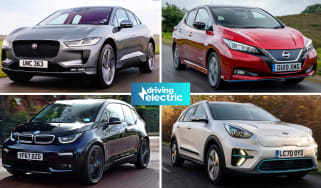 Top 10 best used electric cars 2023
​Top 10 fastest-depreciating electric and hybrid cars 2023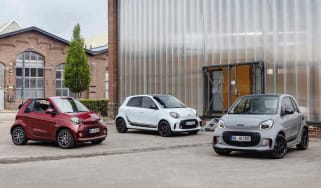 ​Top 10 fastest-depreciating electric and hybrid cars 2023
Volvo EX30 electric SUV undercuts Vauxhall Mokka Electric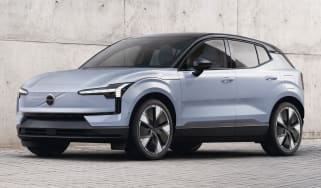 Volvo EX30 electric SUV undercuts Vauxhall Mokka Electric
Volvo has revealed its smallest electric car which boasts a range of up to 298 miles
New electric cars coming in 2023 and beyond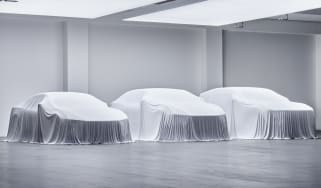 New electric cars coming in 2023 and beyond
With electric cars making up an ever-increasing proportion of sales, the industry is working flat out to launch new models – here's what's on the way …
Peugeot e-2008 facelift is now on sale with more electric range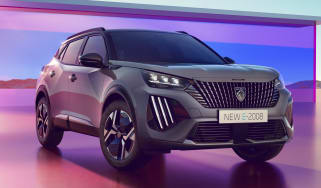 Peugeot e-2008 facelift is now on sale with more electric range
The updated e-2008 SUV gets a refreshed look and a 252-mile range