Nissan Leaf Tekna: Living with it
We spent six months running a Nissan Leaf in Tekna spec to get a thorough overview of what it's really like to own one of these pioneering electric cars
Report 8: Wrapping up our time with the Leaf
Before I was given the keys to our Leaf, I must admit I was concerned about running an electric car for real. How would I charge it? What would using a home wallbox be like? Would range anxiety limit my freedom on the road? After more than 1,000 miles, I'm pleased to report that none of my fears have been realised. The installation of my Pod Point charger (see Report 5, below) meant charging the Leaf was a doddle, and I've never had to worry about range.
That's meant plenty of family trips to the beach, plus country hikes and shopping trips. I never saw less than 150 miles from a full battery, and the Leaf peaked above its official, 168-mile estimate on my final day with it. In all honesty, I no longer think of the Leaf as an electric vehicle: it's just a very competent family car. At 385 litres, the boot is bigger than that of a Ford Focus. It's not very wide, but because there's no exhaust system underneath, it's more than deep enough to compensate.
It's not perfect, of course. Tekna models come with a Bose subwoofer in the base of the boot: the unit isn't easy to remove, so it's vulnerable to damage when you load heavy objects into the back of the car. Nor can you remove the boot's carpet, making it hard to keep clean. Something else we won't miss about the Leaf is Nissan's smartphone app, which is meant to let you schedule charging sessions and keep an eye on range remotely. However, the app itself is slow to respond and constantly logged me out, making it a real pain to use. From what we've heard, it's the same if you're using an Apple or Android phone.
Those issues aside, the Leaf has been great. There's lots of interior storage, while the seats are comfortable and visibility is very good. So good, in fact, that I'd happily do without the £1,090 ProPilot Parking Assist system, which we reviewed in our previous update.
Now, no-one is pretending that the Leaf is a sports car in a family hatchback's body, but I'd still say it's entertaining to drive. Typically for an electric car, acceleration is tremendous – even at motorway speeds – and the near-silent running has wowed passengers over the last few months.
Nissan's single-pedal, 'e-Pedal' mode can be fun as well. On faster roads, it forces you to drive smoothly, and it's easy to use in slow-moving traffic with almost no need for the brake pedal at all. It does seem that Nissan has engineered some extra sensitivity into the automatic emergency braking (AEB) system, though, as it flashes warnings on the dashboard quite regularly. It's a small frustration, but not a major one.
Congested roads is where the Leaf Tekna's ProPilot technology really stands out. When activated, the system takes control of the accelerator, brakes and steering wheel, removing a lot of the strain of rush-hour commutes. It has a habit of hugging the edge of the lane a little too tightly, it must be said, and it can play up when entering or leaving contraflows. But other than that, it's brilliant.
Partnership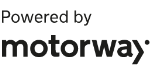 Need to sell your car?
Find your best offer from over 5,000+ dealers. It's that easy.
The thing I'll miss the most? The low running costs. A full charge at home has cost me around a fiver on average, which buys less than a gallon of petrol or diesel these days. With the Leaf returning 3.6 miles of range per kilowatt-hour, only an electric car will get me as far for that money. Going back to conventional fuel will bring me back to earth with a bump, that's for sure.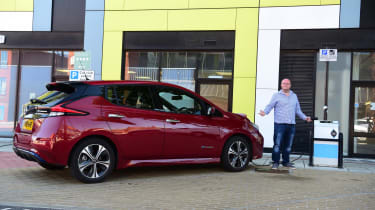 Report 7: ProPilot assessed
With more than 400,000 sold across two generations, the Nissan Leaf is the affordable electric car. The genre-defining five-door hatchback packs loads of technology, offers a decent range and has plenty of interior space. But should you buy one? Generally speaking, the Nissan Leaf's technology impresses, with a couple of notable exceptions. One is the frankly terrible Nissan EV Connect app, which continues to frustrate with its slow operation and frequent crashing.
Another low point is the ProPilot Parking Assist system. I've used plenty of these in the past; some are very good – Mercedes in particular – but Nissan's system isn't. It's simply too slow and, at £1,090, too expensive. Worse is that it hardly ever parks cleanly, hitting the kerb or parking too far away. With the bird's-eye camera view engaged when you select reverse, you really don't need it, as the composite image provides a clear and very obvious view of all the car's extremities.
One feature that I'm particularly fond of is keyless entry. Most systems allow you to unlock the car with a pull on the handle. But when you exit the car, you still need to fumble around to find your key and press the lock button. Not so with the Leaf, which has a small button on both front door handles which can unlock and lock the car. Genuinely keyless operation is rare, but you quickly get used to it.
Report 6: Conversation Street
If you want to spark conversations with strangers, buy an electric car. Everyone seems to have an opinion, or is keen to ask questions. The interesting thing is that about 50% of people seem genuinely interested; the remaining 50% are keen to tell me all the reasons why an electric car wouldn't work for them.
I'm consistent in my view. Electric cars are wonderful things, and are getting better all the time. But they don't suit everyone; at least, not yet. I'm also consistent in my view that during my time with the Leaf, my driving ambitions haven't been curtailed once. I've not had to change my plans, nor have I felt the need to jump back into my combustion-engined car 'just in case'. Yes, longer journeys require a little more forward planning, but with the ever-useful Zap-Map smartphone app in my pocket, it's no drama.
What has been a drama is that electric charging bays are often blocked by inconsiderate drivers of combustion-engined cars. Asking them to move is either met with a sheepish apology or a robust defence of why it's their right to park in the nearest possible space to the front of the supermarket.
Astonishingly, most shops I've encountered have little or no interest in announcing details of the offending car over the tannoy to embarrass the driver into shifting their car. Worryingly, one supermarket told me that there was no 'legal requirement' for them to do this. Clearly not, but the inaction of these stores' customer-service departments undoes so much of the work charging providers and supermarkets are doing to establish a proper nationwide infrastructure.
That aside, the Leaf has offered almost entirely stress-free family motoring. Space in the back is excellent, and while the boot isn't class-leading, it has proved more than large enough for my son's buggy, my daughter's scooter and a bit of shopping. It'd be better still if the Bose subwoofer was easily removable, because it robs space, is liable to get damaged and means the carpet can't be taken out for cleaning.
I'm still enjoying the ProPilot autonomous technology, though. It really does make repetitive journeys easier, and aside from getting confused by a couple of local contraflows, works very well indeed. It's a shame that the autonomous emergency braking system is a little overeager, especially when using the e-Pedal in slow traffic.
Report 5: Plugged in
Friday 22 February 2019 was the day my electric motoring changed. Having taken over the running of our Nissan Leaf from Steve Fowler a week earlier, I found myself reliant on the public charging network. They're not ten-a-penny in my part of the country, so Zap Map was the most frequently used app on my phone for several days.
That week was proof that while you can run an electric car without a charger at home or one at your nearby workplace, it just makes things a little more complicated. As any electric-car driver will tell you, the promise of a full battery every morning is a comforting one. Once I got a wallbox, range anxiety evaporated in an instant.
The whole process was very straightforward. I called Pod Point, one of the myriad suppliers out there, but also one of the few I'd received personal recommendations about. The deal was done and a week later, on 22 February, Pod Point's local installer had arrived on my doorstep.
Installer Ian was helpful, knowledgeable and very tidy. The whole process took a couple of hours, although mine was a straightforward installation – more complex ones take longer, and also cost more. His first job was to ensure suitability for installation. Although Pod Point had used Google Maps for this initially, he needed to check my home's earthing point and main fuse were both up to the job.
Fortunately they were, as the installation could've been delayed otherwise. After Ian had drilled through masonry, done some complicated 'don't try this yourself' electrical work and connected the wallbox to my broadband, I was up and running.
Not only am I able to charge my Leaf as and when I need to, but the broadband connection means I'm able to keep tabs on what it's costing to charge. Given the pain often associated with installing cable broadband, or calling out trades for general maintenance, the Pod Point installation was completely painless. And it has completely cured my range anxiety.
Report 4: Not 'appy
One thing it's difficult for petrol and diesel drivers to get their heads around is how temperature impacts electric-car range. Batteries aren't as efficient in cold weather – the time of year when you're more likely to use the car's heater and seat warmers. It's a double whammy. It's not that significant in the Leaf, though. As the air temperature dropped, so to did the range. The 150-160 miles achievable in warmer weather dropped to 130 miles on a cold morning.
The Leaf is pleasing the rest of the Fowler family. My wife likes the car's swift and silent response and that a full charge delivers 150 miles of driving for less than a tenner – much less than her usual petrol SUV. But we're less impressed with a Nissan EV Connect app. In fact, it's the worst app I've ever used: it takes an age to connect to the car and respond to requests. I'm frequently having the delete and reinstall the app – and I'm not alone, as the 1.7/5 rating it has in the Apple app store shows.
Report 3: Meeting a fellow Leaf driver
I'm finding that the Nissan Leaf is an outstanding car, and very easy to live with – but what do other owners think? I met up with Ian Bryant, who's also running a Leaf for a year and is at least as positive about Nissan's electric car as I am. Ian told me: "I've persuaded eight other people to buy a Leaf". Testimonials don't come more glowing than that.
"It doesn't cost much to run, it's comfy, it holds the road well and has good acceleration," Ian said. "I love ProPilot, e-Pedal is very easy to get used to and that means I'm not getting loads of brake dust on the alloys. I enjoy not going to the filling station and I'm smug in the knowledge that I'm not doing the environment any harm."
His experiences have been eerily similar to mine. His local dealer took three attempts to fix the heated seat and the car suffered a scuff on the bumper while it was in their care. He had to wait 15 minutes for someone to answer the phone on one occasion, too. He also gets frustrated with the Leaf's smartphone app – like me – because it's slow to operate and often can't find the car at all. That's more of a problem than in a petrol or diesel car, because being able to monitor the charge and set the heater is really useful in an electric car.
Despite this, Ian is a huge fan of the Leaf, and electric motoring in general. He's averaging four miles per kWh, and I'm achieving 3.6 miles per kWh – which is costing a fraction of what it would in a petrol or diesel car. The last 347 miles have cost me £9.06 in electricity – that'd cost more than £50 in a 40mpg petrol-fuelled car.
The pace of change is fierce in the electric car market: the Hyundai Kona Electric and Kia e-Niro offer well over 250 miles from a single charge, thanks to their bigger 64kWh batteries. A new 'big-battery' Leaf is on the way, which could remove one of the biggest objections many would-be buyers have about going electric. It's not a problem for me, though. I charge at home and at the office, meaning I rarely use public chargers. And like many electric-car drivers, I'm not charging every day, either.
Report 2: Dealer woes
The Leaf is proving to be an exceptional car, but it's not without fault. The passenger window refused to roll down more than half way, so a trip to the dealer was in order. Slough dealer Ancaster Nissan said it would charge a £140 investigation fee, which was refundable if the problem was fixable under warranty, but I'd have to wait for 10 days before they could look at the car. Nissan London West made no mention of the charge, and slotted me in a few days later.
The plan was simple. I'd drop the Leaf off in the morning, use public transport to get to and from the office and collect the car the following day. Or it would have been if the dealer kept in touch – which they didn't. It was only after a moan on social media that I received a call to say that the car was ready. As I was unable to collect the car for a few days, it was delivered back to me with a fully functioning window.
Report 1: First impressions
When the second-generation Nissan Leaf went on sale, it certainly wasn't a case of 'meet the new boss, same as the old boss'. Here we have a car that's styled like a car from the 21st century – the original had a whiff of 1990s about it – offers a range that's more than enough for most people and, on range-topping Tekna models, has self-driving technology.
It's not cheap compared to petrol or diesel alternatives, but that's par for the course with electric cars. After the government's plug-in car grant has been subtracted, you're looking at a near-£30,000 car, and that's before the £575 metallic paint and the £1,090 ProPilot parking assistance are factored in. Still, with heated front and rear part-leather seats, ProPilot autonomous technology, LED lights and a punchy Bose audio system, it's good value for money.
The second-generation Leaf has a 40kWh battery, 10kWh up on the largest battery fitted to the original, and is claimed to offer a range of 168 miles under the latest WLTP economy testing. These tests are designed to be more representative of the range you'll see in the real world, and they're not far off. In warmer weather, 160 miles is possible, although this falls to around 140 miles when the temperature drops – a little more when the heater is running.
One clever feature that helps to boost range is called ePedal, which is effectively a more aggressive regenerative braking system that harvests energy when braking to top up the battery. Unlike similar systems which merely slow the car, ePedal can actually function as a brake, so when you take your foot off the accelerator, the brake lights illuminate and the car can slow to a complete stop. It takes a little getting used to, but the ability to drive using one pedal is strangely relaxing.
It's not perfect, though: if you need to use the mechanical brakes, the transition isn't all that smooth, and it seems the car's autonomous emergency braking (AEB) system is tuned to deliver warning alerts sooner than you might expect.
Another smart feature is the Leaf's ProPilot self-driving technology. To use it, you simply press a blue button on the steering wheel and activate the cruise control. As long as the car is able to read lane markers, it takes control of the accelerator, brakes and steering to effectively drive itself.
It doesn't replace the need for a driver, though, as you'll need to keep your hands on the wheel and be ready to jump on the brake should you need to. It's not as good as Tesla's Autopilot, but the Leaf costs considerably less. It's early days, but the Leaf is really impressing with its blend of comfort, space, quality and technology.