Volvo EM90: new electric MPV due late 2023
Saloon and estate models have been axed in the UK, but Volvo is set to reveal an electric MPV later this year…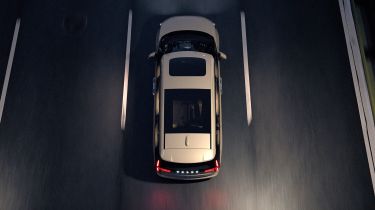 Volvo has teased another brand-new electric car, which it says will make its global debut on 12 November. Taking the shape of a practical MPV, the news comes just weeks after the maker decided to axe its saloon and estate models in the UK.
Don't get too excited though, as while Volvo looks to be showing an interest in a segment that has nearly died off in favour of SUVs, there are currently no plans to offer the car in the UK.
Instead, the model looks like it'll be aimed primarily at the Chinese market, which is where pre-orders will open when the car debuts towards the end of the year. Large, multi-passenger vehicles are still big business in the far east, and electric vehicles are making up an increasing slice of the Chinese market – so it makes a lot of sense for Volvo to marry those two aspects and offer an electric MPV over there.
Details are thin on the ground at this stage, but in using the EM90 name, the car will likely share some similarities with the new EX90 SUV – so we're expecting an 111kWh battery pack capable of delivering a range somewhere in the mid-300-mile ballpark, and fast charging capabilities for a 10-80% top up in around half an hour. That might also mean the same twin-motor, 402bhp powertrain too, potentially making this one rather speedy people-mover.
Volvo's single teaser image is taken from a bird's-eye view so isn't too revealing, but does uncover a few details, such as the front and rear door handles mounted together – suggesting the rear passenger doors slide in true MPV style, rather than opening outwards in traditional fashion. The view through the large glass roof also suggests a fairly luxurious cabin, with individual middle-row seats rather than a three-seat bench. The company describes it as a "Scandinavian living room on the move".
More details on the EM90 will be revealed in the run-up to the car's unveiling in November.
Can't wait for Volvo's electric MPV? Check out our list of the best electric and hybrid seven-seaters...
BMW i4 facelift to topple Tesla with huge range and tech upgrades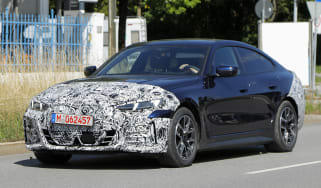 BMW i4 facelift to topple Tesla with huge range and tech upgrades
An updated version of the BMW i4 has been spotted testing, likely sporting a longer range and the latest technology
Electric BMW iX2 is set to take the kidney grille to the next level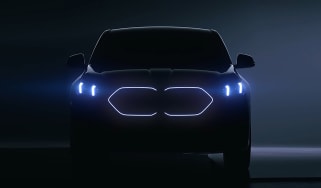 Electric BMW iX2 is set to take the kidney grille to the next level
BMW has teased the highly-rumoured iX2 coupe-SUV, which has been revealed to get enlarged illuminated kidney grilles