DeLorean Alpha5: an all-new electric sports car with gullwing doors
The Alpha5 electric sports car boasts four seats, over 300 miles of range and a three-second 0-62mph time
DeLorean is back. 41 years after the first DMC-12 rolled off the production line, the brand is attempting a comeback with an all-new electric sports car, called the Alpha5.
Given that the Alpha5 was designed by the same firm that drew the original DMC-12, Italdesign, there are some visual similarities between the new EV and the star car from the Back to the Future movie trilogy. Namely the enormous gullwing doors, long bonnet, three-bar taillight design and louvred rear deck.
However, the new car does get a closed-off front grille, a full-width rear lightbar and more curves generally than the wedge-shaped icon that came before. As a result, the new Alpha5 has a drag coefficient of 0.23Cd, according to DeLorean, which is lower than Audi's e-tron GT flagship. 
The new DeLorean EV is also a four-seater, with bucket seats in the front and rear, which should be easy to get in and out of thanks to the gull-wing doors and lack of a B-pillar. Elsewhere Inside, the Alpha5 features a large digital driver's display, a touchscreen mounted on the centre console and a squared-off steering wheel design. 
But of course, the biggest change from the original DMC-12 is that the Alpha5 is fully electric. Underneath the coupe bodywork is a more than 100kWh battery that DeLorean says is large enough for a range of over 300 miles on the American EPA test cycle. 
Power output and number of electric motors in the Alpha5 is still under wraps, but 0-62mph will take around three seconds, while 0-88mph is dispatched within 4.35 seconds, for all those Back to the Future fans out there. Top speed stands at 155mph.
The Alpha5 is just under five metres long, measures 2,044mm in width and is 1,370mm tall, which means it will have a similar footprint on the road to the Porsche Taycan that DeLorean's first EV is expected to rival. Other potential foes include the Audi e-tron GT, Tesla Model S, Lucid Air and Polestar 5.
Pricing for the DeLorean Alpha5 hasn't been revealed yet, but we do know there will be a Launch Edition model, and the car is set to make its first public appearance at this year's Pebble Beach Concours d'Elegance in California, in August.
New Ford Explorer electric SUV revealed in full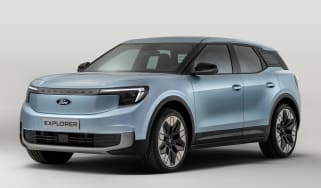 New Ford Explorer electric SUV revealed in full
Ford's new electric crossover boasts a range of more than 300 miles and will be built on the same platform as the Volkswagen ID.4 SUV
Top 10 best 4WD electric cars 2023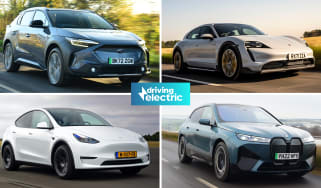 Top 10 best 4WD electric cars 2023
Whether you're looking to venture off-road, or just want some extra assurance in the winter months, we list the best four-wheel-drive electric cars on…
Driver Power: The best electric and hybrid cars to own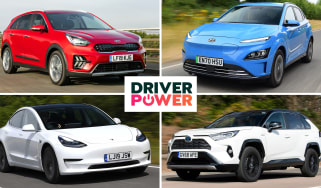 Driver Power: The best electric and hybrid cars to own
DrivingElectric's very own customer satisfaction survey ranks the very best EVs and hybrid cars, as voted by you