Sony and Honda team up to produce electric cars from 2025
The electronics brand and carmaker will form a new joint venture by the end of the year and plan to launch their first electric car in 2025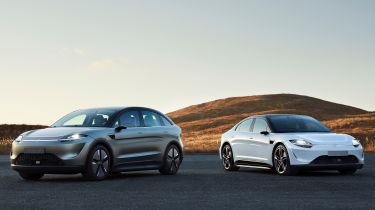 Sony and Honda are forming a new company to develop and sell electric cars. The pair signed a joint-venture agreement in June 2022, establishing a new entity called 'Sony Honda Mobility'. They plan to launch their first jointly developed EV by 2025.
The new company will be responsible for the planning, design, development and sales of electric cars. However, Honda is expected to be responsible for manufacturing at its facilities. Sony, meanwhile, will develop a digital platform for the car.
The partnership will use Sony's expertise in sensors, telecommunications and entertainment technology, combined with Honda's experience producing cars, which includes the zero-emissions Honda e city car, and after-sales servicing. We expect Sony/Honda EV drivers would be able to rely on Honda's existing dealership network for any maintenance needs.
Honda CEO Toshihiro Mibe said regarding the proposed joint venture: "The New Company will aim to stand at the forefront of innovation, evolution and expansion of mobility around the world, by taking a broad and ambitious approach to creating value that exceeds the expectations and imagination of customers. 
"We will do so by leveraging Honda's cutting-edge technology and know-how in relation to the environment and safety, while aligning the technological assets of both companies."
Sony has been exploring electric-car production for several years now. The electronics giant unveiled a zero-emissions saloon concept called the Vision-S 01 back in 2020; this was followed by the Vision-S 02 electric seven-seat SUV concept (above) that made its debut at the 2022 Consumer Electronics Show (CES).
It's possible one of these concepts could eventually give rise to the new company's own production electric car. Read on to find out more about both the Sony Vision-S 01 and Sony Vision-S 02...
Sony Vision-S 02 concept
According to Sony, the 2022 Vision-S 02 concept sits on the same platform as the 2020 Vision-S 01 (below), but demonstrates how the architecture can underpin different car types. The 02 is a seven-seater family SUV that has the look of a Tesla Model Y rival.
Sony has grouped the technologies it's developing using the Vision-S concepts into three key areas: safety, adaptability and entertainment. On the safety front, the cars boast 360-degree sensor coverage and 'Level 2+' autonomous driving capability.
Elsewhere, adaptability is enhanced by voice-recognition system and custom user profiles that can be saved for a number of drivers. Over-the-air (OTA) software updates are also possible, while the Vision-S concepts also feature 360-degree surround-sound audio, plus digital video playback on the front and rear screens. PlayStation gaming by means of a remote connection to a home console is also being developed.
Sony Vision-S 01 concept
First revealed at the 2020 Consumer Electronics Show (CES) in Las Vegas, the Vision-S 01 was shown taking to the road for the first time in a video released at the same event in 2021. The footage depicts the car undergoing testing in Austria wearing a light dazzle camouflage on its otherwise undisguised bodywork.
The Vision-S 01 follows the trend for luxurious, rakishly styled electric cars with plenty of performance. It uses a pair of electric motors that can propel it to 62mph from rest in 4.8 seconds and on to a top speed of 149mph.
On-board technology includes the Sony Safety Cocoon – an array of sensors that provide 360-degree coverage using next-generation systems like 'Solid State Lidar' to map out the car's surroundings.
Advanced gesture control is implemented inside the car, along with a large digital dashboard, advanced AI systems, rear-seat screens that give passengers a view of the road ahead, plus other clever touches.
Can solar panels charge an electric car?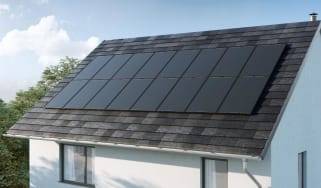 Can solar panels charge an electric car?
Using solar panels to charge your electric car can save you money in the long run. Here's everything you need to know about charging an electric car w…
New MG4 EV electric hatchback starts from £25,995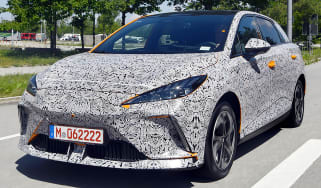 New MG4 EV electric hatchback starts from £25,995
MG's Volkswagen ID.3 rival will be one of the cheapest EVs on sale. We've driven a prototype
Tethered or untethered home charger?
Tethered or untethered home charger?
All the pros and cons of home wallbox chargers with either tethered or untethered cables