DrivingElectric magazine: new issue on shelves now
MINI Electric driven, plus petrol and diesel plug-in test, company-car tax savings, electric Nissan racing car and more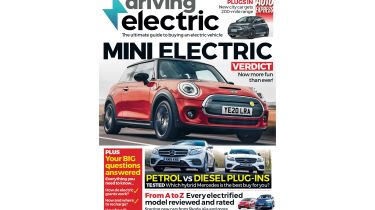 The spring issue of DrivingElectric's quarterly magazine is on sale now, featuring our first drive in the UK of the new MINI Electric. Will it be one of 2020's electric-car stars?
Elsewhere, we compare the petrol and diesel versions of Mercedes' plug-in hybrid E-Class to find out which is the most cost-effective option in the real world, drive two classic hybrids in the shape of the original Toyota Prius and Honda Insight, detail the big company-car savings to be made running a plug-in car during this financial year and experience the thrill of Nissan's NISMO Leaf RC electric racing car.
Unfortunately, we went to press before the escalating coronavirus situation required us to postpone the planned DrivingElectric Showcase event detailed in this magazine. We now plan to run it later in the year, still with a great line-up of cars, and you can sign up to receive updates about this at the DrivingElectric events website.
As in every issue, we bring you a full A-Z rundown of every electric and hybrid car and van on sale in the UK today, with detailed verdicts, at-a-glance specifications and pictures for all models. We also answer all the big questions about buying, running and charging electrified vehicles.
Finally, we take a look ahead with a guide to the flurry of new hybrid and electric cars that'll be hitting UK showrooms in the coming months.
The magazine is available in WH Smith travel outlets and other leading newsagents, but if you are unable or would prefer not to buy a copy in person due to the current situation, don't forget you can order the issue online at MagsDirect and have it sent to your door. Postage is free in the UK.
We've had a ride in the new electric MG Cyberster and it's NOT what we first thought…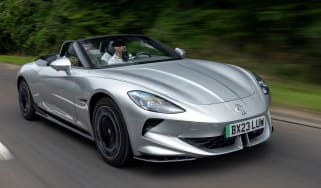 We've had a ride in the new electric MG Cyberster and it's NOT what we first thought…
The MG Cyberster is due to go on sale next year with up to 536bhp and scissor doors – and we've already had a ride in it
Has the UK given up on EVs? New government 'Plan for Drivers' says no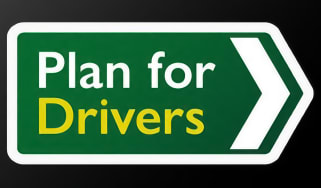 Has the UK given up on EVs? New government 'Plan for Drivers' says no
UK government has announced a new 30-point manifesto which, in part, focuses on electrifying Britain's roads