Bollinger B1 and B2: specification, technology and on-sale date
US-based startup is gearing up to release its hardcore electric trucks: the Bollinger B1 and Bollinger B2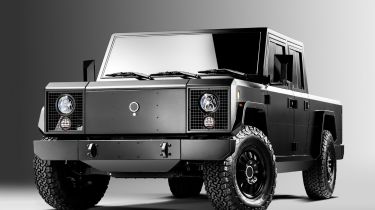 The Bollinger B1 and Bollinger B2 – the first two models from the US electric utility vehicle startup – have been unveiled in full.
They're being described by the company as "the world's most capable" SUV and pickup truck respectively. Both offer a configurable body, a basic, stripped-back interior, a generous load capacity and strong off-road capability.
Reservations for both the B1 and B2 are currently being taken and production is due to start in mid-2020, with first deliveries in 2021. Sales will be in the US initially, but international expansion – including right-hand-drive models – is planned.
Other electric off-road and utility vehicles are on the way from US startup Rivian, while Tesla is also planning a pickup model.
Practicality and payload
Maximum payload for both models is 2,360kg, while their towing capacity tops out at 3,400kg. They boast 15 inches of ground clearance and 400 litres of under-bonnet storage. According to Bollinger, the B2 can carry 72 sheets of 4x8.5-foot plywood when its rear seats are removed.
Key features of the B1 and B2 include removable doors, rear seats, a windscreen, roof panels and window glass, plus 17-inch alloys, air-conditioning, Bluetooth connectivity and no less than six 110V power sockets. Optional extras include a winch, glass roof panels and heated seats.
'Pass-through' panels allow for objects as long as five metres to be carried by the B1, while the B2 can take items six metres in length. The cabins are sparse and functional, with little more than an analogue gauge cluster ahead of the driver.
Platform and technology
Bollinger's electric powertrain consists of a 120kWh battery pack and two electric motors for permanent four-wheel drive, plus a regenerative braking system.
Power and torque outputs are given as 606bhp and 906Nm respectively, while the B1 and B2 will get from 0-60mph in just 4.5 seconds before topping out at 100mph. A driving range of 200 miles is claimed from a full battery.
Charging can be completed using a domestic socket, or from a DC public fast charger using a CCS cable. The latter will fully top up the battery in an hour and 15 minutes, while home charging will take in the region of 10 hours.
A two-door, short-wheelbase version of the B1 is expected to arrive in due course; this is promised to improve on the four-door model's breakover angle of 30 degrees, which falls short of what the new Land Rover Defender can manage.
Bollinger is keen to stress the B1's off-road credentials: it gets a two-speed high and low-range gearbox, almost 50:50 weight distribution and approach and departure angles of 52 and 43 degrees respectively. That compares to equivalent figures of 38 and 40 degrees for the Defender.
In March 2020, Bollinger revealed further details of the platform underpinning the B1 and B2, with the intention of offering it to other manufacturers commercially to design other vehicles on. It features the 120 kWh battery pack as standard, with a 180kWh battery pack as an option.
Other features include the choice of front, rear or all-wheel-drive configurations, all-terrain capabilities, portal gear hubs, a 2,268kg payload, wheelbase adjustability, anti-lock brakes, electronic traction and stability aids, self-levelling suspension, on-board chargers from 5 to 15kW and in integrated thermal management system.
Bollinger B2 Chassis Cab
In April 2020, Bollinger announced its plans to release a chassis-cab version of the B2. The firm claims it's the world's first all-electric chassis cab built to the US 'Class 3' category – the same class of vehicle occupied by the likes of the Ford F-350 and Chevrolet Silverado 4500. A payload of 5,000lbs (2,268kg) is claimed.
It's not yet clear if the chassis cab version will make it to the UK, but if it does it'd likely go up against van-based rivals from Ford, Mercedes and Iveco – the closest vehicles in chassis-cab specification and payload available in Europe.  
The news comes following a patent application by Bollinger to make its B2 Chassis Cab. The patent details that it'll be available with a two or four-door cab, will come in a variety of wheelbase lengths and will retain the B2's all-wheel drive and off-road focus. The 120kWh battery remains. 
Bollinger suggests that the B2 Chassis Cab will be perfect for use by airports, emergency services and construction firms among others; it's clear that the company intends its tough electric truck to be used where similarly robust internal-combustion vehicles would usually operate.
Bollinger says that the B2 Chassis Cab will be available to 'commercial outfitters' in late 2021.
Polestar 2 now with 395-mile range and faster charging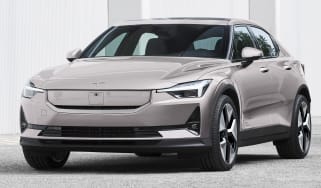 Polestar 2 now with 395-mile range and faster charging
The Tesla Model 3 rival gets major updates for the 2024 model year; order books open now, with prices starting from £44,950
New Peugeot e-3008 electric SUV to offer 435-mile range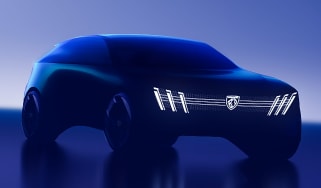 New Peugeot e-3008 electric SUV to offer 435-mile range
Peugeot's first bespoke EV will be available with all-wheel drive and is due to be revealed later this year
First look at new Ford electric SUV ahead of 2023 reveal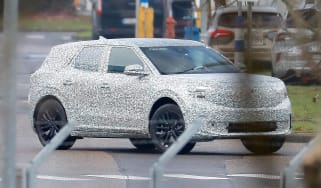 First look at new Ford electric SUV ahead of 2023 reveal
The as-yet-unnamed EV is expected to debut in March and will be built on the same platform as the Volkswagen ID.4 SUV