Electric London Taxi: LEVC announces 2,500 examples sold
Electrified black cabs have saved nearly 7,000 tonnes of CO2 emissions, says maker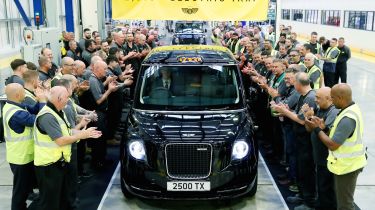 London Electric Vehicle Company (LEVC) – maker of the TX electric London Taxi – has announced production of the car has hit 2,500 examples since it began in January 2018.
The milestone was marked with a special display on London's Trafalgar Square, while LEVC has also released a wide range of statistics about the Coventry-built TX cab's operations so far.
It says that 6,800 tonnes of carbon-dioxide emissions have been saved so far (the equivalent of 1,500 return flights from London to Sydney) and that the plug-in cab emits 99.5% fewer NOx (nitrogen oxide) particulates than its diesel-fuelled predecessor.
The LEVC TXs in operation so far have taken 13 million passengers a combined 21 million miles (equivalent to going around the world 845 times) and reduced the amount of fuel used in the process by 850,000 litres.
Drivers have enjoyed savings of £3.85 million as a result – roughly £100 per cab, per week. Passengers travelling in the cabs, meanwhile, have used 45 million GB of data over the on-board wi-fi.
About 2,000 of the TXs built so far are in operation on the streets of London, with others to be found working in Birmingham, Coventry, Manchester, Glasgow and Edinburgh, as well as abroad in Norway, the Netherlands, Germany, Sweden, Hong Kong and Malaysia.
Joerg Hofmann, CEO of LEVC, commented: "I am extremely proud of this momentous achievement. We are proud to be supporting the city of London in its efforts to improve air quality – and doing the same across the UK."
Shirley Rodrigues, London's Deputy Mayor for Environment and Energy, added: "In addition to increased walking, cycling and using cleaner public transport, electric vehicles can help reduce pollution and address our climate emergency. Having the greenest taxi fleet in the world is key to this and I congratulate LEVC on their innovative low-emission electric fleet."
LEVC will next year begin offering a plug-in hybrid van based on the same chassis and drivetrain as the TX taxi, which DrivingElectric road tested last year.
First contact: facelifted Kia EV6 will look even more like a UFO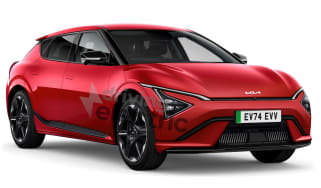 First contact: facelifted Kia EV6 will look even more like a UFO
Kia is readying an update for the EV6 crossover, which is set to include a new face and tech from the larger EV9
New Fisker Ocean Sport washes up in the UK: £36k for a 288-mile range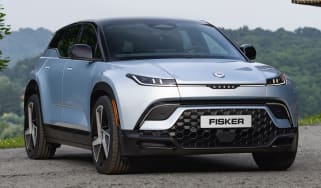 New Fisker Ocean Sport washes up in the UK: £36k for a 288-mile range
American EV startup Fisker has just launched its entry-level Ocean SUV in the UK, with a range of up to 288 miles
Electric Renault Twingo revealed as £17k rival to Citroen e-C3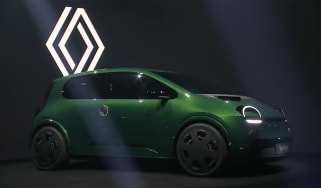 Electric Renault Twingo revealed as £17k rival to Citroen e-C3
Renault has unveiled its smallest EV yet; a sub £20k city car with a claimed high level of efficiency