Living with it: MINI Electric
Is the MINI Electric easy to live with? Does its short range matter? We're running one to answer these questions – and many more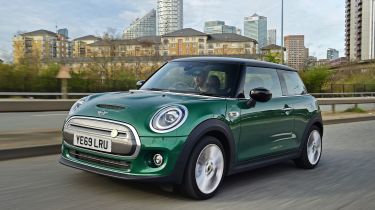 Report 1: Passing the lockdown shopping-run test
The MINI Electric is one of the most sought-after small electric cars at the moment – along with rivals like the Honda e, Renault ZOE and Peugeot e-208, it's part of a growing number of small, accessible electric cars.
We've already tested the MINI Electric both in isolation and against its Renault rival, but we want to know exactly what it's like to live with this high-quality, relatively low-range electric supermini in its natural urban environment over an extended period.
With the coronavirus lockdown putting a lid on our seat time, our early impressions are relatively limited – but we've still had time to get to know our new long-termer on our government-sanctioned trips to the supermarket. Our example is a Level 2 car – the mid-range model in the easy-to-understand three-tier system.
All MINI Electric models get plenty of kit, however: Apple CarPlay connectivity and sat nav are included, along with MINI's 'Connected' online functionality that includes real-time information on public charger locations. Both cruise and climate control are standard, too.
The jump to Level 2 trim opens up more colour and wheel options – our example's green paint and 'Tentacle Spoke' alloys included – along with heated seats, a parking camera, keyless entry and go and MINI's Driving Assistant Pack that adds automatic headlights and traffic sign recognition.
Our example shows how you might specify a MINI Electric to fly under the radar – other colour options allow for a contrasting yellow grille and mirrors, while the snazzier three-pin-plug-styled 'Electric Spoke' wheels that started life on the concept car have been left on the options list. Those who know where to look will still find the trademark yellow details inside and out, however. We like the overall effect, but would have preferred those unique alloys. 
Having seen and experienced our Level 2 car, we reckon it's the one to go for – its £2,000 premium over the entry-level car feels worth it, while the most expensive Level 3 only adds luxuries that seem like overkill in such a small car. 
In our limited time with the MINI – largely spent popping to and from the shops – it's been hard to trouble the MINI's 144-mile range (which on our initial road test shrunk to closer to 100 miles). We've charged once a month using the MINI like this – indeed, many will be used in this manner even once lockdown loosens.
However, our projected use over the coming months will increase – longer trips out of London and longer commutes into the DrivingElectric offices will be a much better test. We need to see exactly how practical the MINI's range is in the real world – will it be a limiting factor? Should you pick a rival instead?
Potential range issues aside, our only gripe with the MINI so far is its three-door-only layout, which makes entry and exit from the rear seats difficult for adults. If you need to carry passengers, it makes sense to consider a five-door rival like the Renault ZOE.
MINI Electric Level 2
On fleet since: March 2020Mileage: 859Economy: 3.5 miles/kWhOn-the-road price: £26,900 (after grant, before options)Engine: 1x e-motor/lithium-ion battery, 181bhpCO2/tax: 0g/km /£0Official range: 144 milesCost of a full charge at home: £4.56 (at 14p per kWh)Options: British Racing Green paint (£0), Black roof and mirror caps (£0), 17-inch Tentacle Spoke wheels (£0)Annual company-car BiK cost at 20/40%: £0/£0Insurance group: 22Any problems? None so far