MINI Electric interior & comfort
The MINI Electric's interior holds plenty of style appeal, but it can't match rivals for high-tech feel
MINI Electric dashboard
The MINI's dashboard is not without appeal. After all, it's simple to operate and there's genuine functionality in the iDrive-style infotainment controller. It's just that alongside more modern rivals like the Honda e, it feels a little dated inside. Quality is good, however; the MINI's cabin seems built to last.
Alongside the central infotainment screen, there's a new digital instrument cluster, but the display isn't as high-tech or customisable as the systems in modern Audi and Volkswagen models. That said, it offers all the necessary features and information in an easy-to-read format and presented on a smart-looking frameless readout.
The driving position could have a broader range of adjustability and the manual seat adjustment can be a little awkward, but the seat itself is comfortable enough. Elsewhere, the MINI Electric separates itself from the petrol models with a smattering of lucid yellow details on the passenger side of the dashboard, as well as the gearlever and stop-start button. Otherwise, it's business as usual. We'll leave you to decide whether that's a good thing or not.
Equipment, options & accessories
The MINI Electric is available in three easy-to-understand specification levels. They don't quite mirror the standard car's Classic, Sport and Exclusive trims; instead, they're called Level 1, 2 and 3. The basic Level 1 car represents the best value for money. It gets a 6.5-inch sat nav, Apple CarPlay and MINI Connected, which offers up live information like charging-point availability and current traffic conditions. This version also boasts the digital cockpit display, cruise control and two-zone climate control.
Level 2, for another £2,000, adds the Driving Assistance Package with speed-limit and traffic-sign information, city collision mitigation for pedestrians and high-beam assistance. It also adds a rear-view camera and heated part-leatherette seats. Choosing this trim also opens up additional paint and wheel options.
The range-topping Level 3 costs an additional £4,000 (or £6,000 more than the basic version) and heralds big-car kit like a head-up display, a panoramic sunroof, a Harmon Kardon stereo, full leather seats and a larger 8.8-inch sat-nav screen. While this equipment makes the MINI Electric feel like a truly premium car, they're luxuries rather than essentials.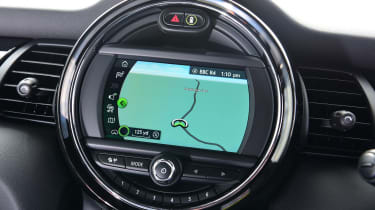 Infotainment, apps & sat nav
The MINI Electric's interior is logically laid-out and simple to operate, with the large touchscreen display situated within the familiar central roundel. There's a click wheel mounted to the lower console, which makes the system easy to navigate on the move, while additional touch operation gives it further functionality, which is especially useful when you're parked up.
Apple CarPlay is standard, so if you're an iPhone user, you'll be fine. MINI still refuses to offer its cars with Android Auto, however, which feels somewhat restrictive in this day and age. At least the sat nav works well – so those without the latest smartphone software are reasonably well catered for.
Every car comes with MINI's Connected App, which shows the location of public charging points, as well as stats on the car's energy consumption and charge status, plus the ability to pre-heat or cool the cabin.