Mercedes C-Class hybrid saloon range, MPG, CO2 & charging
The C 300 hybrids' strong range and economy impress, while the diesel-electric version is still fairly frugal when the battery goes flat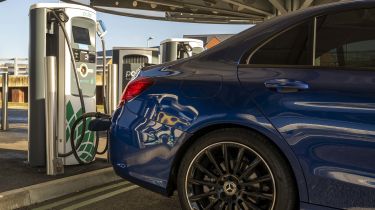 | Fuel economy | CO2 emissions | Electric range | Wallbox charge time |
| --- | --- | --- | --- |
| 177-235mpg | 31-34g/km | 34-35 miles | 1hr 30mins (0-100%, 7.2kW) |
Plug-in hybrids are all about fuel economy, so it should come as no surprise that adding a diesel engine to the mix serves to maximise returns here. With up to 235mpg claimed, the C 300 de should be much more efficient than the petrol-electric alternative more of the time.
Diesel-electric plug-in hybrids are few and far between, perhaps because they still produce more particulate emissions than their petrol-electric counterparts. If you want one in the compact executive class, however, the C 300 de is your only choice.
Mercedes C-Class hybrid saloon range, MPG & CO2 emissions
Depending on the specification chosen, CO2 emissions are between 31 and 34g/km, so running costs for company-car drivers (this car's primary intended market) will be rock-bottom. That's doubly so if your commute is within that 35-mile electric range and you can keep the battery topped up with regular charging. Under these conditions, you may hardly use any petrol or diesel at all during routine day-to-day driving.
You may still struggle to get close to the claimed figures even when diligent with battery top-ups and light throttle inputs, but the good news is that the option of a diesel engine will give substantially better economy than the petrol once the battery runs out.
Electric range varies slightly depending on specification, but the official figure of 34 to 35 miles means the C-Class has a slight edge over the largely 30-or-so-miles offered by the bulk of its competition.
Charge time
Mercedes says that the C 300 hybrid's 13.5kW on-board charger allows for a top-up from a standard home wallbox in one and a half hours for both models. Charging from a domestic socket using a three-pin plug will be much slower – Mercedes reckons about five hours, so it's still feasible for an overnight charge.