New Mercedes EQG: electric G-Class set to arrive in 2024
Reports suggest the production version of Concept EQG will follow the EQS SUV and EQE SUV, with the electric 4x4 expected to retain the G-Class' off-road credentials
An electric version of the rugged Mercedes G-Class called the EQG will go into production in 2024. The news was confirmed by the German brand's top boss Ola Kallenius in a roundtable with US journalists.
He also revealed that the new EQG will use a modified version of the current G-Class' platform, rather than Mercedes' EV-dedicated platform, which underpins the forthcoming EQS SUV and EQE SUV.  That means it's very difficult to speculate on range, battery size and performance figures for the upcoming electric 4x4.
However, we already got our first look at the zero-emissions 'G-Wagon' in late 2021, when Mercedes unveiled the Concept EQG you see here. We expect the styling of the roadgoing version to be very similar given that it was described as a "near-production study".
The Concept EQG shows that, unlike the other models in Mercedes' 'EQ' range of electric cars, the forthcoming EQG will retain the G-Class' iconic, square-jawed styling rather than adopting a more rounded design. So while it might not have the most aerodynamic shape, the EQG's heritage will be easily recognisable – something which potential customers are likely to want.
As well as the angular, boxy shape, some other design elements on the Concept EQG were carried over largely unchanged from the regular G-Class, such as the indicators mounted on the front wings. There were a handful of unique touches, though: instead of the traditionally tailgate-mounted spare wheel, there's a lockable storage box – ideal for keeping charging cables in.
One obvious difference between the electric and combustion-engined G-Class is likely to be a black panel in place of the traditional grille, as seen on the Concept EQG. You'll also find this on the EQS limousine and EQE executive saloon, as well as Mercedes' range of electric SUVs – the EQA, EQB and EQC.
Even with the switch to electric, the G-Wagon will remain an uncompromising off-roader. As we previously mentioned, the EQG will use the proven ladder-frame chassis from the current G-Class, as well as a two-speed transmission with a low-range setting for off-roading. There'll also be independent front suspension and a rigid axle at the rear.
Mercedes claims the EQG's low centre of gravity thanks to its battery and instant torque will give it some advantages when customers go off the beaten track. Before launch, the electric 4x4 will go through extensive off-road testing at a facility on the 1,445-metre high Schoeckl mountain in Graz, Austria – just like the internal-combustion-engined G-Class does.
Given the Mercedes EQG is set to enter production in 2024, it's likely to break cover sometime in 2023. A starting price hasn't been disclosed, but given the current generation G-Class' circa-£100,000 figure, we expect the electric EQG will start well north of that.
New 2022 Mercedes GLC plug-in hybrid now on sale from £62,210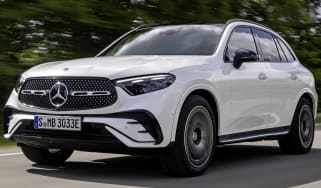 New 2022 Mercedes GLC plug-in hybrid now on sale from £62,210
Top 10 best seven-seater electric and hybrid cars 2022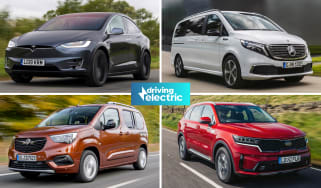 Top 10 best seven-seater electric and hybrid cars 2022
If the regular crop of electrified SUVs and family cars don't provide enough practicality for you, then take a closer look at the range of electric an…
Top 10 best electric cars 2022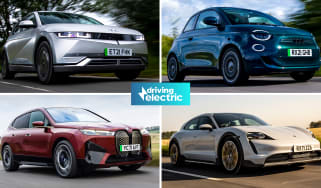 Top 10 best electric cars 2022
Here, we run through our favourite new electric cars that you can buy right now in the UK…