2021 McLaren Artura hybrid supercar teased
All-new McLaren Artura hybrid supercar teased for the first time; sales start in the first half of 2021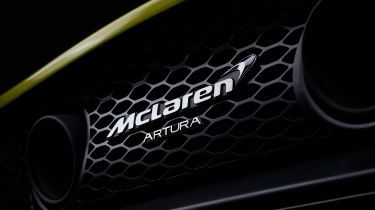 McLaren has released the first official teaser image of its forthcoming hybrid supercar, the Artura. Referred to by the brand as a 'High-Performance Hybrid', it goes on sale in the first half of 2021 and is set to kick off a range of electrified cars that'll supersede McLaren's current 'Sports Series' line-up of 540, 570 and 600 models. The range will sit above the recently launched GT and below the 'Super Series' 720 models in the McLaren hierarchy.
Until now, we've only seen the McLaren Artura in test-mule guise, wearing 570S bodywork. We'll have to wait until closer to launch for a full reveal, but Mclaren Automotive CEO Mike Flewitt has confirmed that the car will be all-new, "from the platform architecture and every part of the High-Performance Hybrid powertrain, to the exterior body, interior and cutting-edge driver interface." For now, the teaser image doesn't confirm much beyond the exhaust placement and badging. 
Mclaren has confirmed that the Artura will use an all-new twin-turbocharged V6 petrol engine in conjunction with an electric motor. The British company says performance will be similar to that of its V8 offerings, albeit with improved low-end torque and pure-electric running capability thanks to its electrification. 
A new carbon-fibre structure has been developed for the car, called McLaren Lightweight Carbon Architecture (MCLA). It's specifically designed to accommodate hybrid drivetrains and should underpin subsequent electrified McLarens, too. The brand claims that the extra weight of the hybrid system has been offset by weight-saving measures taken in the chassis, body and powertrain during development.
Previously, McLaren said the first High-Performance Hybrid model will offer what it describes as "medium-range" pure-electric driving capability. CEO Mike Flewitt said: "This all-new McLaren supercar is the distillation of everything we have done to date; all that we have learned and achieved. This is a new kind of McLaren for a new era, an extraordinary drivers' car that offers blistering performance as well as an all-electric range capable of covering most urban journeys." 
Under the brand's Track22 plan, half of the British brand's range is set to be electrified by 2022 – starting with the already-confirmed Speedtail hyper-GT. An all-electric McLaren project has yet to get off the ground, however, apparently mainly due to technological constraints like weight and battery performance.
As McLaren hunts for solutions to make its eventual all-electric model fit in with its brand, the imminent wave of hybrid models will take the fight to rivals like the forthcoming Porsche 911 hybrid and already-launched Ferrari SF90 plug-in hybrid.
Best electric mopeds 2021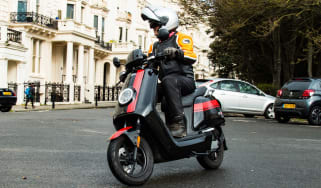 Best electric mopeds 2021
We run down the best electric mopeds you can buy, from some mainstream and some not so well known names
Best electric motorbikes 2021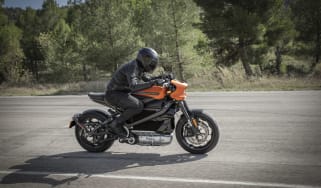 Best electric motorbikes 2021
More and more brands are getting in on the electric motorcycle action. Here's our pick of what's out there right now
Can solar panels charge an electric car?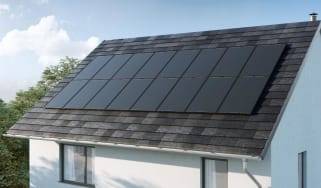 Can solar panels charge an electric car?
Charging your electric car with solar panels is a great way to save money in the long run. We explain why...