Range Rover Evoque P300e plug-in hybrid: prices, specs and on-sale date
Recently revised Evoque gets 305bhp plug-in hybrid drivetrain and up to 41 miles of electric range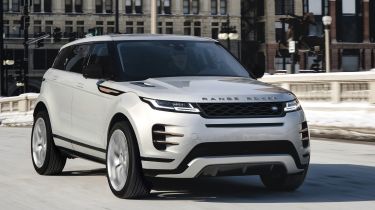 Land Rover has introduced a plug-in hybrid version of the Range Rover Evoque alongside a similarly electrified Discovery Sport variant. Both wear the P300e badge and use the same 305bhp petrol-electric drivetrain.
The car is available to order now; prices start at £43,850, with the P300e available in S, SE, HSE and Autobiography specification, in either standard or R-Dynamic guise. As one of the smallest premium SUVs with plug-in hybrid power, the Evoque P300e goes up against the likes of the MINI Countryman PHEV, Mercedes GLA hybrid, Volvo XC40 Recharge and BMW X2 xDrive25e.
The Evoque is smaller and lighter than its Discovery Sport sibling and so makes better use of the drivetrain: it's marginally more efficient and has a slight performance advantage. Land Rover quotes fuel economy of up to 201.8mpg (versus the Discovery Sport's 175.5mpg) and CO2 emissions from 32g/km – better than its sibling's 36g/km.
The Evoque P300e uses a brand-new 197bhp 1.5-litre three-cylinder petrol engine paired with a 108bhp electric motor, powered by a 15kWh battery mounted under the rear seats. The internal-combustion engine acts on the front wheels, with the electric motor driving the rear axle. Total power output is 305bhp and acceleration from 0-62mph takes 6.1 seconds.
That combination means Land Rover's trademark four-wheel drive remains, albeit not in the usual manner. The car decouples the rear motor at speeds of over 84mph to improve efficiency, or can run entirely on electric power from the rear axle for up to 40 miles. A new eight-speed automatic transmission handles power from the engine.
Three driving modes will allow the Evoque to be set up for the situation at hand, like most other plug-in models. Hybrid mode is the car's default setting and automatically selects the power source depending on road conditions, battery charge levels and data from the car's sat nav. Electric running is facilitated by EV mode, while Save mode instructs the system to keep battery charge in reserve should it be needed at the end of a longer journey.
The battery, Land Rover claims, can be charged from 0-80% in 90 minutes from a 7kW home wallbox or in 30 minutes from a 32kW supply where available – a faster charging rate than many plug-in hybrids offer. A regular three-pin cable is also included; plugging this into a domestic socket should get you a full charge overnight in less than seven hours.
Since the end of August 2020, all examples of the latest Evoque ordered also gets Land Rover's latest 'Pivi' infotainment system, with a redesigned menu structure, faster start-up thanks to having its own battery and data, over-the-air update capability, Spotify integration and the ability to connect to two Bluetooth devices at once. Wireless device charging and signal boosting are also included.
Top 10 slowest-depreciating electric and hybrid cars 2023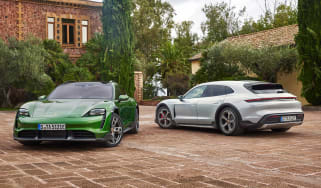 Top 10 slowest-depreciating electric and hybrid cars 2023
Electric Renault 5: prices, 2024 launch date and teaser images of the MINI Cooper rival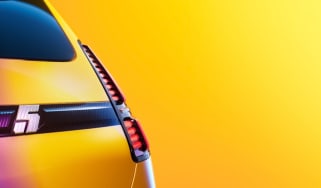 Electric Renault 5: prices, 2024 launch date and teaser images of the MINI Cooper rival
New official teaser pictures for Renault's electric supermini confirm the 5's reveal in February 2024
Big price cut: Electric Renault Megane prices slashed in time for Christmas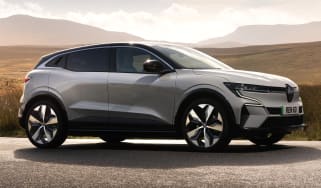 Big price cut: Electric Renault Megane prices slashed in time for Christmas
Renault Megane E-Tech gets a price drop of up to £3,500, bringing the starting price to just £34,495