Kia Stonic hybrid 2019: specs and on-sale date
The Stonic will be available with mild-hybrid technology in 2019, and bosses say that an electric version is also under consideration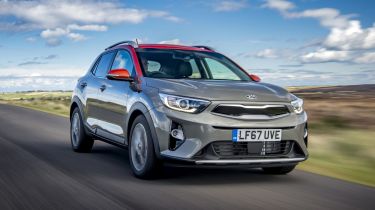 Kia is pushing ahead with the electrification of its range, and the Stonic looks set to join the likes of the Niro and Optima in offering more than petrol and diesel engines. 
That much was confirmed to our sister title Auto Express at the launch of the Stonic in 2017, when Kia Europe's vice president for marketing Arthur Martins said: "We're looking at mild hybrid for the Stonic." Another spokesman confirmed that the company was considering an electric version of the Stonic and that the platform could accommodate an electric powertrain.
Since then, there has been no more official word on developments, but the we expect the mild-hybrid system to work in a similar way to Suzuki's SHVS set-up. That means any surplus energy could be stored and used to run various electrical components in stop-start traffic. It could also be used to boost the car's acceleration, as well as improving the car's fuel economy and cutting emissions.
There has also been no official word on an electric Stonic, although there has been speculation that it would use the same powertrain as the Hyundai Ioniq Electric or Hyundai Kona Electric.
Such a development would be fully in keeping with the way the Kia is going: choosing to electrify its existing models, rather than create bespoke electric vehicles. And, with electric versions of the Soul and Niro already confirmed – alongside other electric cars from sister company Hyundai – it's clear that Kia is up to speed with the technology.