New electric Jaguar XJ: specification and release date
New electric-only Jaguar XJ to be revealed soon; 300-mile range expected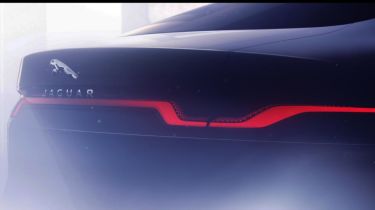 This is the new fully electric Jaguar XJ luxury saloon, seen here in our spy shots testing under a heavy disguise. The new car will be a replacement for the already-discontinued previous-generation XJ, and will be available exclusively with electric power.
While the car was originally expected to enter production in early 2021, reports have suggested that coronavirus-related factors have pushed that date back until October 2021. 
However, it has also been reported that the new Jaguar XJ will be unveiled to the public in November 2020, following an unveiling the month before of the forthcoming electric Range Rover.
Technical specifications are still unconfirmed, but reports have suggested that the XJ will use a 90.2kWh battery and boast a range of around 300 miles.
In late 2019, a presentation at that year's Frankfurt Motor Show briefly showed an image (below) of the rear of the car, revealing a full-width light strip, topped with prominent Jaguar lettering and the leaping-cat logo.
Speaking during the presentation, Jaguar Land Rover CEO Sir Ralf Speth said: "Based on our rich knowledge and experience gained from the I-Pace, Formula E and the I-Pace eTROPHY, our engineering team is in full swing to deliver the world's first fully electric luxury sports saloon.
"The new, all-electric XJ – extraordinarily remastered for the 21st century – will offer spiritual freedom for our customers," he continued. "Gliding in elegance, new tranquillity and new functionality, and in full consciousness of taking care of the environment."
Unlike the Jaguar I-Pace electric SUV, which is manufactured under contract by Magna Steyr in Austria, the electric Jaguar XJ will be built in the UK, at Jaguar's Castle Bromwich site near Birmingham. Electric drivetrain production and battery assembly will also take place there.
Workers at the factory were the first to learn of the decision to build the new electric XJ in Castle Bromwich, with an announcement being made in July 2019 as the last of the outgoing combustion-engined model rolled down the line. Jaguar has also committed to co-developing electric drivetrain technology with BMW, in order to keep costs under control.