Infiniti Q50 Hybrid interior & comfort
Infiniti Q50 Hybrid passengers enjoy plenty of refinement and a comfortable interior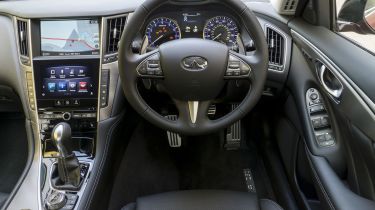 The hybrid powertrain is the most refined of all the Infiniti Q50 engine options, as it's virtually silent at low speeds and pretty muted when accelerating, too. There's a noise-cancelling system designed to eliminate intrusive sounds that might spoil your serenity, but it has to work a lot harder in diesel models, as the hybrid is so quiet already.
The suspension is on the firm side in order to handle the performance, but it's not a harsh ride. Most bumps are dealt with reasonably well, and although the fly-by-wire steering isn't laden with feel, it does provide an amount of insulation from bumps and potholes.
Infiniti Q50 Hybrid dashboard
The interior ambience is pretty good, but it's let down slightly by some less-than-premium materials. Some of the switchgear looks and feels a bit cheap, too, but if you overlook that the design is handsome and has quite a hi-tech feel thanks to twin display screens mounted in the centre console. The layout of the controls is straightforward and there are a pair of large analogue dials in front of the driver, which are easy to read and look good.
Equipment, options and accessories
Both of the Q50 trim levels available with hybrid power are upmarket, but there's no sat nav on the Sport. You do get 19-inch alloys, LED headlights, cruise and climate control plus keyless entry, though, as part of a decent haul of kit. Investing in the Sport Tech brings sat nav, active cruise control plus some other safety enhancements, not to mention a rather flashy 16-speaker Bose stereo.
Infotainment, apps & sat nav
There are dual touchscreens on both the Sport and Sport Tech, with the larger eight-inch screen operating the entertainment and sat nav where fitted and the lower screen used for vehicle functions. They're clear and easy to use, but sometimes feel a little slow to process menu requests. Infiniti InTouch lets you stream music from your smartphone, but there's no Apple CarPlay or Android Auto.