Infiniti Q50 Hybrid engines, drive & performance
The Infiniti Q50 Hybrid offers plenty of speed, but the brakes and steering are remote and uninvolving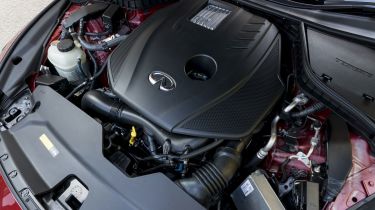 | 0-62mph | Top speed | Driven wheels | Power |
| --- | --- | --- | --- |
| 5.1 secs | 155mph | Rear-wheel-drive | 364bhp |
Although the Infiniti Q50 Hybrid has all the acceleration you could ask for, the electric motor doesn't feel that well integrated into the powertrain, and unusual 'fly-by-wire' steering inspires little confidence in the enthusiastic driver.
Infiniti Q50 Hybrid engine, 0-62mph and acceleration
The Q50 Hybrid is almost the most powerful drivetrain in the Q50 line-up, with its 3.5-litre V6 engine making around 300bhp and the electric motor adding another 50bhp or so for a total output of 355bhp. That's good enough to launch the rear-wheel-drive car to 60mph from rest in 5.1 seconds, but the extra weight of the four-wheel-drive variant knocks off a few tenths – it does the sprint in 5.4 seconds. Top speed for both models is limited to 155mph.
The powertrain is generally smooth and refined and the seven-speed automatic gearbox works well, with none of the histrionics of the CVT gearbox fitted to Lexus hybrids. But our testers have reported instances of abrupt changeover between electric and petrol power on the Q50 Hybrid, which cracks the refined veneer a little.
Handling
The Infiniti Q50 features steering with no direct mechanical linkage from the front wheels to the steering wheel. It's all done by sensors and actuators, which is novel but not very pleasing from the driver's point of view. It's remote, lacks feel and doesn't inspire confidence in corners if you're trying to take advantage of the Q50 Hybrid's strong performance. The brake feel isn't very consistent either, again to the detriment of performance driving. That said, the car grips well and the firm sports suspension resists body lean effectively. We wouldn't recommend the extra cost of the four-wheel-drive model unless you live in a place where the roads and weather regularly conspire to produce slippery conditions. It's hard to tell the two versions apart in normal driving.