Infiniti Q50 Hybrid running costs
There's little about the Infiniti Q50 Hybrid to suggest it was designed with economy in mind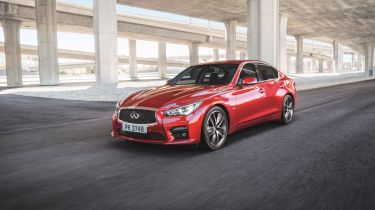 | Insurance group | Warranty | Service intervals | 2018/19 company car cost (20%/40%) |
| --- | --- | --- | --- |
| 38E | 36 months / 60,000 miles | 12 months / 9,000 miles | £2,683.95 / £5,367.90 |
The Q50 Hybrid's powertrain offers up to 45.6mpg in rear-drive configuration, which looks pretty good for a high-performance saloon. However, it's less good if you're looking at hybrids with a view to matching diesel economy, and particularly disappointing if you're looking for a company-car tax break.
That's because a CO2 output of 144g/km doesn't impress HMRC much when it comes to Benefit-in-Kind (BiK) rates – you'll pay 29% even for the rear-drive model. Pick the four-wheel-drive Q50 hybrid and the 159g/km CO2 number makes you liable for 32% BiK. The unfortunate truth is, even though the CO2 figures aren't bad for the power output, we can't see the advantage ever being massively relevant.
For example, the Audi S5 Sportback is similarly priced, has a similar amount of power but emits 170g/km from its 3.0-litre TFSI petrol V6 engine and claims 37.7mpg economy. It's quicker and more fun to drive, and although it'll likely cost a bit more to run than the Infiniti and has a 37% BiK rate, the cost penalty is fairly small.
The Q50 doesn't qualify for any government grants towards the purchase price, and nor is it exempt from the London Congestion Charge.
Infiniti Q50 Hybrid insurance group
The high performance and price of the Infiniti Q50 Hybrid mean you're not going to get brilliant insurance deals. It's been given an insurance group rating of 46 out of a possible 50.
Warranty
The three-year/60,000-mile warranty offered by Infiniti is unexceptional. BMW offers three-year cover with unlimited mileage, but Lexus only matches the Infiniti deal.
Servicing
There aren't many Infiniti dealerships around in the UK, but there are 'service partners' dotted around the country and you can pay up front for three, four or five years of inclusive servicing.
Road tax
Because they cost over the £40,000 threshold, all variants of the Infiniti Q50 Hybrid attract the luxury car road-tax premium of £310 – making the annual bill £440 in years two to six of ownership.
Depreciation
The depreciation forecast for a new Infiniti Q50 hybrid is hardly dazzling, with predicted residual values of between 35 and 39% of new cost after three years and 36,000 miles. The Lexus IS 300h is predicted to be worth between 45 and 49% on a similar forecast.