Infiniti Q50 Hybrid MPG & CO2 emissions
The Infiniti Q50 Hybrid is clean and frugal – when compared to a conventional performance saloon, at least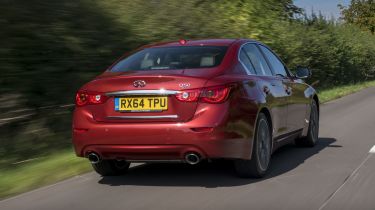 | MPG (comb) | MPG (urb) | MPG (ex-urb) | CO2 |
| --- | --- | --- | --- |
| 45.6mpg | 34.4mpg | 55.4mpg | 144g/km |
The Infiniti Q50 falls between two stools when it comes to efficiency. Although the hybrid technology to some extent mitigates the thirst and tailpipe emissions of the V6 petrol engine, you have to wonder how many environmentally conscious drivers would want a big engine and such punchy performance in the first place.
Infiniti Q50 MPG
For a hefty 350bhp performance saloon, the quoted average fuel-economy figure of 45.6mpg doesn't sound too bad, but that's the figure for the rear-wheel-drive model; if you spec four-wheel drive, it's a less impressive 41.5mpg. Chances are in real life the Q50 Hybrid will fare significantly less well.
CO2 emissions
Here again, anyone looking for real hybrid benefits is likely to be disappointed by the Infiniti Q50's performance. Yes, 'official' emissions of 144g/km of CO2 for the rear-wheel-drive car and 159g/km for the four-wheel-drive model are competitive for a performance car, but look distinctly 'eco-unfriendly' when compared to hybrids that focus more on efficiency. The Lexus IS is the most obvious comparison, and it produces just 97g/km of CO2 as well as managing over 65mpg.
Battery warranty
The Infiniti Q50 has a 50kW, 346V battery to run the hybrid electric motor, as well as a conventional engine-starting battery. Unlike other manufacturers, which offer extended warranty cover on their hybrid systems, Infiniti applies its standard three-year/60,000-mile cover for the whole car. There's no extra guarantee for hybrid battery life