Hyundai Ioniq Plug-In owner review
Londoner Keith Ware shares his ownership experience of the Hyundai Ioniq Plug-In Hybrid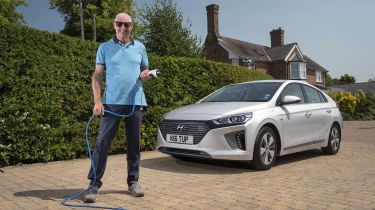 Switching straight from a conventional petrol or diesel-engined car to a fully electric model is a fairly major change, so it's perfectly understandable that some drivers want to make the process more gradual.
Keith Ware is retired, using his car most frequently for the four-mile trip between his home in Upminster, London, and his local golf club – a journey he undertakes roughly three times a week. He wanted to be able to do this without using any petrol.
Having decided it was time to trade in his Mitsubishi ASX for something with an electrified powertrain, Ware visited a Hyundai dealership. Here, he took test drives in the Kona Electric and the Ioniq Electric, both of which he was extremely impressed with.
"I did a few test drives and I loved the quietness and the acceleration," he said. "My last automatic, a Jaguar X-Type, had some lag, but EVs are completely different."
Unfortunately, Ware's visit to the dealer came at a time when the Kona Electric and Ioniq Electric were subject to supply issues, and neither was available to order. The salesman offered an alternative, though – an Ioniq Plug-in Hybrid ex-demonstrator with just 1,000 miles.
"I tried it, liked it and bought it," Ware told us. "It does at least 30 miles on electricity alone, even in winter. It's great –  I drive on pure electric 90% of the time. I can't remember the last time I went to a petrol station!"
Two years on, Ware is sure he made the right call, but reckons the UK public charging network wasn't quite ready when he took delivery of his Ioniq. "I did a long trip around Scotland last year," he said. "I didn't use public charge points, as I didn't want to occupy a space that someone with an all-electric car may need more desperately; I can use my petrol engine if need be."
Ware says there aren't a lot of public charging stations near his home, but he has a garage with a three-pin socket in it. Although he would have a home charge unit installed if he were to buy a fully electric car, the current set-up allows him to top up his Ioniq's battery in around four hours, which works fine for him at the moment.
"I've watched a lot of YouTube videos and some of them make it seem as though the charging process isn't very fluid," Ware added, explaining why he had been hesitant to switch to an EV. "If the chargers at your destination are all occupied, you sometimes have to drive a number of miles to get to another charger. I can't be bothered with that, and my wife wouldn't put up with it either!"
Ware thinks there's a good chance he'll opt for an fully electric vehicle as his next car, and the Kia e-Niro and Ford Mustang MACH-E most take his fancy. The winner will likely be whichever can fit his golf clubs in the boot the easiest.