Sony and Honda's first electric car to launch in 2026
The electronics brand and carmaker's new joint venture is considering bringing its first EV to Europe, but no plans have been set to date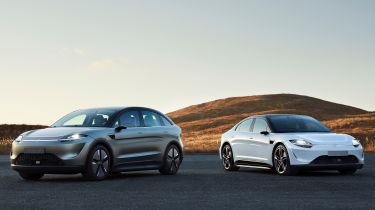 Sony and Honda's new joint venture, simply called Sony Honda Mobility, is aiming to launch its first electric car by 2026. The as-yet-unnamed EV will be sold online in the United States and Japan first, with the two companies currently considering plans to introduce it in Europe as well.
Details remain thin on the ground at the moment regarding what shape Sony and Honda's first EV will take, but a newly released teaser video suggests we'll get our first look on 4 January 2023 at the Consumer Electronics Show (CES) convention.
Honda will decide what platform the new EV will use, as well as key details regarding the battery pack, and will eventually build the car at its North American factory.
Development of the car's software and user interface will be handled by Sony, with the forthcoming EV set to feature subscription options and services, possibly similar to those we've seen in some BMWs recently. But what form these will take remains to be seen.
Sony will also provide sensors and other technology to enable autonomous driving up to Level 2 in most situations, including town and city driving, plus Level 3 autonomous capabilities in limited circumstances – most likely on the motorway.
The new joint venture company says it will provide a "personalised post-sales customer experience". But when it comes to any maintenance needs, we expect drivers of Honda/Sony's EVs will be able to rely on Honda's existing dealership network.
Pricing is under wraps but given the premium billing and high-tech interior, a price tag of around £50,000-60,000 is likely. Pre-orders will commence in the first half of 2025, before order books open towards the end of that year. First examples should arrive in the US in spring 2026.
Sony has been exploring electric-car production for several years now. The electronics giant unveiled a zero-emissions saloon concept called the Vision-S 01 back in 2020, followed by the Vision-S 02 electric seven-seat SUV concept (above) that made its debut at the 2022 CES back in January. 
It's possible one of these concepts could eventually give rise to the new company's first road-going electric car, but we'll have to wait and see. In the meantime, read on to find out more about both the Sony Vision-S 01 and Sony Vision-S 02…
Sony Vision-S 02 concept
According to Sony, the 2022 Vision-S 02 concept sits on the same platform as the 2020 Vision-S 01 (below), but demonstrates how the architecture can underpin different car types. The 02 is a seven-seater family SUV that has the look of a Tesla Model Y rival.
Sony has grouped the technologies it's developing using the Vision-S concepts into three key areas: safety, adaptability and entertainment. On the safety front, the cars boast 360-degree sensor coverage and 'Level 2+' autonomous driving capability.
Elsewhere, adaptability is enhanced by voice-recognition system and custom user profiles that can be saved for a number of drivers. Over-the-air (OTA) software updates are also possible, while the Vision-S concepts also feature 360-degree surround-sound audio, plus digital video playback on the front and rear screens. PlayStation gaming by means of a remote connection to a home console is also being developed.
Sony Vision-S 01 concept
First revealed at the 2020 Consumer Electronics Show (CES) in Las Vegas, the Vision-S 01 was shown taking to the road for the first time in a video released at the same event in 2021. The footage depicts the car undergoing testing in Austria wearing a light dazzle camouflage on its otherwise undisguised bodywork.
The Vision-S 01 follows the trend for luxurious, rakishly styled electric cars with plenty of performance. It uses a pair of electric motors that can propel it to 62mph from rest in 4.8 seconds and on to a top speed of 149mph.
On-board technology includes the Sony Safety Cocoon – an array of sensors that provide 360-degree coverage using next-generation systems like 'Solid State Lidar' to map out the car's surroundings.
Advanced gesture control is implemented inside the car, along with a large digital dashboard, advanced AI systems, rear-seat screens that give passengers a view of the road ahead, plus other clever touches.
Volkswagen ID.3 facelift due in spring 2023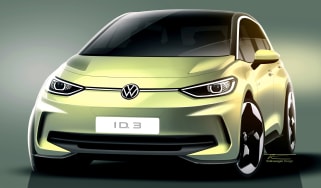 Volkswagen ID.3 facelift due in spring 2023
New sketches provide a glimpse at refreshed styling and cabin of Volkswagen's electric family hatchback
New Vauxhall Astra Electric hatchback and estate unveiled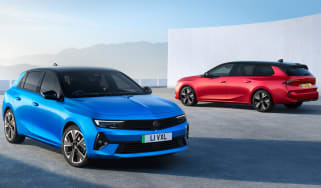 New Vauxhall Astra Electric hatchback and estate unveiled
The new Astra Electric and Astra Sport Tourer Electric go on sale in early 2023, with prices expected to start from between £35,000 and £40,000