Citroen C5 Aircross Hybrid: details, specifications and prices
The plug-in hybrid variant of Citroen C5 Aircross is on sale in the UK now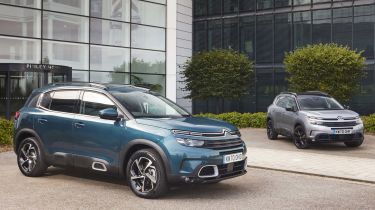 The Citroen C5 Aircross Hybrid has officially gone on sale in the UK, priced from £35,370. The car features a 13.2kWh battery capable of delivering up to 34 miles of electric range. Two trims are available: Flair and Flair Plus, with the latter starting at £36,845.
Sat nav, blind-spot monitoring, lane-keeping assistance, automatic emergency braking, front and rear parking sensors and a rear-view camera are standard, as well as 18-inch alloy wheels and dual-zone climate control. Flair Plus adds a half-leather interior, a power-adjustable driver's seat, an automatic tailgate, active cruise control, a panoramic sunroof and optional parking assistance.
There's an eight-year/100,000-mile warranty on the battery, guaranteeing 70% of its as-new performance, while in common with all other PSA Group electric and plug-in hybrid cars, the C5 Aircross Hybrid also comes with eight years or 100,000 miles of breakdown cover.
Under the bonnet, a 178bhp PureTech petrol engine joins forces with a 107bhp electric motor, delivering a combined maximum of 222bhp through an eight-speed transmission. Acceleration from 0-62mph takes 8.7 seconds and top speed is 140mph, while the C5 Hybrid can haul a braked trailer or caravan weighing up to 1,300kg. Citroen claims CO2 emissions of 32g/km and fuel economy of 168mpg for the car.
As is the case with all plug-in hybrids, achieving the latter figure in the real world relies on regular charging using the Type 2 cable: Citroen says the C5 Aircross can be topped up fully in two hours using a 7kW home wallbox, while a three-pin plug will need around six hours.
Either method is likely to cost less than £2 on an average household electricity tariff. Charging can be scheduled using the MyCitroen app (which allows drivers to pre-heat or pre-cool the interior, as well as check the battery charge and fuel level remotely), with cable storage provided under the boot floor. While charging, the car displays the remaining charge time, electric range gained and battery status on the dashboard.
Several driving modes are offered on the C5 Aircross Hybrid, including hybrid (default), engine-only and electric-only settings. In its pure-electric mode, the SUV operates at speeds of up to 84mph without assistance from the engine. Additionally, drivers can cap the amount of charge used on any given journey, reserving a percentage of battery power should it be required at a later stage: for example, anyone driving into cities with ultra-low emission zones, such as London.
Inside, the C5 Aircross features a 12.3-inch digital dashboard and an eight-inch touchscreen with new graphics. Citroen also promises "exceptional" protection from noise intrusion, claiming that the mandatory sound signal that warns pedestrians of the car's presence at speeds below 19mph can't be heard inside the car.
'Advanced Comfort' seats are also included, while 19 driver-assistance systems should help reduce the risk of an accident. In the rear, all three seats can fold, recline and slide forward to provide "best-in-class" boot space, which ranges from 460 to 600 litres with the seats in the upright position, and 1,510 litres when they're lowered.
On the outside, there's little to tell the plug-in hybrid model apart from the rest of the line-up, apart from the Anodised Blue colour pack and 'h' logos that mark the car out as a hybrid. The charging flap is on the left of the vehicle, with the fuel filler cap on the opposite side.
The C5 Aircross Hybrid is a sister model to the Peugeot 3008 Hybrid, Vauxhall Grandland X Hybrid and DS 7 Crossback E-TENSE, although unlike those three models it won't be offered with the more powerful 296bhp four-wheel-drive plug-in hybrid setup.
Citroen expects the Hybrid version to make up approximately 20% of C5 sales in total from now on, with roughly 40% petrol and 40% diesel making up the rest of the mix. Around 70% of C5 Hybrids are expected to go to fleet customers.
New 2022 Citroen C5 X flagship plug-in hybrid crossover: details, specs and pictures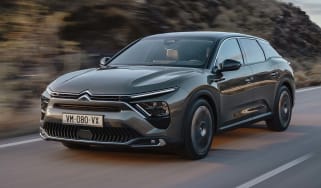 New 2022 Citroen C5 X flagship plug-in hybrid crossover: details, specs and pictures
Citroen C5 replacement spied testing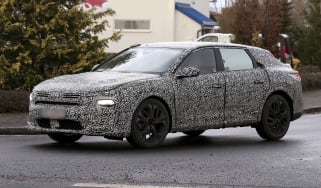 Citroen C5 replacement spied testing
Top 10 best seven-seater electric and hybrid cars 2021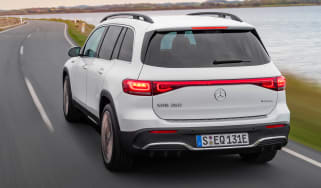 Top 10 best seven-seater electric and hybrid cars 2021
If the regular crop of electrified SUVs and family cars don't provide enough practicality for you, then take a closer look at the range of electric an…
EV36Zero and Nissan's road to carbon neutrality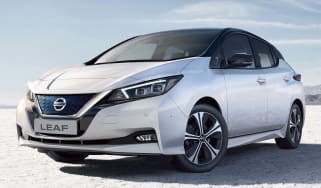 EV36Zero and Nissan's road to carbon neutrality
How the EV36Zero hub in Sunderland is set to take Nissan a step closer to its sustainability goals
Top 10 best luxury electric cars 2021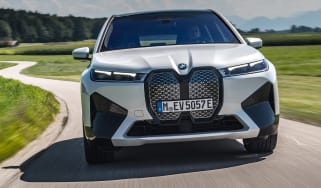 Top 10 best luxury electric cars 2021
From Audi to Tesla, here are our top picks of the most luxurious zero-emissions motoring options on the market right now