Motability and electric, plug-in hybrid and hybrid cars
Hybrid, plug-in hybrid and electric cars are available on the Motability scheme. Here's what you need to know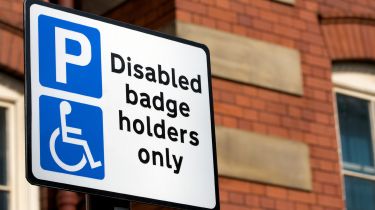 Car ownership can be tricky for people with a disability. For one, new cars aren't cheap to purchase, and many can be unsuitable for those who require the fitment of special controls or an easier way of entering the vehicle.
This is where the Motability Scheme comes in. A charity organisation working with the Department for Work and Pensions, it aims to help disabled people with their car purchase and, if necessary, conversion, so they can get safely behind the wheel. Motability also takes care of the cost of insurance, breakdown cover plus servicing and maintenance, removing another stress factor for owners.
In short, Motability works by providing cheaper lease deals for people with disabilities, their families and carers, and helping with the cost of vehicle conversion. The deals are in part financed by the Higher Rate Mobility Component (HRMC) of a recipient's Disability Living Allowance, or by their Personal Independence Payment (PIP).
Those receiving a War Pensions Mobility Supplement or the Armed Forces Independence Payment are able to lease a vehicle via Motability as well. The past few years have seen some hybrid, plug-in hybrid and electric vehicles included in the scheme, giving buyers more choice than before on the type of car they can purchase. Read on to find out how to get an electric or hybrid car on the Motability Scheme.
For more information, check out our separate pages dedicated to our favourite hybrids and electric cars available on Motability. 
Hybrid, plug-in hybrid and electric cars on Motability with no advance payment
At the moment, unless you're able to make an advance payment out of your own pocket to 'top up' your Motability allowance, there are no pure-electric vehicles available on the scheme, but there are three hybrid models that you can choose from that use the maximum amount of the allowance, but no more.
The easiest way to find them is to go to the car search tool on Motability's website, set the 'Advance payment' to zero and in the fuel type category, select 'Hybrid - Petrol'. This will display all the available hybrid models with no advance payment.
A select few hybrid and electric models are available without an up-front payment: these include the Hyundai Ioniq Hybrid, Kia Niro and Smart ForTwo EQ, although the Smart currently listed is the pre-facelift model. For more details, we've made a list of the best Motability hybrid cars and best Motability electric cars eligible for the scheme right now. 
Before picking a vehicle, make sure you're eligible for the scheme. To find out, visit Motability's website. Once you've picked the right car, contact the Motability Scheme specialist at your local dealership, who'll then place the order. Note that you will need to have at least 12 months remaining on your Mobility allowance when placing the order.
Hybrid, plug-in hybrid and electric cars on Motability with an advance payment
If you can afford to make a one-off advance payment out of your own pocket to 'top up' your Motability allowance, that opens up more hybrid, plug-in hybrid and pure-electric options.
As of March 2020, some higher-spec versions of the Ioniq Hybrid mentioned above are available with an advance payment of just £99, while the Toyota Yaris Hybrid is available with an advance payment of between £195 and £895 depending on spec.
The Toyota Prius is only available in plug-in form and so commands a £2,695 payment for the lower-spec version, although the Prius+ starts at £195. The Toyota Corolla Saloon and Hatchback are available with a payment starting at £695, rising to £745 for the Touring Sports estate version.
The most accessible pure-electric car on Motability with an advance payment as of March 2020 is the previous-generation Smart ForFour and ForTwo, both of which need £399 up front. It's worth noting that facelifted versions should take their place soon. 
Slightly larger options include the Hyundai Ioniq Electric hatchback (from £749) or the MINI Countryman S E ALL4 plug-in hybrid SUV (from £1,749).
Larger hybrid options include the Mitsubishi Outlander PHEV, Toyota RAV-4 and Honda CR-V, but these models require pretty hefty advance payments.
Can solar panels charge an electric car?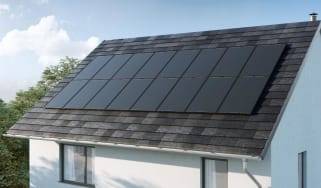 Can solar panels charge an electric car?
Charging your electric car with solar panels is a great way to save money in the long run. We explain why...
New Kia EV6 electric car: details, pictures, price and on-sale date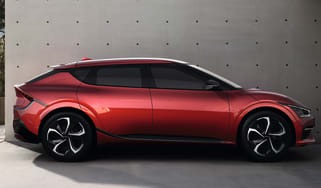 New Kia EV6 electric car: details, pictures, price and on-sale date
The Kia EV6 is the brand's upcoming flagship electric car, with impressive range and charging capabilities and a starting price of £40,895
Lifting the lid on the Mitsubishi Outlander PHEV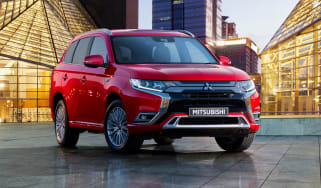 Lifting the lid on the Mitsubishi Outlander PHEV
A look at the efficiency, interior and safety features of Mitsubishi's flagship PHEV