Electric BMW 3 Series pictures leaked online
Undisguised images of the fully electric BMW 3 Series, which could adopt the 'i3' name when it goes into production, have leaked online ahead of its 2022 debut
The first images of the pure-electric BMW 3 Series saloon have been leaked from the Chinese patent office, ahead of the new Tesla Model 3 rival's official unveiling in 2022. 
The latest addition to BMW's rapidly expanding range of i-badged electric cars is expected to adopt the 'i3' name from the brand's existing electric hatchback, which has been around since 2014 but won't be directly replaced. However, this remains speculation for now, as the official name of the electric 3 Series has yet to be confirmed. It's also unconfirmed as yet which markets it may go on sale in; it may not be a 'global' car.
The leaked images were originally submitted by BMW to the Chinese patent office as part of the verification process for the country's intellectual property register, before they made their way to social media. The electric saloon's styling appears to be largely unchanged from the combustion-engine version, aside from a blanked-off front grille that resembles those on both the BMW i4 saloon and BMW iX3 SUV. The rear diffuser has also been altered due to the lack of exhaust pipes and it features some blue accents. The car also sports aerodynamic alloy wheels, as seen on the i4 and iX3.
BMW has yet to release any technical details about the electric 3 Series, such as the size of its battery or power outputs, but given that it shares a platform with the i4, we expect key components to be carried over, including BMW's fifth-generation eDrive electric drivetrain technology. As a result, its range and performance figures are likely to be very similar.
The entry-level i4 eDrive40 features a single electric motor that produces 355bhp, while the top-of-the-range i4 M50 pumps out 537bhp and 795Nm of torque courtesy of its dual-motor setup. Both versions of the i4 have an 81kWh battery, which provides enough power for ranges of 365 and 318 miles respectively.  
The electric 3 Series isn't the new zero-emissions model from BMW predicted to debut in 2022. The carmaker has already confirmed it'll be taking the wraps off the i7 – a rival to the Mercedes EQS and Tesla Model S – at some point next year, while we expect electric versions of the X1 SUV and next-generation 5 Series to be unveiled in 2022 as well.
Although it's unclear at this stage whether the electric 3 Series will come to the UK and Europe, if it does it'll be offered alongside plug-in hybrid, petrol and diesel-powered versions of the highly popular model – the same way as the aforementioned i4 and iX3 serve as zero-emissions versions of the combustion-engined 4 Series Gran Coupe and X3 respectively.
New 2022 Cupra Born electric car: prices, specs and details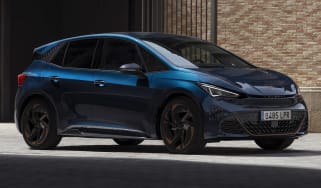 New 2022 Cupra Born electric car: prices, specs and details
Cupra's first electric car, and sister model to Volkswagen's ID.3, can cover up to 335 miles on a charge and do 0-62mph in under seven seconds; prices…
Where can I buy hydrogen and where is my nearest hydrogen filling station?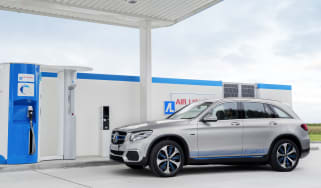 Where can I buy hydrogen and where is my nearest hydrogen filling station?
A guide to where you can find UK hydrogen fuel stations for filling up a hydrogen fuel-cell car
New 2022 Volkswagen ID.5 and ID.5 GTX: prices, spec and details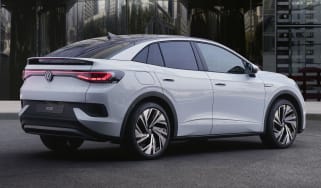 New 2022 Volkswagen ID.5 and ID.5 GTX: prices, spec and details
The coupe version of the ID.4 can cover up to 313 miles on a charge and is available in high-performance GTX guise from launch; prices start from £50,…