Best electric dirt bikes 2021
Electric power is perfectly suited to the needs of off-road motorbikes. Here, we select the best of the bunch you can buy right now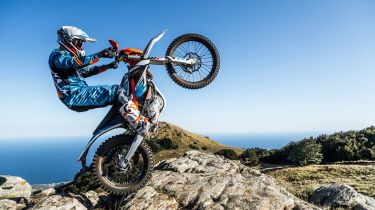 Electric motorbikes for on-road use may not have convinced everyone just yet, but when it comes to off-road bikes, the argument for using battery rather than petrol power becomes even more compelling. Range isn't as big of a problem here, as generally off-road bikes aren't used for more than about half and hour at a time, while the characteristics of electric motors – giving you instant torque at any speed, without the need for a gearbox – are perfect for tackling rough and slippery surfaces.
Then there's the elephant in the room – noise. Off-road motorbiking, whether it's motocross, trials or just trail riding for fun, has come under attack from the anti-noise brigade since the beginning of time. This clearly isn't an issue when it comes to electric bikes. Electric off-roaders are also more suitable for children than petrol machines; they're simpler to operate, with no clutch, no gears and no hot exhaust. Transporting them is easier, too, because there are no fluids to spill.
Battery-powered dirt bikes still cost more up-front than their petrol-fuelled counterparts, and none of the bikes featured here qualify for the government's plug-in grant, but there's still a decent choice of machines, from the child-friendly Oset to the race-ready KTM.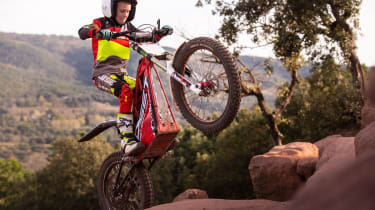 Oset 24.0 Racing – £3,399
Oset has virtually cornered the market for kids' electric dirt bikes. Now based in the UK, it was started by American Ian Smith, who wanted a decent dirt bike for his three-year-old son to start out on, but was put off by the prospect of flammable fuel and hot exhausts.
The Oset trials bike was the result, and has been a huge success ever since. No clutch, no gears, no fluids to spill and no red-hot exhaust to burn small fingers. Oset now offers a big range of trials bikes to suit three to five-year-olds, five to seven-year-olds, eight-year-olds plus and most recently teens and adults as well.
Lead-acid batteries keep the cost down on the smaller bikes (from £889), while the 24.0 Racing is a full-size trials machine with 19-inch tyres, a lithium-ion battery and disc brakes. Trials is the low-speed arm of off-road biking; it's more about learning delicate balance skills than leaping off big jumps.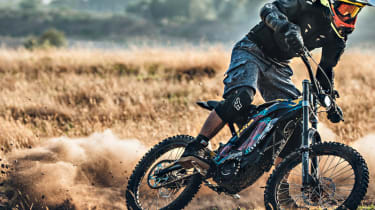 Sur Ron Storm – from £2,995
In a world of lightweight dirt bikes, Sur Ron is the featherweight. At just 45kg, the Light Bee is almost light enough to qualify as an electric bicycle, but in looks, layout and chassis spec, it's halfway between a full-size dirt bike and a downhill mountain bike.
Purely designed for use off-road, the Storm has a tiny 1.2kWh battery and a motor peaking at 22.5kW, and although speed is limited to 30mph on the 'Youth' version, that's still pretty fast when bouncing over rocks. Sur Ron says it'll run 40 miles on a charge… at a steady 20mph.
Otherwise, a short wheelbase, big ground clearance and strong frame promise fine off-road agility. Sur Ron also offer full-size and road legal dirt bikes with more power and bigger battery.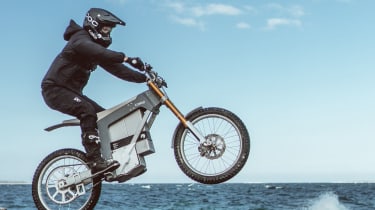 CAKE Kalk – from £10,800
Imagine you're a DJ planning a rave in isolated woodland, or a carpenter needing access to power tools miles from anywhere – the CAKE could be the bike for you. Built in Sweden, it offers an off-grid power supply from the main battery, with an AC-DC inverter able to fuel tools, PA systems or lights.
Partnership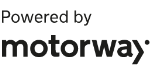 Need to sell your car?
Find your best offer from over 5,000+ dealers. It's that easy.
Otherwise, the CAKE Kalk (the name probably works better in Swedish) is a bare-bones dirt bike that's road-legal. The 7kW (10kW peak) motor is enough for a top speed of 63mph and a range of just over 60 miles of mixed riding, as long as you opt for the bigger 2.5kWh battery.
Weighing 77kg, the CAKE is another featherweight off-roader with very low maintenance, thanks to the electric motor and belt drive –chores are restricted to brakes, tyres and battery charging. As for the style, it's pure Swedish functionality – did anyone mention IKEA?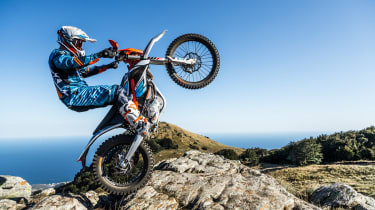 KTM Freeride E-XC – from £10,399
KTM is the Ducati of dirt bikes, with countless championships and race wins to its name. It's also a pioneer of full-size electric off-roaders, launching the Freeride back in 2014. Since then, it has become an established part of the range, with motocross, enduro and roadgoing supermoto versions, plus a small-wheeled minibike.
The 9kW (18kW peak) motor is water-cooled, as is the control unit, and the small 3.9kWh battery helps keep weight down to just 111kg. KTM claims the battery, which can be charged in situ or lifted out, gives 90 minutes of off-road riding and takes 75 minutes for an 80% recharge. It also reckons the Freeride is novice-friendly, with three riding modes from the mild Economy to full power Cross. It was updated for 2021 with Formula brakes.
And if you get carried away, when the battery falls below 10% charge, the bike goes into power-saving limp-home mode. Otherwise, the Freeride is like any other KTM dirt bike, with high-spec WP suspension, decent brakes and a quality frame.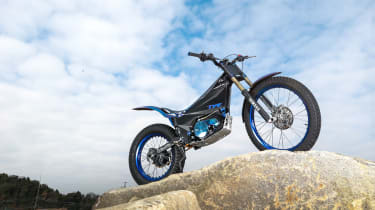 Yamaha TY-E
You can't walk into your local Yamaha dealer and buy a TY-E trials bike, because it's an "advanced development vehicle created as part of Yamaha Motor's Evolving R&D programme". This scheme allows Yamaha boffins to spend 5% of their working hours on projects of their own choice, and the TY-E was the result in 2018.
It has been evolving ever since, and has been campaigned in Trial-E World Championships. Like any trials bike, the TY-E majors on light weight, manoeuvrability and low-speed control. A carbon-fibre monocoque frame holds the small battery and keeps weight down to 70kg, with a very compact motor and flywheel designed to give good low-speed traction.
Unusually for an electric bike, the TY-E has a mechanical clutch, the better to smoothly feed in power at sub-walking-pace speeds. Yamaha may not be selling TY-Es to the public just yet, but it's a sign that the company is pursuing electric, as well as petrol, R&D.
Tesla Model 3 facelift will be a double-edged sword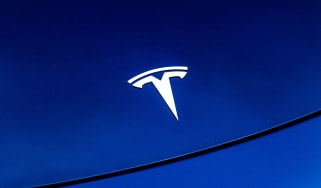 Tesla Model 3 facelift will be a double-edged sword
Tesla's updated EV will have an improved interior, greater range and a more affordable price – as well as one unfortunate drawback
Vauxhall Astra Electric: price, range and video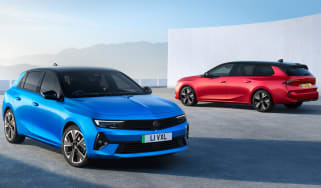 Vauxhall Astra Electric: price, range and video
The new Astra Electric shares its parts with the Peugeot e-308, with first deliveries due soon