2021 Audi e-tron GT: specs, price, release date & prototype review
The Audi e-tron GT is the firm's new flagship electric model, going head-to-head with the Tesla Model S and Porsche Taycan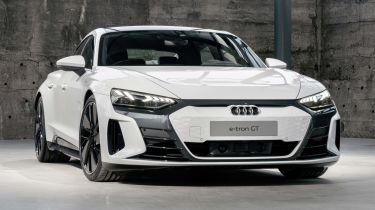 The new Audi e-tron GT electric car has been unveiled in full ahead of UK sales starting in May 2021. Two versions of the fully electric, four-door, four-seater coupe will launch simultaneously: the standard 'e-tron GT quattro' and a higher-performance 'RS e-tron GT' variant.
Similar in size to an Audi A7, the e-tron GT will join the Audi e-tron and Audi e-tron Sportback SUVs in the range, eventually forming part of a 25-strong line-up of electrified cars carrying the 'e-tron' badge.
The e-tron GT quattro is priced from £79,900 on the road in standard form and £106,000 in Vorsprung trim. The RS e-tron GT starts at £110,950, rising to £124,550 for Carbon Black specification and £133,340 for the range-topping Carbon Black Vorsprung.
Audi e-tron GT quattro & Audi RS e-tron GT: performance, range and charging
The standard car puts out 469bhp, while the RS version produces 590bhp. Both feature a launch-control system that can temporarily boost output for 2.5 seconds, to 523bhp for the standard car and 637bhp for the RS. The models have 0-62mph times of 4.1 and 3.3 seconds respectively, along with top speeds of 152 and 155mph.
Like its Porsche Taycan sister model, the e-tron GT has a two-speed transmission, with the short-ratio first gear enabling strong acceleration when starting with launch control. The car can also start off more gently in second gear, which is used for almost all other driving situations.
Both versions of the e-tron GT send power to all four wheels, but operate in front-wheel drive when the range-maximising 'efficiency' driving mode is selected. Energy is recaptured by regenerative braking, which can be left to its own devices, or manually adjusted by the driver using steering-wheel-mounted paddles.
Audi is predicting a driving range of 280 miles for the RS e-tron GT and 295 miles for the e-tron GT quattro; both cars have an 85kWh battery and match the Porsche Taycan's maximum public (DC) rapid charging speed of 270kW. This gives the ability to add over 60 miles of driving range in just five minutes of topping up from a fast enough charger.
Domestic (AC) charging is possible at speeds up to 11kW as standard, or 22kW as an option, although the lack of three-phase power supply in most UK homes means buyers in this country will be limited to 7kW home charging in most instances. The e-tron GT has AC charging ports on both sides of the car, with a DC port on the right-hand side only.
Accomplished handling is promised due to a low centre of gravity, thanks both to lightweight carbon-fibre doors and roof, as well as the weight of the battery pack located low down in the chassis. The RS e-tron GT comes as standard with adaptive air suspension, and this can be added to the e-tron GT quattro as an option. All-wheel steering is optional on both versions.
Ahead of the e-tron GT's unveiling, we had the opportunity to drive a lightly camouflaged prototype of the car (see below), giving us our first impression of Audi's rival for the Tesla Model S and Porsche Taycan – and it's a good one.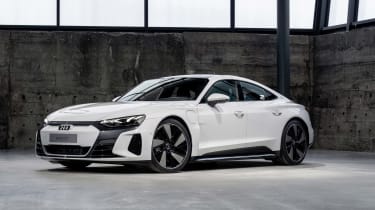 Styling
The absence of an engine up front and exhaust pipes at the rear of the e-tron GT has allowed for a very low bonnet and an advanced aerodynamic diffuser at the back. Audi's designers worked to give the car a sporty silhouette, with large wheels, a wide track and a long wheelbase. The shape is also very aerodynamic, which pays dividends when it comes to range.
Partnership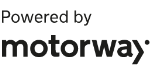 Need to sell your car?
Find your best offer from over 5,000+ dealers. It's that easy.
At the front, LED headlights are standard and Matrix LED headlights are optional on the e-tron GT quattro. Matrix lights are standard on the RS e-tron GT; the headlights can be further upgraded to Matrix LED laser lights on both models as an extra – which Audi claims doubles the range of the high beams.
Wheel sizes from 19 to 21 inches are being offered for the e-tron GT, with the 20 and 21-inch designs incorporating 'aero blades' that contribute further to the car's slippery aerodynamic profile. Buyers will have a choice of nine colours, including a new Audi shade called 'Tactical Green'.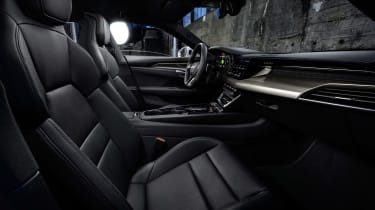 Interior and technology
Inside the e-tron GT, the main centre section of the dashboard extends out into the doors to emphasise the interior's width, while the driver's position is inspired by that of the R8 supercar, giving it a cockpit-like feel. A strong contour separates the upper section of the instrument panel from the lower section, which contains the control panel of the standard three-zone automatic air-conditioning system with its physical buttons.
There's a 12.3-inch 'virtual cockpit plus' screen behind the steering wheel and a 10.1-inch 'MMI touch' display in the dashboard. Navigation, on-board wi-fi and voice-control functionality are standard, while a head-up display and powerful Bang & Olufsen sound system are optional.
Audi promises four adults will be able to travel in comfort in the GT, with special 'foot garages' built into the floor to give more room for rear-seat occupants. Up front, three different types of seats are offered: the e-tron GT quattro gets sports seats with eight-way powered adjustment, while the RS e-tron GT gets 14-way adjustment and seat heating. Upgraded seats with 18-way adjustment, pneumatically adjustable side bolsters, climate control and a massage function are available as an option for both models.
For luggage, there's a 405-litre boot at the back and an additional 85 litres of storage under the bonnet. The brand offers either genuine leather or man-made upholstery options for the e-tron GT; in the latter case, the seats are upholstered either with a combination of artificial leather and a wool-like material called Kaskade, or a mixture of artificial leather and Dinamica microfibre. Recycled materials are used in both instances.
A heat pump is standard equipment on the e-tron GT; this uses waste heat from the electrical components to warm the cabin and reduces the impact on range from using the climate control. Elsewhere, extensive safety and driver-assistance technology features on the car, with the Audi 'pre sense' collision-avoidance pack coming as standard and systems such as adaptive cruise control, night vision, surround-view cameras and parking assistance appearing on the options list.
Prototype drive
Under the metal, the e-tron GT shares its platform and many components with the already-released Porsche Taycan. But while that model is very much pitched as a sharp and agile 'four-door sports car', Audi intends for the e-tron GT – as the name suggests – to be more of a luxurious, long-distance 'grand tourer'. To this end, it boasts its own design of air suspension and steering to differentiate it from its Porsche cousin.
Based on our first drive, Audi has largely achieved its goals in this respect. It felt more fluid over a mixture of different types of roads, with a surprisingly soft suspension for something wearing that 'RS' badge. The steering is light and direct, making the e-tron very easy to manoeuvre at low speeds and in tight spaces.
But if you want to tackle some twisty roads with enthusiasm, the Audi is capable of a transformation into a thrilling sports car: it hides its 2,200kg bulk very well, partly due to a low century of gravity and partly thanks to a rear-wheel steering system that gives it an extra layer of agility. There's also a variable all-wheel-drive system that can redirect power across all four wheels to where it's needed most, including sending almost all drive to the rear.
Unusually for an electric car (but in common with the Taycan), the e-tron GT has two gears, with second used for more refined cruising. It starts in this gear if you select Comfort mode, but in first gear if you're in Dynamic mode, for stronger acceleration before shifting to second. You're not able to select gears yourself; it's up to the car.
Although the RS e-tron GT makes 100bhp less than the most powerful model in the Taycan line-up, it still accelerates staggeringly quickly. Audi is planning an even faster 'RS Performance' variant, but it's hard to see how it's necessary, apart perhaps from beating Tesla's acceleration figures.
Returning to the e-tron's grand touring credentials, as with the Taycan, there are a number of useful storage areas, but it's a long way from a spacious SUV or estate car. It shares the Taycan's useful 'foot garage' for rear-seat passengers, with space from the gaps in the battery pack used to give more legroom. Headroom is generally fine, but a sloping roofline and narrow windows can make things feel a bit claustrophobic in the back. There's a 400-litre boot in the rear and an additional 80 litres of storage up front.
Overall, the e-tron GT feels like a new benchmark for the luxury electric-car class. While it can't quite stretch to Tesla's most extreme acceleration figures, it's more exciting and involving to drive than a Model S, and its ability to switch from comfortable cruiser to thrilling sports car with just a change of driving mode is deeply impressive. For those that can stretch to the Audi's significant price tag, it should be more than worth the outlay.
Top 10 best electric sports cars 2023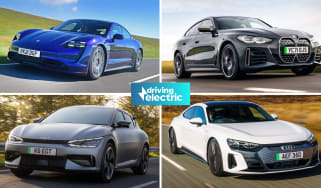 Top 10 best electric sports cars 2023
Top 10 slowest-depreciating electric and hybrid cars 2023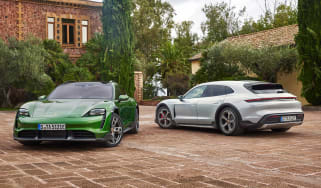 Top 10 slowest-depreciating electric and hybrid cars 2023
Top 10 best luxury electric cars 2023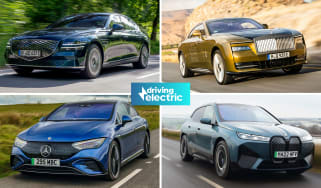 Top 10 best luxury electric cars 2023
BMW i4 facelift to topple Tesla with huge range and tech upgrades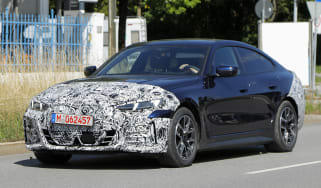 BMW i4 facelift to topple Tesla with huge range and tech upgrades
An updated version of the BMW i4 has been spotted testing, likely sporting a longer range and the latest technology
Electric BMW iX2 is set to take the kidney grille to the next level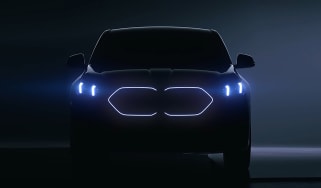 Electric BMW iX2 is set to take the kidney grille to the next level
BMW has teased the highly-rumoured iX2 coupe-SUV, which has been revealed to get enlarged illuminated kidney grilles