Audi Skysphere: new electric two-seat roadster concept unveiled
The Skysphere concept is the first of a trio of concept cars previewing the future of Audi design
This is the Audi Skysphere: an electric luxury convertible concept that features 'Level 4' autonomous driving technology, a variable wheelbase and two very distinct driving modes. But don't expect to see one in your local Audi showroom anytime soon: it's the first of a trip of 'Sphere' concepts intended to showcase the future of the brand's design philosophy.
In 'Grand Touring' mode, the Skysphere's steering wheel and pedals retract into the dashboard for maximum legroom and for an effortless driving experience, as the car is controlled by its autonomous technology. If you want a more involved experience, you can switch to 'Sports' mode, which lowers the Skysphere's ride height by 10mm and reduces its wheelbase by nearly 30cm from 5.19 to 4.94 metres. Sports mode also sees the steering wheel and pedals return to their usual position.
The Skysphere concept features a single rear-mounted electric motor that produces 623bhp and 750Nm of torque. The car can accelerate from 0-62mph in just four seconds, despite it weighing around 1,800kg. Its battery is expected to be larger than 80kWh, which should provide enough juice to cover over 310 miles (500 kilometres) on a charge. The battery is placed behind the cabin, for improved agility and a better center of gravity.
Audi has yet to reveal any information about the Skysphere's charging technology, but has confirmed it's based on 800v electronic architecture. That's similar to what the Audi e-tron GT and recently unveiled Audi A6 e-tron concept use; the latter is able to recharge at up to 270kW, so we'd expect similar capabilities from the Skysphere.
The adaptive wheelbase isn't the only configurable aspect of the Skysphere, as the steering is also electronic, meaning you can adjust the ratio to be either extremely direct or more comfortable as desired. The concept car also features rear-axle steering for better maneuverability.
Design-wise, Audi's latest concept car is inspired by the Horch 853 convertible from the late 1930s, with that car also featuring a long bonnet and short rear deck. The Skysphere's cabin is a mixture of Art Deco-inspired elements mixed with a mass of screens and touch-sensitive panels. On the outside, there are 23-inch alloy wheels and the latest evolution of Audi's adaptive air suspension. 
The Audi Skysphere will make its debut at the 2021 Monterey Car Week event in the US. After this, the next concept in the series will be the Grandsphere, which will be a luxury executive limousine that may hint at the next-generation A8. That'll then be followed by the Urbansphere concept in 2022 – expected to be a city-focused electric SUV.
First contact: facelifted Kia EV6 will look even more like a UFO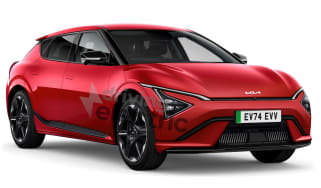 First contact: facelifted Kia EV6 will look even more like a UFO
Kia is readying an update for the EV6 crossover, which is set to include a new face and tech from the larger EV9
New Fisker Ocean Sport washes up in the UK: £36k for a 288-mile range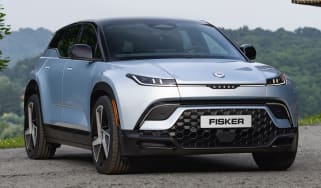 New Fisker Ocean Sport washes up in the UK: £36k for a 288-mile range
American EV startup Fisker has just launched its entry-level Ocean SUV in the UK, with a range of up to 288 miles
New Vauxhall Vivaro Electric is cheaper, yet has more range and tech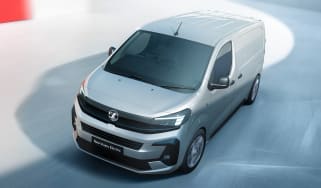 New Vauxhall Vivaro Electric is cheaper, yet has more range and tech
Vauxhall has given its Vivaro Electric panel van a mid-life refresh with a new face and some of the latest tech