Electric Alpine A110: E-ternité concept looks to performance brand's future
Open-top "rolling laboratory" focused on preserving light weight and agility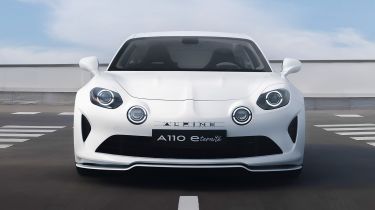 Renault's performance offshoot Alpine has revealed a fully electric concept version of its normally petrol-engined A110 sports coupé, in order to preview its upcoming transition to an electric-only brand.
Wearing the name 'A110 E-ternité', the concept was unveiled to the public ahead of the 2022 Formula 1 French Grand Prix at the Paul Ricard circuit in the south of France. In addition to its electric drivetrain, also boasts an opening roof panel – something not yet seen on the production A110.
In developing the E-ternité, Alpine's engineers were given the task of electrifying the A110 while preserving the petrol version's performance, balance and agility. It uses the same battery pack as the Renault Mégane E-TECH Electric, but with redesigned casings to allow 60kWh's worth of modules to be positioned for the best weight distribution.
According to Alpine, the A110 E-ternité weights 258kg more than the standard car. Renault's standard electric motor was also used, albeit paired with a bespoke two-speed dual-clutch gearbox. The concept car makes 239bhp and 300Nm of torque, which compares with 297bhp and 340Nm for the petrol version.
The electric concept has a 0-62mph time of 4.5 seconds, which is slightly slower than the production car's figure of 4.2 seconds, while top speed is capped at 155mph, versus 174mph for the petrol A110. Range on a charge is estimated at just over 260 miles.
Aside from the electrification element, the A110 E-ternité also features infotainment run off the driver's personal Apple or Android tablet, an eight-speaker surround-sound audio system, the use of sustainable materials and the aforementioned opening roof. The latter was designed to be both simple and light, without impacting the rigidity of the standard car. 
Alpine has set out a product road map for a "dream garage" of electric cars, including an EV hot hatchback based on the forthcoming revived Renault 5 and a large electric SUV called the GT X-Over, using the same platform as the Mégane E-TECH and Nissan Ariya, but with a tri-motor setup for strong performance.
There'll also be a fully electric successor to the A110, developed in collaboration with Lotus and no doubt incorporating some lessons learned in designing the A110 E-ternité. The hatchback will be the first to arrive, with a targeted on-sale date of 2024, followed by the GT X-Over in 2025 and the new sports car in 2026.
BMW i4 facelift to topple Tesla with huge range and tech upgrades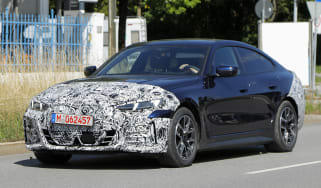 BMW i4 facelift to topple Tesla with huge range and tech upgrades
An updated version of the BMW i4 has been spotted testing, likely sporting a longer range and the latest technology
Electric BMW iX2 is set to take the kidney grille to the next level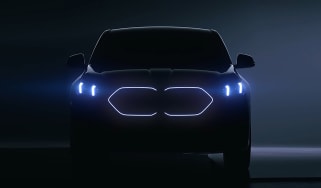 Electric BMW iX2 is set to take the kidney grille to the next level
BMW has teased the highly-rumoured iX2 coupe-SUV, which has been revealed to get enlarged illuminated kidney grilles