Reimagining the electric Volkswagen
Volkswagen's electric future is already mapped out. But what would the electric VW of 2030 look like? We met a group of automotive design students to find out
Planning is everything in the automotive world. Far removed from the glamour of the showroom floor or motor show stand, teams of engineers and designers continuously execute carefully crafted product plans stretching years into the future, ensuring each new model is completed with precision. So they need an intimate knowledge of spreadsheets.
However, revolutions can't happen if the brains behind them are not allowed to dream. The freedom to be creative leads to fresh ideas, new directions for research and, ultimately, progress – something from which we can all benefit. Volkswagen's direction is already well known; the forthcoming I.D range marks a huge step towards an electric future, and covers all the important bases: hatchback, SUV, crossover and coupe. But what could an electric Volkswagen 10 years from now look like?
That's exactly the question we asked 15 students in their second year of a Masters in Automotive Design at the University of Coventry, one of only two universities in the country offering such a course. The brief was just that: create an electric Volkswagen for 2030, suitable for use in the city and on the motorway and capable of carrying five people. The timescale was tight, too; the students had just over seven days from receiving the brief to display their designs.
Changing the future
Aamer Mahmud is a Senior Lecturer and Course Director for Automotive Design at Coventry, and explained that the skills required for designers are changing in line with the industry. "They need to be in a studio, they need to explain what the design is," he said. "They need to develop the story behind the design, they need to lead the company's portfolio.
"In any project, it's about who you're designing for, what that market is. What might be the future technologies, and what might be the design language in the future? One of the things that we teach is future scenarios, scenario planning. Because the most difficult thing designing for the future is, you don't know what the world will be like in that timeframe."
Even allowing for the tight timeframe and the broad brief, the results that the students presented were remarkably innovative, diverse and forward-thinking. There were crossovers, hatchbacks, four-door coupes, cars with no doors at all and some that simply couldn't fit into any existing template.
Each one had a clear ethos and a direction, and it wasn't difficult to envisage each one taking centre stage at a global motor show, rendered for real in metal with the flashlights of the world's press firing off in unison.
The fresh ideas on display showed not only originality of thought, but also a higher understanding of the relationships between design, materials, technology and their future progression. Eimear Hyland's design balanced city and motorway use – and the differing layouts each application required – with some clever future tech. "The idea behind my design is that you have a 4D-printed frame underneath and that allows the wheelbase to extend and widen for whenever you are travelling on the motorway, so that you can then have that increased stability," she said. "But then of course, whenever you are in the city and you want the shorter rim base, the frame will contract around the central pod."
Xuanfu Song created a crossover utility vehicle that took influences from the current Volkswagen Tiguan, but incorporated the classic strong C-pillar graphic of the Golf and used telematics and autonomous tech to remove any issues with visibility. Qinqyi Meng was just one of the students who decided to tear up the traditional car templates altogether and create something unique, and explained: "There are endless possibilities, but actually the electric car and the hub motor gave the package a lot of freedom and let us designers do whatever we want. I just believe in less is more, something simple. The design is also simple, but it looks elegant. That's what I believe in."
Partnership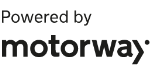 Need to sell your car?
Find your best offer from over 5,000+ dealers. It's that easy.
The current I.D concepts were a big influence in many of the students' designs; Georgi Videnov created his own take on the Touran to join the I.D family, while Yi Qu took inspiration from the I.D R Pikes Peak racer and the complete change in sound characteristics of an electric car from a conventional combustion-engined vehicle to link the design together. Manesh Nagarkar's design took the freedom of the I.D Open Space concept to create a lounge feel with a flexible seating arrangement depending on the number of occupants.
What was crystal clear from looking at all the presentations was that the language of global car design not only has a very bright future, but that the electrification of the car also has benefits and possibilities that have yet to be even thought of, let alone realised. The students brought with them a fresh perspective that tapped into the opportunity to throw away the design rulebook that has in effect been applied to every single car made in the past 50 years. With no end-on gearbox, no combustion engine, no driveshafts, no clutch, no petrol tank and no need for any of the hardware to be position in any particular place, these creative minds have the freedom to embark on an automotive revolution.
Volkswagen, and its designers present and future, are embracing it.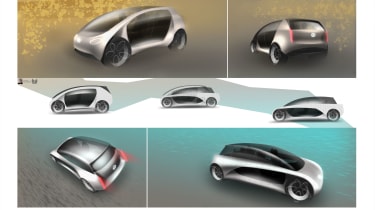 Eimear Hyland – Eimear's design adopted a 4D-printed frame that changed shape between city and motorway use to provide a shorter or longer wheelbase and improved aerodynamics.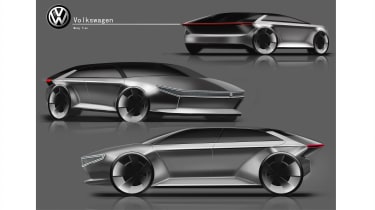 Meng Tian – Meng's presentation aimed to bring a stronger, more powerful aesthetic as a future design direction for Volkswagen's EVs, in contrast to the softer face of the I.D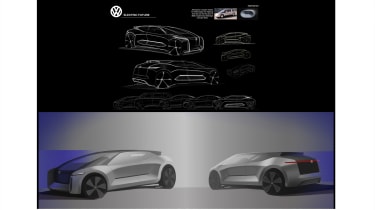 Georgi Videnov – Georgi's proposal was for an I.D version of the Volkswagen Touran, taking cues from the ItalDesign Orbit concept.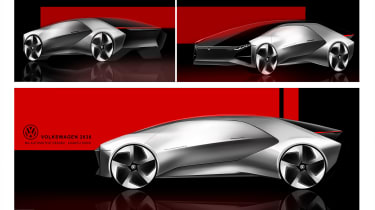 Xuanfu Song – Xuanfu's design was for an all-wheel-drive crossover coupe that drew from the Volkswagen Tiguan and the Golf's C-pillar treatment.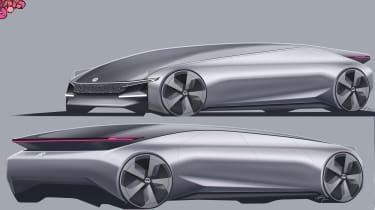 Qinqyi Meng – Qinqyi's concept took inspiration from the I.D concept with simple lines blending the traditional silhouettes of both saloons and coupes.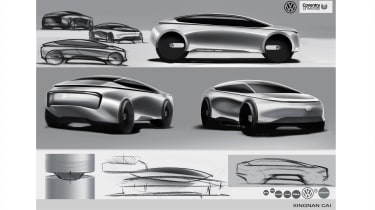 Xingnan Cai – Xingnan's proposal was for a crossover that reflected its powertrain with its raised ride height and strong feature line running around the car.
Bingquan Wang – Binquan created a sporty, high-waisted SUV that used exterior lighting as a design feature.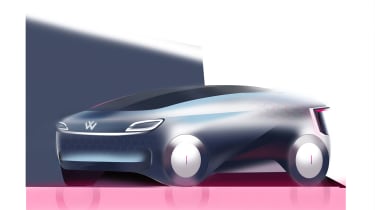 Yi Qu – Yi's presentation drew on the I.D R Pikes Peak for inspiration, resulting in a design that fits with the I.D family and emphasises the unique sound signature of electric powertrains.
Manesh Nagarkar – Manesh created a fully autonomous vehicle aimed at Generation Z and Alpha with a flexible cabin space and design cues taken from Volkswagen's XL1.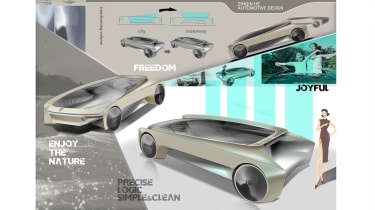 Zhiqin He – Zhiqin's proposal used a moveable, independent passenger cell to suit city or motorway use with a two-colour design to separate the elements.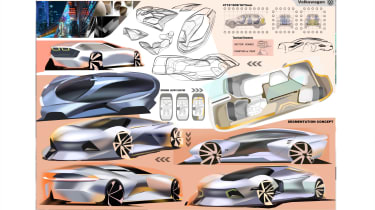 Zishen Peng – Zishen's design included a flexible cabin space with a dividing central display screen and lighting that gives proximity warnings to other vehicles.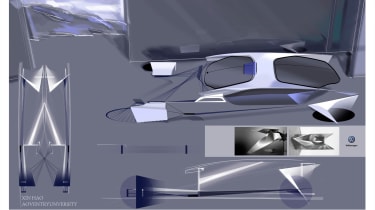 Xin Hao – Xin's proposal was inspired by kite design, creating a Golf-sized vehicle with minimal bodywork for lightness and aerodynamic advantages.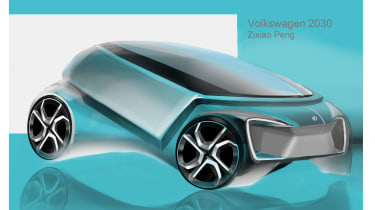 Zixiao Peng – Zixiao's design was a Golf-sized car with a high waist and excellent visibility for maximum occupant protection with influences from the contemporary up! city car.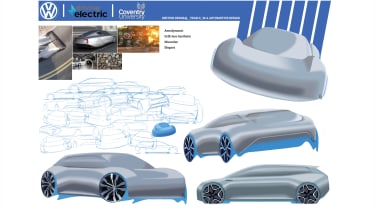 Kritish Devaraj – Kritish created a vehicle with strong aerodynamic performance, an elegant aesthetic and muscularity.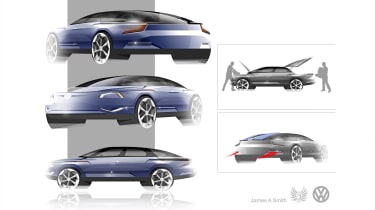 James A Smith – James's proposal aimed to deliver an evolutionary D-segment design with strong proportions and luggage areas front and rear.
For more information on the Volkswagen e-Golf, visit volkswagen.co.uk
Driver Power: The best electric and hybrid cars to own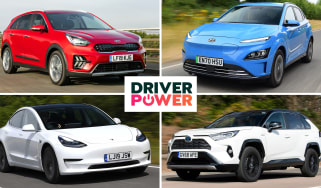 Driver Power: The best electric and hybrid cars to own
Top 5 cheapest electric cars to insure 2022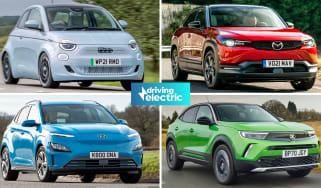 Top 5 cheapest electric cars to insure 2022
Volvo EX30 electric SUV undercuts Vauxhall Mokka Electric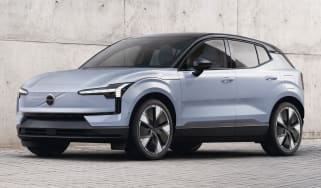 Volvo EX30 electric SUV undercuts Vauxhall Mokka Electric
Volvo has revealed its smallest electric car which boasts a range of up to 298 miles
New electric cars coming in 2023 and beyond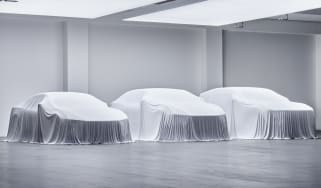 New electric cars coming in 2023 and beyond
With electric cars making up an ever-increasing proportion of sales, the industry is working flat out to launch new models – here's what's on the way …
Peugeot e-2008 facelift is now on sale with more electric range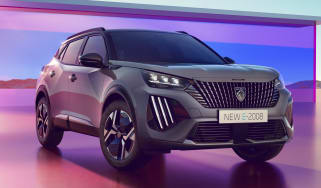 Peugeot e-2008 facelift is now on sale with more electric range
The updated e-2008 SUV gets a refreshed look and a 252-mile range