Meet the e-Golf's Biggest Fan
Running a fleet of nearly 3,000 vehicles gives you an idea of what works and what doesn't. We speak to Jonathan Hampson, General Manager for Zipcar UK, who explains why the e-Golf is such a popular choice for him and his members
Ever thought about car sharing? Not the kind of car sharing where Phil from Accounts gives you a lift to work every Tuesday, but the real deal; sign up, pay a fee and drive around in cars that never belong to you. If that still sounds far-fetched, there are several hundred thousand people already living in the future; Zipcar is the UK's largest pay-as-you-drive car club – on track to pass 250,000 UK members in February. Even more interesting is the fact that the Volkswagen e-Golf has become one of the stars of the 2,800-strong fleet.
Jonathan Hampson is General Manager for Zipcar UK, and explains the challenges of choosing vehicles to suit a variety of drivers and needs. "We really try to balance best-in-class technology from an emissions perspective with appealing cars that our members want to drive," he says. "In the most extreme example, which sounds a bit outdated now, a few years ago we could have had a fleet of G-Wiz cars, and they would have been incredibly clean, but we wouldn't have had a member base because no one would have wanted to drive them. So that's the balance we try to find."
Zipcar's fleet has moved with the times; it's now exclusively petrol and pure electric. And an additional drive for a switch to electric power comes from the fact that 85% of the parking for the company's vehicles is provided by local authorities. 
Zipcar has had a partnership with Volkswagen for some time, using the Polo supermini and Transporter vans, as well as conventionally-powered versions of the Golf, as Jonathan explains. "Volkswagen makes vehicles [that] are very well suited to car sharing," he says. "And they are very popular among Londoners, which is our key market, so they get very strong satisfaction scores. They are intuitive to drive and to operate, which is very important because our car-sharing members are often not regular drivers.
"When we were thinking about going electric, Volkswagen and the e-Golf were certainly the most obvious choices. We went and spoke to other manufacturers. But really Volkswagen grasped the opportunity of why there was an aligned benefit between what we wanted to achieve and what it wanted to achieve."
The e-Golf first began to appear on Zipcar's fleet in July 2018 and proved an instant hit; there are now 325 examples operating in the London area. Zipcar's own data reveals that over 10,000 members used an e-Golf within the first six months of its introduction, making more than 20,000 trips and covering 250,000 pure-electric miles. But more importantly, the e-Golf scores more highly than any other Zipcar fleet vehicle on trip rating, indicating the level of satisfaction of the user. Although the trip distance can vary between cars depending on the journey type, Zipcar users are choosing to drive the e-Golf ahead of anything else.
"Obviously one of our concerns was whether people would like the car," explains Jonathan, "and if they didn't they might proactively avoid it, and go to the next petrol vehicle, even though an e-Golf might be their closest car. But we're not seeing that at all. People are not being put off by the e-Golf; quite the opposite. They're proactively choosing it."
Partnership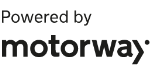 Need to sell your car?
Find your best offer from over 5,000+ dealers. It's that easy.
Zipcar's e-Golfs operate on the company's Flex service, which means vehicles can be booked for one-way trips and paid for by the minute, making the Volkswagen ideally suited to journeys across town. Thanks to Zipcar's partnership with 10 inner-London boroughs, users can park in residential or shared bays and the charging is taken care of by the company, not by users; the average trip across London in an e-Golf is around seven miles, so the car's range of over 130 miles means plenty of trips before a battery top-up is required.
It is also clear that cars like the e-Golf will play an increasingly important part in Zipcar's fleet. Not only does it bring more obvious advantages such as lower fuel costs, exemption from the Congestion Charge and lower maintenance bills – because an electric vehicle has fewer moving parts – the e-Golf also represents the future of the company and what it is trying to achieve.
"At the same time as launching the e-Golf last year, we put out a vision that said we want to be fully electric by 2025," says Jonathan. "We had done some pilots before, but the e-Golf was the first major step towards the electrification of our fleet. We are completely convinced that it needs to happen. Policymakers will demand it of us. 
"I think the question mark is how quickly manufacturers can come up with vehicles that are suitable at the right price. And in that regard, I'm very confident. Having spoken to Volkswagen and others, I'm very excited about some of the e-products coming in the very near future."
Designed For Life
James Mason, 39, is a interior designer living in Leytonstone, East London, and has been a member of Zipcar for a number of years. He began using the service as a means of carting Swedish-origin furniture home thanks to its van fleet, but that all changed when the Flex service was introduced.
"I started to use it a lot more then," he explains. "Mostly commuting or when transporting luggage, it works very well. Then Zipcar introduced the e-Golf; it was just good fun. It was good to experience a battery-powered car. In essence, it's just like driving an automatic car but it's very silent. And knowing that you're driving a clean car, it feels a lot better. I'm a cyclist myself; I usually go either by Zipcar or by bike so clean air for me has a feel-good factor. If I had to buy a car now I would have to go electric; it is the future."  
For more information on the Volkswagen e-Golf, visit volkswagen.co.uk
First contact: facelifted Kia EV6 will look even more like a UFO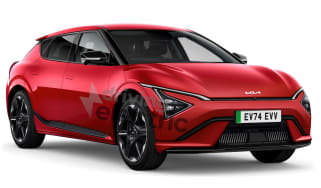 First contact: facelifted Kia EV6 will look even more like a UFO
Kia is readying an update for the EV6 crossover, which is set to include a new face and tech from the larger EV9
New Fisker Ocean Sport washes up in the UK: £36k for a 288-mile range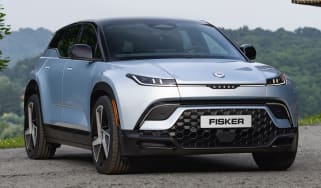 New Fisker Ocean Sport washes up in the UK: £36k for a 288-mile range
American EV startup Fisker has just launched its entry-level Ocean SUV in the UK, with a range of up to 288 miles
New Vauxhall Vivaro Electric is cheaper, yet has more range and tech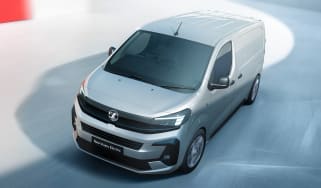 New Vauxhall Vivaro Electric is cheaper, yet has more range and tech
Vauxhall has given its Vivaro Electric panel van a mid-life refresh with a new face and some of the latest tech