2022 Volkswagen ID.3 electric hatchback: specs and prices
Volkswagen ID.3 prices have been cut across the range, with the entry-level Pure Performance Life variant now starting at £27,120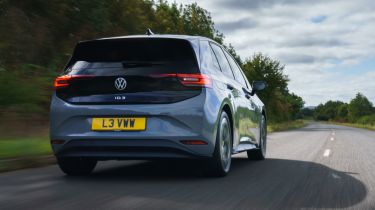 More versions of the Volkswagen ID.3 are now eligible for the UK government's plug-in car grant (PiCG). The range now starts with the ID.3 Pure Performance Life, which has a range of 217 miles and starts from £27,120 after the £2,500 government grant has been applied.
With the UK's allocation of the '1ST Plus' launch-edition cars now sold out, that means pricing for the regular production versions of the fully electric family hatchback runs from £27,120 to £48,800 across the various versions.
Five trim levels are available for the ID.3, named Life, Style, Family, Max and Tour (equipment and prices detailed below). The Pure Performance powertrain is available in Life and Style trims, and uses a 148bhp motor and 45kWh battery. ID.3 Life models with the Pure Performance powertrain have a range of 217 miles, while Style trim models have a 215-mile range.
Above Pure Performance is the Pro powertrain, which uses a larger 58kWh battery and the 143bhp electric motor as standard, for an official driving range of between 262 and 264 miles. The Pro powertrain is available in Life and Family trim models. The 201bhp Performance motor increases power without affecting range. It's also available in Life and Family ID.3s, but comes as standard in Max models.
At the top of the range is the ID.3 Tour Pro S. This has the same 201bhp electric motor as the other Performance models, but a larger 77kWh battery, boosting range to 342 miles. The extra space needed to accommodate this battery means this version of the ID.3 is a four-seater, not a five-seater.
Volkswagen ID.3 pricing, trim levels and specifications
The ID.3 launched as a limited-edition '1ST' model, which in Europe was offered in three guises. The UK only got the mid-range 1ST Plus, which cost £35,880 after the government grant. All ID.3 1STs are now sold out; orders for the standard production car opened in the UK in October 2020, with the new 45kWh Pure Performance models added in April 2021. For these, sat nav, adaptive cruise control and wireless phone charging are standard across the range. As of July 2021, there are now five trim levels to choose from:
Life costs £27,120 after the £2,500 grant, and includes a 10-inch infotainment screen, wireless smartphone charging, LED headlights, adaptive cruise control, lane-keeping assistance, parking sensors, heated front seats and a heated steering wheel. However, you can upgrade to the Pro powertrain, with prices for ID.3 Life Pro starting from £28,420 after the grant. The ID.3 Life with the Pro Performance drivetrain costs from £29,740.
Style (£31,520) is only available with the entry-level Pure Performance electric motor and battery. But it builds on the Life trim with upgraded 18-inch alloys, Volkswagen's IQ.Light LED matrix headlights, 30-colour interior ambient lighting and tinted windows, as well as keyless entry and a reversing camera.
Family comes with matrix LED headlights and a panoramic glass roof, as well as two-zone air-conditioning, a rear-view camera and keyless access. With the Pro powertrain, the ID.3 Family starts from £31,140 after the grant, or £32,460 if you opt for the more powerful Pro Performance powertrain.
Because both the Max and Tour models start above the £35,000 threshold for the plug-in car grant, neither is eligible for the subsidy. However, the starting price of both models has been reduced by £3,800 for 2022.
Max (£37,730) is the standard range-topper and includes all the equipment from the other trim levels, along with augmented reality head-up display and adaptive chassis control. The ID.3 Max is only available with the 201bhp Pro Performance electric powertrain.
The flagship Tour trim boasts a 77kWh battery, boosting the car's range to 340 miles. This long-range version of the ID.3 now costs £38,800 and has the same motor as the other Performance cars. Additional space needed to fit this battery sees the seating capacity drop from five to four in this version, but the Tour equipment pack is generous, with a augmented reality head-up display, matrix LED headlights, the full suite of driver-assistance systems and 19-inch alloy wheels all included.
As of July 2021, the Comfort and Infotainment packages are now standard on all ID.3s. That means all come with heated front seats and steering wheel, Discover Navigation Pro sat nav and wireless smartphone charging.
For 2022, Volkswagen has also introduced other option packs for the ID.3. The £2,200 Infotainment Package Plus includes an upgraded sound system and the augmented-reality head-up display from higher-spec models. Others include the Assistance Package (£1,040) and Assistance Package Plus (£2,000) which add more safety features.
The new Sport Package (£340) includes progressive steering and sports suspension, while the Sport Package Plus (£1,140) builds on that with dynamic chassis control. The other new option packages include the Comfort Package Plus (£1,190), the Design Package (£1,780) and the Design Package Plus (£2,470).
Battery, charging and electric motor
The cheapest ID.3 available right now is the Pure Performance powertrain, combining a 148bhp electric motor with a 45kWh battery for between 215 and 217 miles of driving range. This setup is available with the Life and Style trim levels, ranging in price from £27,120 to £31,520 after the UK government grant.
Above those is the Pro powertrain, which uses a 143bhp electric motor with a 58kWh battery for a 262-264-mile driving range. This setup is available with the Life and Family trim levels, ranging in price from £28,420 to £31,140, including the £2,500 grant.
However, ID.3 Life and Family models are also available with the Pro Performance drivetrains, which. This has the same 58kWh battery as the Pro, but with increased motor power output of 201bhp. Range varies from 258-264 miles, with prices running from £29,740 to £37,730 depending on the trim level you select.
The ID.3 Pro S powertrain – only available with the Tour trim level for £38,800 – consists of a 201bhp electric motor and 77kWh battery for a 340-mile driving range. It makes the car a four-seater due to the space needed for the extra battery cells.
Every UK car gets at least 100kW DC rapid-charging capability, as well as two forms of AC charging – 7.2 and 11kW. Tour cars with the Pro S drivetrain get even quicker 125kW charging.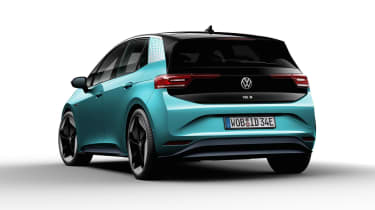 Design and dimensions
The ID.3's design is markedly different from Volkswagen's other models. Short overhangs, a long wheelbase, flowing surfaces, a unique honeycomb design on the C-pillar, a black glass bootlid surrounded by slim LED lights and a black panoramic roof set it apart. Three alloy-wheel sizes are available: 18, 19 and 20 inches.
As an electric car doesn't require large cooling ports, the focal point for the front of the most ID.3s are their 'interactive' LED matrix headlights. One of the 'party tricks' of these lights is to make the car 'flutter its eyelids' when the driver approaches. The headlights also feature Dynamic Light Assist main-beam control, which uses a camera on the windscreen to monitor the road and adjust the lights to avoid dazzling other motorists.
The ID.3 also features Volkswagen's new ID. Light technology, which uses an LED strip in the cabin to convey information to the driver. The ID. Light changes colour to show when the car is switched on and if it's locked or unlocked. Green indicates a fully charged battery, while red acts as a warning during braking. The LED strip will blink to recommend changing lanes, and also signal incoming phone calls
The ID.3 is as long as a Golf, at 4.2 metres, and is 1.8 metres wide, 1.5 metres high and weighs 1,700kg. With a turning circle of 10.2 metres, it has been engineered to be easy to drive in urban environments. There's also a special towing bracket incorporated in the rear bumper of the ID.3 for carrying bikes.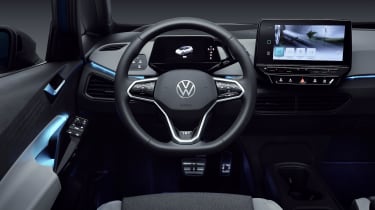 Interior and technology
Inside, the five-seat ID.3 feels spacious and airy. It doesn't have a centre tunnel, freeing up space between front and rear, and with short overhangs VW has been able to maximise every millimetre of space. The boot is big, too, holding 385 litres with the seats up thanks to a flat battery. The low placement of the battery helps with the car's handling, too.
There's a centrally positioned 10-inch touch screen and an LED light strip for navigation that can also warn you to brake. An optional augmented reality head-up display projects relevant information on to the windscreen, and all the buttons are touch-sensitive. There's also natural voice control, allowing drivers and passengers to talk to the car in a more human way, while safety technology is plentiful. A camera on the windscreen identifies road signs, and there's emergency braking, pedestrian monitoring and lane-keeping aids.
Low-speed sound signature
Volkswagen previewed the low-speed sound signature that its ID.3 electric hatchback will emit in order to warn other road users of its presence at the 'DRIVE.Forum' event in Berlin in early December 2019.
As of July 2019, all newly introduced electric cars have had to come with a sound generator that emits noise at speeds up to 30kph (19mph), as well as when moving off or reversing. This came in response to concerns that other road users – such as pedestrians and cyclists, and in particular visually impaired people – could be in danger of not noticing a nearby electric car due to its near-silent running.
The setup is known as an Acoustic Vehicle Alert System (AVAS), and although the volume of sound emitted is specified by regulations, the noise itself is not, which gives car manufacturers the opportunity to develop different 'sound signatures' to set their models apart. You can hear the ID.3's by playing the embedded video above.
The AVAS in the ID.3 can be heard both inside and outside at up to 19mph. Inside the vehicle, different stages of the driving sound can be heard based on your speed and accelerator pedal position. Beyond this speed, the vehicle's rolling resistance and driving noise become more prominent.
Commenting on the sound, VW's chief development officer for passenger cars, Dr Frank Welsch, said: "An electric vehicle's sound defines its identity. The sound should be confident and likeable. It may well sound futuristic and must also impress with its unique character."
Volkswagen ID.3 GTX electric hot hatchback will go into production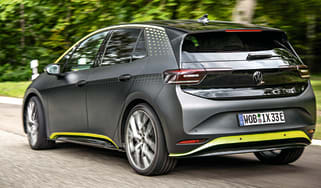 Volkswagen ID.3 GTX electric hot hatchback will go into production
Top 10 best seven-seater electric and hybrid cars 2021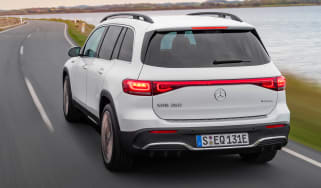 Top 10 best seven-seater electric and hybrid cars 2021
If the regular crop of electrified SUVs and family cars don't provide enough practicality for you, then take a closer look at the range of electric an…
Top 10 best luxury electric cars 2021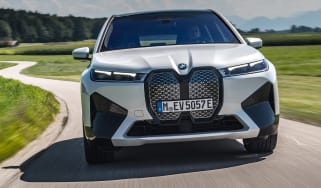 Top 10 best luxury electric cars 2021
From Audi to Tesla, here are our top picks of the most luxurious zero-emissions motoring options on the market right now
Complete guide to the IONITY charging network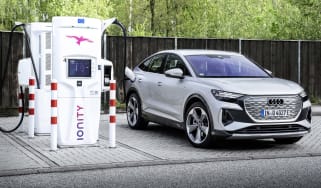 Complete guide to the IONITY charging network
The manufacturer-backed IONITY rapid-charging network is expanding across the UK and Europe – here's all you need to know