Volkswagen mobile charging station launching in 2020
Flexible charging solution to be piloted in 2019, produced from 2020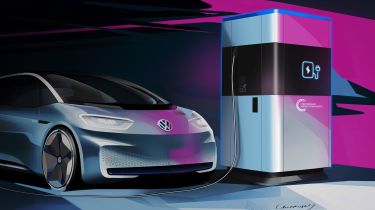 Volkswagen is to put its mobile temporary quick-charging station into production from 2020. The company released concept sketches of the solution in early 2019; it can be set up independent of a power supply and is intended for use in places like public car parks, on company premises or as a temporary charging solution at a large-scale public event.
The company says the mobile station is effectively a scaled-up version of the portable 'power banks' used to add charge to mobile phones on the move. A charging capacity of 360kWh is estimated to allow up to 15 electric cars (and up to four simultaneously) to be recharged before the unit is depleted.
The station has a quick-charging speed of up to 100kW, meaning a charging time of 17 minutes to 80% capacity is promised for a Volkswagen e-Golf or similar.
Volkswagen's mobile station can be swapped out for another when depleted, or, if connected to a power supply, can continually top itself up to maintain its charging capability. It can use brand-new battery cells, or used ones from electric cars whose capacity has diminished.
Commenting on the station, Thomas Schmall, chairman of the board of management of Volkswagen Group Components, said: "These are a decisive step toward an efficient network of charging points. They can be set up anywhere as required – with or without connection to the power supply. This flexibility enables a completely new approach for the rapid expansion of the charging infrastructure.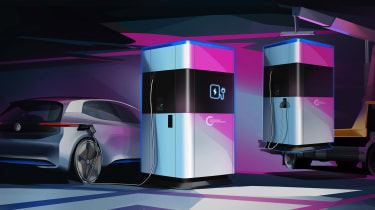 "Cities can, for example, find out the most suitable places for a permanent charging point before making major investments in developing the network. In addition, it'll be possible to set up a large number of charging stations temporarily – exactly when and where they are needed."
A pilot project will see a number of the mobile stations deployed in Volkswagen's home town of Wolfsburg, Germany, in early 2019, before series production begins in 2020 at Volkswagen's Hanover factory.
New Volkswagen ID.7 brings the fight to the Tesla Model 3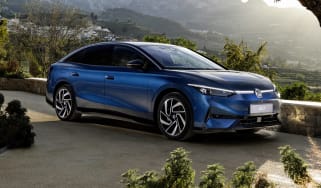 New Volkswagen ID.7 brings the fight to the Tesla Model 3
Volkswagen ID.7 Tourer is the sensible electric estate we've been waiting for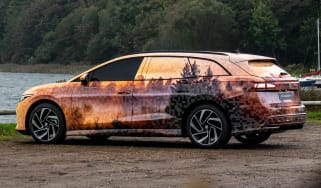 Volkswagen ID.7 Tourer is the sensible electric estate we've been waiting for
Has the UK given up on EVs? New government 'Plan for Drivers' says no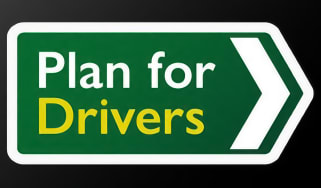 Has the UK given up on EVs? New government 'Plan for Drivers' says no
Electric Renault 5: prices, 2024 launch date and teaser images of the MINI Cooper rival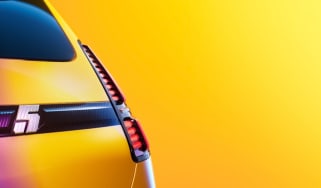 Electric Renault 5: prices, 2024 launch date and teaser images of the MINI Cooper rival
New official teaser pictures for Renault's electric supermini confirm the 5's reveal in February 2024
First contact: facelifted Kia EV6 will look even more like a UFO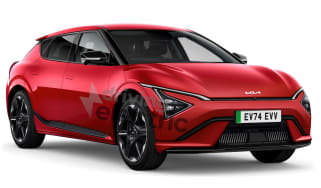 First contact: facelifted Kia EV6 will look even more like a UFO
Kia is readying an update for the EV6 crossover, which is set to include a new face and tech from the larger EV9