Charging-speed increase for Volkswagen ID. electric cars on the way
An over-the-air (OTA) software update coming in early 2022 will see the maximum charging speed of existing VW ID. models with the 77kWh battery increased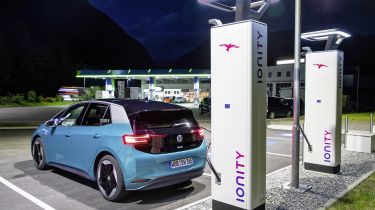 Volkswagen has announced a software upgrade for its ID. electric models that'll see the maximum charging speed of examples fitted with the range-topping 77kWh battery increased from 125 to either 135 or 150kW depending on the exact version.
They'll also gain bi-directional Vehicle to Grid (V2G) energy-transfer capability – although a specific home wallbox that also supports this technology will be needed to take advantage of it.
The improvements will apply to all 77kWh-battery ID.3s, ID.4s and ID.5s coming off production lines "in the near future" and will also be applied remotely to existing examples by means of an early-2022 over-the-air (OTA) software update, so a dealer visit won't be necessary. VW says the speed improvement is enough to cut the total charge time from 5% to 80% capacity for the cars in question by up to nine minutes.
Another element of the update is the inclusion of a 'battery care mode', which, when activated, will prevent the battery charging to more than 80% capacity, in order to prolong overall battery life as much as possible. A Volkswagen spokesperson suggested this could be used as evidence an electric car's battery has been 'well treated' over the course of its life and could boost the secondhand value of a car.
Volkswagen has also refined the route-planning element of the ID. models' navigation software, taking into account real-time traffic levels and how much charge you want remaining at the end of the trip, as well as the speed and current occupancy of public charging stations along the route. According to Volkswagen, this could see a route plotted with two short stops at faster charging stations, rather than one short stop at a slower charger, in order to reduce the overall travel time.
Finally, Volkswagen has confirmed continuing work to roll out 'Plug & Charge' capability between its electric cars and a range of public charging providers, for customers of its WeCharge service. This will be done by means of a new software-authentication process allowing the charging point to recognise the plugged-in car's WeCharge account so that charging can commence immediately and payment taken automatically without the need to present a payment card or sign in to an app or website.
New Volkswagen ID.7 brings the fight to the Tesla Model 3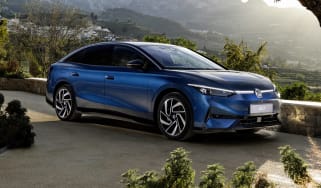 New Volkswagen ID.7 brings the fight to the Tesla Model 3
Volkswagen ID.7 Tourer is the sensible electric estate we've been waiting for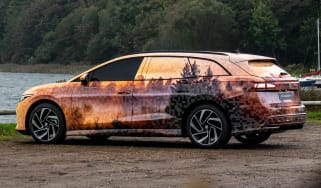 Volkswagen ID.7 Tourer is the sensible electric estate we've been waiting for
Volkswagen ID. GTI Concept brings the GTI badge into the electric age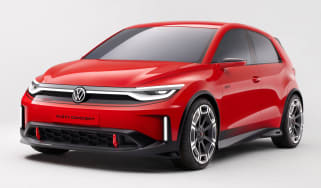 Volkswagen ID. GTI Concept brings the GTI badge into the electric age
MINI Cooper Electric: pricing and specs for British-built electric supermini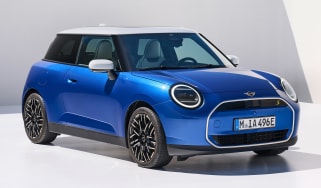 MINI Cooper Electric: pricing and specs for British-built electric supermini
MINI's latest electric hatchback introduces a revolutionary interior design, as well as larger batteries to provide a 250-mile range
Tesla Cybertruck: pricing and specs for Elon Musk's electric pickup truck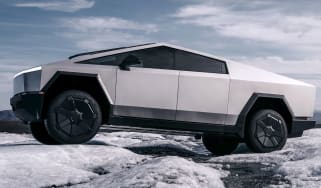 Tesla Cybertruck: pricing and specs for Elon Musk's electric pickup truck
The Tesla pickup truck is now on sale, with a range of up to 340 miles and a starting price of just over $60,000
Electric Renault 5: prices, 2024 launch date and teaser images of the MINI Cooper rival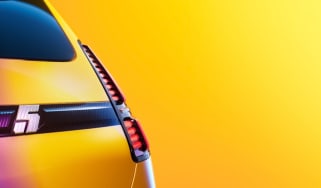 Electric Renault 5: prices, 2024 launch date and teaser images of the MINI Cooper rival
New official teaser pictures for Renault's electric supermini confirm the 5's reveal in February 2024