Toyota Yaris Hybrid (2012-2020) engines, drive & performance
A lack of driver appeal is Toyota Yaris Hybrid's downfall, and it can get noisy, too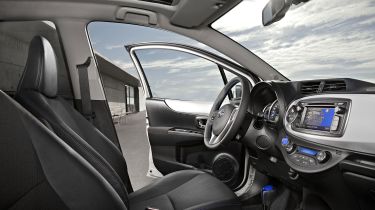 | 0-62mph | Top speed | Driven wheels | Power |
| --- | --- | --- | --- |
| 11.8s | 103mph | Front | 100bhp |
The Toyota Yaris can't quite match the sharpness of steering and eagerness to corner that Ford Fiesta drivers enjoy, and it's a shame to say that the hybrid power system further dulls the experience. However, the hybrid makes partial amends with its smooth power delivery and fuss-free nature around town.
Toyota Yaris Hybrid engine, 0-62mph and acceleration
The Yaris hybrid's 1.5-litre petrol engine is a little bigger than the supermini norm these days, and you might think this a recipe for nippy acceleration – especially in concert with a powerful electric motor. It soon becomes clear, though, that the hybrid's economy leanings take the fizz out of its performance.
Total power output is only 100bhp, which means the electric motor doesn't actually add power while the petrol engine is running. The resulting 11.8-second 0-62mph time isn't sparkling, and a little slower than what the regular Yaris 1.5-litre automatic can manage. Top speed is lower, too, at 102 versus 108mph.
The hybrid system transmits its power through a continuously variable transmission (CVT), the most common type of automatic gearbox found in hybrids. It's very well suited to urban motoring – an absence of conventional gears makes for smooth progress if you're gentle with the accelerator.
Drive more urgently, though, and the Yaris Hybrid frustrates. The engine noise escalates during acceleration as high revs are held until you reach a desired speed. Conversely, things are almost silent on electric power and there's little fuss when the petrol engine takes over at low urban speeds. The hybrid engine can be chosen with any trim level in the Yaris range, and is mandatory in the racy-looking Yaris GR Sport.
Handling
The Toyota Yaris is one of the easiest of all small cars to drive, especially with an automatic gearbox, and the Yaris Hybrid is no exception to the rule. You sit fairly high behind the wheel, which provides a good view out and makes it easy to judge the car's extremities – a boon when parking or negotiating city streets.
And that's appropriate, because town really is this car's natural domain. If you're used to the responsive nature of a Ford Fiesta or SEAT Ibiza, you'll find the dull reactions of the Yaris something of a shock. With the exception of the GR Sport, the Yaris Hybrid is geared more towards ease of driving than entertainment.
The hybrid's extra weight compared to other models in the range doesn't really affect how it feels at the wheel, but the CVT gearbox means you're rarely in the right 'gear' to accelerate out of corners. There's considerable body lean, too, which can make life uncomfortable for passengers, and the ride is disappointingly fidgety over motorway ridges and urban potholes.