Toyota RAV4 Hybrid (2013-2019) MPG & CO2 emissions
The Toyota RAV4 Hybrid's economy beats petrol stablemates, but falls short of plug-in rivals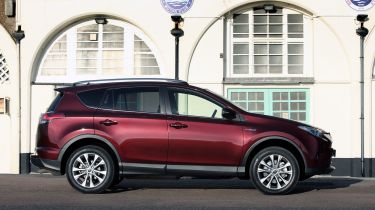 | MPG (comb) | MPG (ex-urb) | MPG (urb) | CO2 |
| --- | --- | --- | --- |
| 55.4mpg | 57.6mpg | 55.4mpg | 118g/km |
Toyota claims up to 56.4mpg from front-wheel-drive versions of the RAV4 hybrid, dropping to 55.4mpg for four-wheel-drive models. That handily beats the 43.5mpg of the four-wheel-drive petrol version. 
The electric motor never really takes the place of petrol power when driving speeds are faster, though, and those who rarely encounter congestion may find the RAV4 Hybrid offers no big advantage over a regular petrol model.
Owing to the fact that the Toyota can only travel a short distance on electric power alone, its fuel-consumption claim falls some way short of plug-in hybrid rivals like the Mitsubishi Outlander PHEV and MINI Countryman Cooper S E ALL4. Both are claimed to return 130mpg thanks to an all-electric range of 20 miles or more.
Its claimed CO2 emissions, though, do eclipse the rest of the RAV4 range, with 116 and 118g/km reported for the front and four-wheel-drive hybrids respectively. That compares to 152g/km for the petrol 4x4. 
Toyota RAV4 Hybrid range
Although there's a button to lock the RAV4 into its all-electric driving mode, its electric range is very limited compared to plug-ins. In reality, the Toyota wasn't designed to make long battery-powered trips. Instead, the RAV4's electric motor is intended to keep you mobile at times when running the petrol engine would be wasteful, such as when inching forwards in stop-start traffic, or manoeuvering at low speeds at the beginning and end of your journey.
Charge time
As this is a 'self-charging' hybrid, there's no option for home charging with the RAV4 Hybrid. The battery pack is charged purely by the petrol engine, or through the regenerative braking system. This recovers mechanical energy that would be lost under braking and converts it into electrical energy with which to top up the hybrid battery.
Battery warranty
The high-voltage battery that powers the RAV4 Hybrid's electric motor is covered by a five-year/100,000-mile hybrid system warranty – so it runs concurrently with the car's ordinary warranty. However, the battery warranty automatically renews whenever a hybrid health check is carried out as part of a routine scheduled service at your Toyota workshop. The extended battery warranty will renew this way until your car reaches 11 years on the road, with no upper mileage limit.