Tesla Cybertruck electric pickup to enter into volume production in 2023
Tesla CEO Elon Musk has confirmed the all-electric pickup will be delayed until 2023, as a result of the global semiconductor shortage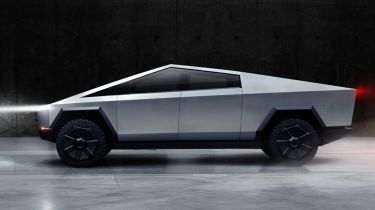 The eagerly awaited Tesla Cybertruck pickup was revealed by company CEO Elon Musk at an event in Los Angeles in November 2019. However, while small numbers will be built in 2022, supply issues mean large-scale production has been delayed until the following year.
Tesla CEO Elon Musk made the announcement during a recent shareholder meeting, with the Cybertruck to be followed by the brand's Roadster supercar – which has also been delayed until 2023.
The Cybertruck will still go on sale in the US sometime in 2022 – before the model finally enters production. The company hasn't yet confirmed whether the angular zero-emissions pickup will be sold in the UK, though Brits are able to pre order the Cybertruck on Tesla's right now with a fully refundable £100 deposit.
Three versions of the Ford F-150 Lightning and Rivian R1T rival will be available: a single-motor rear-wheel drive model, a dual-motor version with all-wheel drive, plus a top-of-the-range tri-motor version that according to Tesla will be capable of 0-62mph in 2.9 seconds.
This isn't the first delay to the Cybertruck's arrival. In January 2021, Musk revealed that although development and design had been completed, delays in battery-cell production were holding up the truck's debut.
Then, in July 2021, Tesla confirmed that it would be prioritising a ramp-up in production of its Tesla Model Y family SUV – likely to sell in much bigger numbers than the Cybertruck – before turning its attention to the pickup. 
Tesla Cybertruck price, range, performance and payload
The Cybertruck is based on the same platform as the Tesla Model X, but as it's a bigger vehicle, it's able to use bigger batteries. Three variants are planned: Single Motor Rear-Wheel Drive, Dual Motor All-Wheel Drive and Tri Motor All-Wheel Drive, priced at $39,900, $49,900 and $69,900 respectively (approximately £29,000, £36,600 and £51,000 at the time of writing).
The single-motor truck will have a range of over 250 miles on the America EPA test cycle – not the WLTP standard we use in Europe – go from 0-60mph in 6.5 seconds and hit a top speed of 110mph. The dual-motor Cybertruck model can cover around 300 miles, accelerates from 0-60mph in 4.5 seconds and tops out at 120mph. 
But, the range-topping tri-motor version of the Cybertruck will reportedly be able to accelerate from 0-60mph in just 2.9 seconds, with top speed pegged at 130mph. Tesla gives an estimated range of over 500 miles for this version. 
All three variants will be capable of carrying a near-1,600kg payload, while tow ratings are 3,500kg for the single-motor, 4,500kg for the dual motor and 6,350kg for the tri-motor. All versions of the Cybertruck will come with self-levelling air suspension as standard, in order to aid stability whether loaded or not. 
Among the features touted by Musk at the truck's launch was armoured glass, however this seemed to fail in a live demonstration at the event, shattering in a spiderweb fashion, prompting Musk to comment that there was "room for improvement".
Design and proportions
When it does eventually enter production, the Tesla pickup – which Musk has described as "looking like something out of Blade Runner" with its radical, angular lines.
The Cybertruck is what's referred to in the US as a 'full-size' pickup: that means it'll be much bigger than the likes of the Nissan Navara and Ford Ranger that dominate the market in the UK. The Tesla measures 5.9 metres long, two metres wide and 1.9 metres high. 
There's seating for six inside and the load bed is 1.9 metres long. A lockable storage area – referred to as the 'Cybertruck Vault' – gives 2.8 cubic metres of secure storage, while the exterior of the truck is made of cold-rolled stainless steel, which Musk says will not scratch or dent.
Top 10 best seven-seater electric and hybrid cars 2021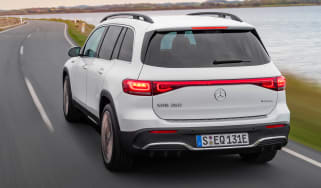 Top 10 best seven-seater electric and hybrid cars 2021
If the regular crop of electrified SUVs and family cars don't provide enough practicality for you, then take a closer look at the range of electric an…
Top 10 best luxury electric cars 2021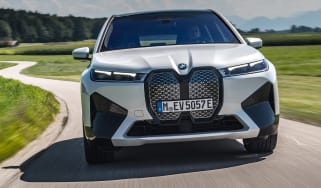 Top 10 best luxury electric cars 2021
From Audi to Tesla, here are our top picks of the most luxurious zero-emissions motoring options on the market right now
Complete guide to the IONITY charging network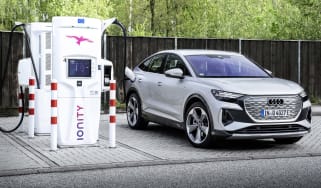 Complete guide to the IONITY charging network
The manufacturer-backed IONITY rapid-charging network is expanding across the UK and Europe – here's all you need to know