Subaru Forester hybrid MPG & CO2 emissions
You'd expect better efficiency despite the Subaru Forester e-Boxer hybrid's size and off-road credentials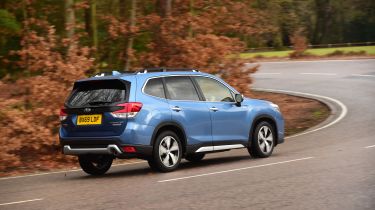 | Fuel economy (combined) | Fuel economy (high) | Fuel economy (low) | CO2 emissions |
| --- | --- | --- | --- |
| 35mpg | 42mpg | 32mpg | 154g/km |
This is where the Forester e-Boxer's full-hybrid powertrain should shine, but unfortunately it barely gleams. Although you'd never expect huge fuel-economy returns from a sizeable 4x4 like this, we'd still anticpated better than the circa-33mpg we achieved in a mix of motorway and urban driving.
Subaru Forester e-Boxer MPG & CO2 emissions
The Forester's official fuel economy of just under 35mpg isn't far off what it returns in real-world driving, and if you're more interested in whether you can get a sheep in the boot than the fuel economy, you may be fine with that, Still, this full-hybrid powertrain is Subaru's attempt at making the Forester more efficient, but it hasn't been terribly successful.
Subaru maintains that the Forester can drive in pure-electric mode alone at up to 25mph but there's no setting that forces it to use battery power only, and we struggled to do more than brief moments around town in electric mode. As such, we managed some 33mpg in a mix of motorway and town driving, while a bit of off-roading saw that drop quickly to under 30mpg.
CO2 emissions
The Forester hybrid's CO2 emissions of 154g/km are just as underwhelming as its fuel economy, given that the Toyota RAV4 (which uses a similar 'self-charging' full-hybrid system) emits between 102 and 105g/km, and plenty of diesel-engined alternatives sneak under the 130g/km mark.