Nissan Leaf NISMO RC test drive
We get behind the wheel of Nissan's electric racing car, which features technology that could make it to future roadgoing models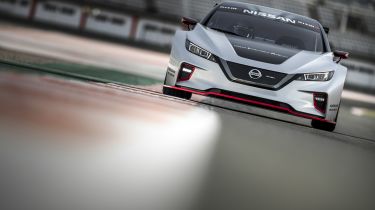 "Racing improves the breed" – so said Soichiro Honda about the link between motorsport projects and the ordinary road cars that people drive away from dealerships. Honda's fellow Japanese brand Nissan is now applying that philosophy to electric cars with this Leaf RC from its NISMO racing division.
This is actually the second Leaf RC – an earlier version, based on the first-generation Leaf, appeared in 2011 – and as you'd expect boasts more impressive specs and stats than its predecessor. It has two batteries and two electric motors, delivering a Tesla-like 0-62mph time of 3.4 seconds a top speed of 138mph. Each motor puts out 161bhp, for a total output of 322bhp, with one turning the front axle and the other the rear.
While the roadgoing Leaf is characterised by its silence, the single-speed racing gearbox employed here means the Leaf RC emits an earsplitting whine at almost any speed, but it's an appropriately dramatic noise for such a potent machine.
Although it features Leaf Mk2 styling cues on the outside, underneath this is a pure racing car, with a carbonfibre tub in the centre and subframes made of the same lightweight yet strong material at either end. Despite that, the presence of the batteries and motors sees the Leaf RC tip the scales at a little more than 1,200kg, which is on the heavy side for a race car.
Our test run in the Leaf RC was unfortunately blighted by heavy rain at the Circuit Ricardo Tormo in Valencia, Spain (best known as a venue for MotoGP bike racing and F1 testing), which meant we were restricted to the least potent 'Map 4' setting for the drivetrain.
All the same, the car felt extremely responsive on track, even though we were 107bhp down on the peak possible power output. The RC has no traction control and no anti-lock brakes, so it's down to the driver to keep everything under control and pointing in the right direction. A degree of delicacy is required, then, but it was still clear just how much performance potential this car has.
We'd need more time and a dry track to fully explore the electric Leaf racer's limits, but even our brief and damp encounter was enough to come away confident that applying some of this technology to future Nissan electric road cars will keep driving enthusiasts very happy indeed.
Nissan Leaf NISMO RC
Drivetrain: Twin electric motors, lithium-ion batteryPower/torque: 322bhp/640NmTransmission: Single-spur gear, four-wheel drive0-62mph: 3.4 secondsTop speed: 138mph