Karma GT Pininfarina revealed at Shanghai Motor Show
Pininfarina SpA redesigns next-generation Karma Revero to create range-extender GT coupe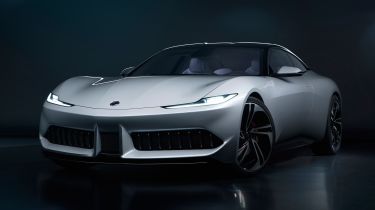 California-based luxury carmaker Karma has revealed its new, electrified GT concept car at the Shanghai Motor Show. The car has been co-created with Italian design house Pininfarina SpA.
The two-door GT concept is based on Karma's range-extender, dual-electric-motor Revero saloon, with fresh styling provided by the sister brand of Automobili Pininfarina, whose Battista electric hypercar was revealed last month.
Pininfarina SpA has introduced a cleaner, more aggressive nose to the Karma GT, with reworked LED headlights, two fewer doors, a pinched waistline and a redesigned rear.
Inside, the steering wheel has been retrimmed, with white, quilted upholstery lining the seats. The dashboard is nearly identical to that of the Revero, featuring the same infotainment screen and digital instrument display.
Performance figures for the Karma GT concept haven't been disclosed, although it's expected to use the same system as the next-generation Revero, also being revealed in Shanghai ahead of going on sale later this year.
The current Revero produces 398bhp with a range of around 300 miles from its petrol generator and 21kWh battery, with the latter good for around 50 miles on a single charge on its own.
Karma says its partnership with Pininfarina SpA – announced in January – will play a big part in its plans for the future. It's aiming to launch several new models over the next couple of years, in a bid to compete with Tesla and Chinese company NIO.
"Karma is united in spirit with Pininfarina through our shared commitment to stunning design," said Karma CEO Dr Lance Zhou last month. "We are excited about the reaction we anticipate the end result of our partnership will generate."
Along with the next-generation Karma Revero, the company has revealed its SC1 Vision Concept, a fully-electric roadster which features 5G connectivity, and a control system based on touch, voice commands an eye movements.
The Karma SC1 Vision Concept is designed to showcase the company's "future direction" based on battery-electric vehicle offerings.
We've had a ride in the new electric MG Cyberster and it's NOT what we first thought…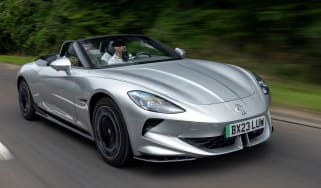 We've had a ride in the new electric MG Cyberster and it's NOT what we first thought…
The MG Cyberster is due to go on sale next year with up to 536bhp and scissor doors – and we've already had a ride in it
Has the UK given up on EVs? New government 'Plan for Drivers' says no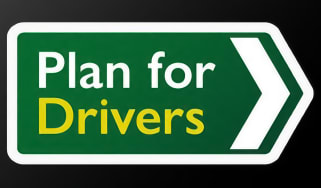 Has the UK given up on EVs? New government 'Plan for Drivers' says no
UK government has announced a new 30-point manifesto which, in part, focuses on electrifying Britain's roads