Q&A: IONITY CEO Michael Hajesch
We sit down with the CEO of the company planning a Europe-wide network of super-rapid electric car chargers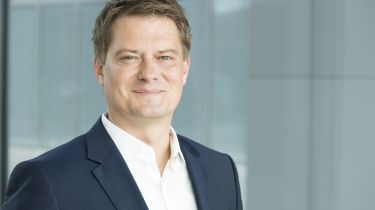 IONITY is already a big name in the electric car industry. It's a joint venture between Daimler, BMW, Ford and VW Group brands Audi and Porsche to create a super-rapid network of 350kW charging stations across Europe – some three times faster than the Tesla Supercharger network. DrivingElectric associate editor Vicky Parrott sat down with company CEO, Michael Hajesch, at the recent Geneva Motor Show to talk through what looks set to be a transformative infrastructure for long-distance electric motoring.
How many chargers does IONITY have in action now, and how many does it plan to install?
"Today, we have 58 live right, and about 50 in construction across nine countries. In 2020, we will finish the 400 that we've been aiming for, and of course there are four to six chargers at each IONITY charging station."
How many chargers do you expect to install in the UK, and will they be only on the motorways – are there also destination chargers?
"In the UK specifically, we aim to have 46 stations by 2020 – the first is actually in Maidstone. The motorways are the focus. We aim to make long-distance electric driving possible, so we want to offer charging directly on the highway, which is also why we're partnering with a lot of huge companies across Europe to get the premium locations."
Currently, all your chargers cost £8 per charge, but is that an introductory price and will it change to a metered fee?
"Yes, it is. We can't say if it'll change in a month, or a year, but when the network is established then we will re-evaluate. It'll definitely switch to pricing per kilowatt-hour. In some countries, it's already a regulatory part of the pricing to display kWh on the time and pricing, and then there's the question that in some regions you pay per minute, or per kWh, so I think to make it simple it's best to stick with kWh. The market isn't fully established – it's just the beginning of electric cars, so we want to make it as simple as possible right now."
Can you pay without registering – just tap and go with a contactless card?
"No, not yet. You must use the IONITY white-label app, but we are working on a plug-and-charge system. For now, you just register via the app, type in your credentials and pay for it."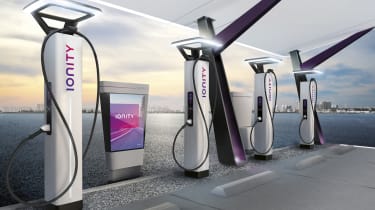 Are there any safety concerns with such high-power charging?
"No. Before we are able to install it, it has to be certified to EU standards, and tested very intensively with vehicles, with charge cards, with every possible situation. Safety is not a problem."
Currently, it seems that most electric cars can charge at speeds of 100–150kW, if that. How far off is a production car that will charge at 350kW?
"I think the Porsche Taycan is the first one coming close to 350kW. We've seen a couple being tested on the network, which our engineers got very excited about. It's really about future-proofing, as that's the fastest charge you should ever need – the IONITY stations automatically charge at the fastest speed your car is capable of."
What about wireless charging? 
"No, not for us for now. That's something for slower chargers of up to 7kW, or maybe 11kW, yes, but we are all about enabling onward journeys with up to 350kW and wireless technology is miles and miles off of that. We're all about rolling out those first 400 chargers for now, and then potentially the next 400 after that."
You say on your site that your chargers function by using 'industrially robust electronics' to convert AC power to DC. Can you elaborate on that – how does the technology work?
"You come from the transmission network with AC and then you have to convert to DC – the converter is in the system, while on our side is the transmission grid. We put in the transformer station and make sure that we have enough power – typically 1.2mW, and then the electronics transfers everything. The technology isn't patented – we're not a manufacturer or OEM yet. We're really responsible for doing planning and construction with partners and setting it up for the end customer."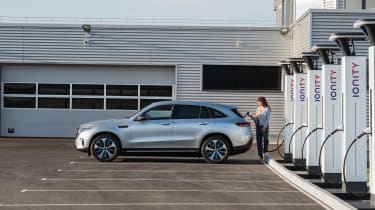 You say you're not a manufacturer yet? Are there plans to change that?
"Let's see what the strategy might bring... The core mission from the shareholders is to make it [rapid charging] available across Europe. The worst thing you can have is the customer stranded at a non-functional charger."
Do you think Brexit is going to affect your plans in the UK?
"Hopefully not. Nobody knows what's really coming, of course, but we are really prepared – we're ready to roll out stations continuously in the UK. Everything else… Let's see!"
Do you have a charging etiquette for the IONITY stations that you plan to impose? A maximum charge time, or some way of telling other users waiting for the charger when one might become available?
"We are thinking of methods and features that deal with some kind of blocking fee or charging, but since we're starting off with four to six points per station, we don't think it's going to be a problem initially."
Are there any other manufacturers coming on board? Daimler already has a functioning relationship with Tesla, for instance – could there be a tie-up with Tesla?
"Tesla are definitely frontrunners, and we're happy to see the Model 3 charging at all stations, and CCS converters for the other models, but as to a tie-up, I think IONITY is too small and too dedicated given that we act really as a company to implement the charging network. You would have to ask our shareholders instead of us, really!"  
BMW i4 facelift to topple Tesla with huge range and tech upgrades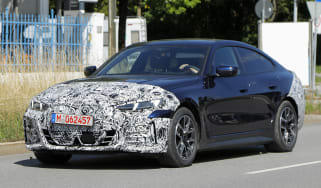 BMW i4 facelift to topple Tesla with huge range and tech upgrades
An updated version of the BMW i4 has been spotted testing, likely sporting a longer range and the latest technology
We've had a ride in the new electric MG Cyberster and it's NOT what we first thought…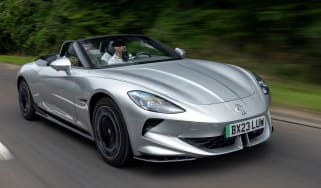 We've had a ride in the new electric MG Cyberster and it's NOT what we first thought…
The MG Cyberster is due to go on sale next year with up to 536bhp and scissor doors – and we've already had a ride in it