Electric Swind E Classic Mini launched with £79,000 price tag
Limited-edition electric classic Mini goes on sale with 125-mile range and starting price of £79,000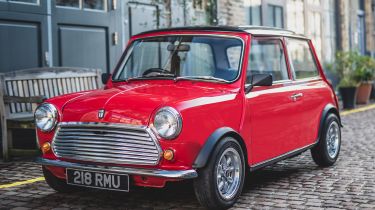 British automotive firm Swind has revealed the first ever classic Mini production car with an electric powertrain at the London Classic Car Show.
Dubbed the Swind E Classic Mini, the limited-edition car combines a fully restored body with a "bespoke" electric powertrain developed at the firm's base in Wiltshire.
Swind's electric motor - developed in-house by parent company Sindon Powertrain - produces 110bhp, and is capable of 0-62mph in 9.2 seconds en route to a top speed of 80mph.
It features a 24kWh lithium-ion battery, which translates into a range of around 125 miles with help from a regenerative braking system. The car can be charged fully in as little as four hours with a Type 2 adapter, and the company says a fast-charging option is available too.
Only 100 units of the Swind E Classic Mini will be built - available in both right- and left-hand drive - and the exclusive production run comes with an equally exclusive starting price of £79,000.
Alloy wheels, leather upholstery, heated seats and underfloor heating come as standard, while an infotainment system, Apple CarPlay, Android Auto, air conditioning and central locking are among the optional extras. Bespoke design features are also available upon request.
"This is the first time an electrified classic Mini has entered production," said Swindon Powertrain's managing director Raphael Caillé. ""There have been one-offs and prototypes before, but Swind is the first company to launch such a car to the public.
"Its compact size and good visibility, together with contemporary performance and handling, makes it a car you'll want to drive in the city and put a smile on your face."
The Swind E Classic Mini maintains the same proportions as the original car, but changes to the powertrain increase the weight to 720kg, with boot size rising to 200 litres thanks to the omission of the fuel tank.
Swind claims improved weight distribution, and  "an individual, nippy, zero-emissions city car with character."
A prototype completed over 10,000 miles of real-world testing, with "thousands of hours" of virtual simulations run on the powertrain. Improved corrosion protection is offered along with new brake and suspension parts.
MINI Cooper Electric: pricing and specs for British-built electric supermini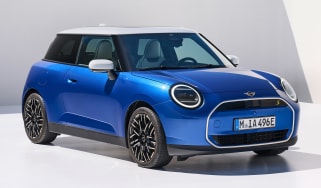 MINI Cooper Electric: pricing and specs for British-built electric supermini
MINI's latest electric hatchback introduces a revolutionary interior design, as well as larger batteries to provide a 250-mile range
Tesla Cybertruck: pricing and specs for Elon Musk's electric pickup truck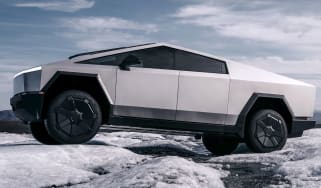 Tesla Cybertruck: pricing and specs for Elon Musk's electric pickup truck
The Tesla pickup truck is now on sale, with a range of up to 340 miles and a starting price of just over $60,000
Electric Renault 5: prices, 2024 launch date and teaser images of the MINI Cooper rival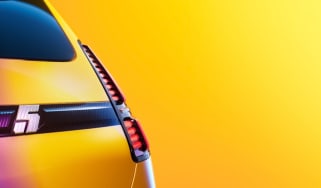 Electric Renault 5: prices, 2024 launch date and teaser images of the MINI Cooper rival
New official teaser pictures for Renault's electric supermini confirm the 5's reveal in February 2024