Byton M-Byte: details, specs, prices and prototype review
The Chinese-built Byton M-Byte electric SUV is set to arrive in Europe in 2021, offering up to 286 miles of range
Byton – a new Chinese electric car company – revealed the M-Byte SUV at the Frankfurt Motor Show in 2019. The company's first production car is 4,875mm long, so it's bigger than a Jaguar I-Pace but smaller than an Audi e-tron.
Deliveries in China will start by the middle of 2020 and Byton hopes to start taking pre-orders from European customers this year, too, with sales expected to follow in 2021.
Prices haven't been confirmed, although entry-level right-hand-drive versions of the M-Byte could cost from around £40,000 before taxes or government grants have been taken into account.
Based in Nanjing, China, Byton also has offices in Munich, Germany, and Santa Clara, USA. Its second production car – the Byton K-Byte – is also due to arrive in 2021, using the same platform as the M-Byte.
Byton M-Byte performance
The M-Byte will come with a choice of rear or four-wheel drive, with power outputs of 268 and 402bhp respectively. Acceleration figures claim the rear-drive M-Byte can hit 62mph from rest in 7.5 seconds while the four-wheel-drive version can do the same in around 5.5 seconds. The top speed for both is 118mph.
There are three versions to choose from. The entry-level model is a rear-drive model with a 71kWh battery, which should have a driving range of 224 miles on a full charge. There's also a 95kWh version of the same model, which increases the range to 286 miles. Finally, there's a four-wheel-drive version with the 95kWh battery.
Back in 2019, the SUV concluded a cold-weather testing programme in Inner Mongolia, China: prototypes covered thousands of miles, encountering temperatures as low as minus 30 degrees Celsius. Engineers worked to ensure the battery, electric motor and other components are reliable in extreme conditions.
Interior and technology
Inside, as previewed on the concept car first shown at the 2018 Consumer Electronics Show, the highlight is a 48-inch curved screen that replaces the fascia. This is officially called a 'Shared Experience Display' (SED) and is expected to allow gesture and voice control.
Byton claims it's the world's largest in-car display for a production model. The company demonstrated a system at CES; it allows drivers to control an on-screen cursor using hand motions, with commands executed by snapping fingers. Integration of Amazon Alexa has also been mooted. The SED display doesn't have touchscreen functionality, but there's a touch pad as well as seven-inch screen in the steering wheel to control it if you don't want to use gesture control.
Byton describes the M-Byte as a 'Smart Intuitive Vehicle', or SIV. One of the many proposed technologies is facial recognition, which could be deployed in place of the conventional key to lock and unlock the M-Byte. Byton drivers will have access to Byton Life, which is described as an "open digital ecosystem" that connects applications, data, and smart devices.
It has machine-learning capabilities that analyse the user's schedule, location, preferences, and application data to provide functions such as scheduling reminders, online shopping tasks and remote charging management. It can also recognise voices of different users and sounds from different directions in the car.
Various autonomous driving features are expected when the M-Byte goes on sale, with the company promising further over-the-air upgrades to expand the car's abilities at a later stage.
On a more practical note, Byton says the M-Byte will be made available as a four- or five-seater, with boot space amounting to 550 litres. With the rear seats folded down, luggage capacity is expected to rise to 1,450 litres.
Prototype drive
Several new electric cars are set to be launched over the next couple of years, but Byton's approach stands out from the rest: the firm has secured investment from around the world, and while the M-Byte will be built at its plant in China, the project is underpinned by European engineering and management.
Two years on from the reveal of the M-Byte concept, Byton brought a prototype model – only the second car to emerge from the production line – to the 2020 Consumer Electronics Show, and our sister title Auto Express was granted the chance to take it for a short drive in a Las Vegas car park.
Oddly, the headline feature isn't how it drives, but rather that enormous 48-inch, 4K OLED display that spans the width of the dashboard. The company is banking on a younger generation that's more interested in digital connectivity than analogue enjoyment, and so the focus is on making the former as immersive as possible.
That's not to say that the M-Byte is slow. The rear-wheel-drive prototype driven in this instance doesn't have the same immediate 'punch' as many other electric cars, but that's due to throttle modulation rather than a lack of power. Acceleration is more linear in the M-Byte, yet the driving experience is no poorer as a result.
More striking is the ride: there's no complex air suspension here, just springs and dampers to deliver smooth cruising ability. Byton wants the car to be comfortable, and it is: body lean is suppressed well in corners, and in a straight line it does a great job of isolating bumps in the road from the sanctuary of the cabin. UK roads will provide a greater challenge, however.
Refinement is an area that Byton is particularly proud of: this prototype features the sound insulation package that will be used for the production car, and it mutes the whine from the electric motor extremely well. All-wheel-drive M-Bytes may be a little noisier with a second motor in close proximity to the driver, but this is an impressive showing all the same.
The brakes are still being worked on, but already the transition between physical braking and regenerative braking is very smooth. The production model will offer different levels of energy recuperation, including a 'single-pedal' driving mode similar to the e-Pedal function available on the Nissan Leaf.
If there's one area that needs work it's the steering, which feels slow and heavy around the Vegas parking lot. Hopefully Byton's engineers will have made progress here by the time production begins.
Inside, the 48-inch screen is a thing of wonder. A collaboration with Garmin allows fitness fanatics to view their exercise data, while a meditation mode will display soothing images over calming music. Virtual, multi-screen meetings are possible thanks to passenger-facing webcams, and a computer game can be played using the pad on the steering wheel.
The M-Byte will be able to play movies while stationary, although quite how they'll be adapted for the ultra-wide screen remains to be seen. In any case, there'll be plenty of entertainment to pass any time spent waiting at charging stations.
The big success of the screen is that it's not a distraction on the move: contrary to fears that have persisted since the launch of the concept car, the positioning of the unit means it's out of your eyeline when you're focusing on the road ahead. With the screen switching from day to night mode, it's not hard to imagine it being even less of a draw for the eyes on the move.
Separate from the 48-inch display, there are two other touchscreens: one in the middle of the steering wheel and another between the front seats. The user interface for these will have a big influence on how intuitive the production-ready M-Byte will be to use.
The Byton M-Byte has our attention: how it performs when it arrives on UK soil will be fascinating.
Model: Byton M-Byte RWD 72kWhPrice: £35,000 (est.)Engine: 72kWh battery, single electric motorPower: 268bhpTransmission: Single-speed auto, rear-wheel drive0-62mph: 7.5 secondsTop speed: 118mphRange: 260 miles (est)CO2: 0g/kmOn sale: Early 2022
Where can I buy hydrogen and where is my nearest hydrogen filling station?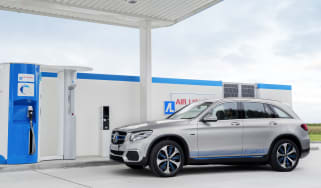 Where can I buy hydrogen and where is my nearest hydrogen filling station?
A guide to where you can find UK hydrogen fuel stations for filling up a hydrogen fuel-cell car
Why owners love the Mitsubishi Outlander PHEV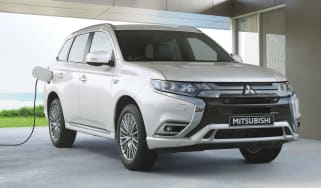 Why owners love the Mitsubishi Outlander PHEV
Thinking of switching to a plug-in hybrid? Plenty of owners we surveyed can vouch for the Mitsubishi Outlander PHEV
Complete guide to Pod Point home chargers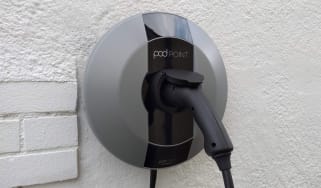 Complete guide to Pod Point home chargers
Find out all you need to know about the Pod Point Solo home wallbox charger for electric cars