BMW i7 Protection is a bulletproof EV for dignitaries
BMW has made an armoured version of its i7 luxury saloon which is said to be able to withstand armour-piercing bullets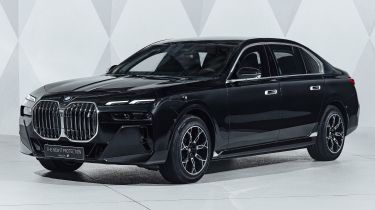 Whether you're a dignitary, a rich business owner or just someone that's been cancelled on social media, you're probably after a car that's a little more… shall we say, 'substantial' than most. Well, BMW has you covered as it's just unveiled the new i7 Protection: an armour-plated version of the brand's flagship electric luxury saloon.
The BMW i7 Protection looks very much like an ordinary i7 from the outside, although it can be specified with emergency lights and flag poles for when the car is in use on official governmental duties. The i7 Protection also boasts a specialised set of PAX tyres which are designed to work at speeds of up to 50mph even when deflated.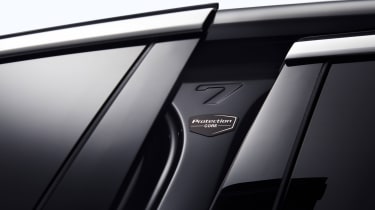 Perhaps more impressive is the surplus of armour plating; the BMW i7 Protection lives up to its name thanks to a bespoke steel body which is partnered with a set of armoured doors, safety glass and a reinforced underbody. This results in the i7 Protection being given a VR9 certification, which means it's capable of withstanding armour-piercing rounds – perfect if an argument over a parking space gets a bit heated.
That's not all, as the armoured i7 is also PAS 300-rated for resistance to explosive attacks – including from drones and hand grenades. Inevitably wealthy buyers of the i7 Protection also have the option of specifying a clean air supply – in case of a chemical attack – as well as a fire extinguishing system.
On the inside, i7 Protection owners are not only separated from the rest of the world by the wealth gap; the extra-thick passenger doors are motorised so those that are being pampered by the rear massage seats needn't move a muscle. The side window blinds are also electrified and come equipped with a 'spy function' in order to allow you to take a peek at the peasantry lining the streets outside. A standard-fit intercom enables you to speak to them, too.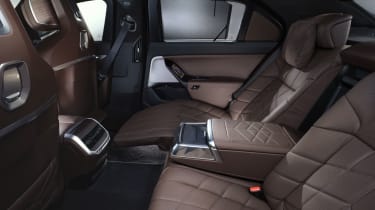 Of course, all this extra gear does take its toll on the standard i7's impressive 388-mile range; BMW claims a range of around 210 miles on a single charge, although this is likely to fall dramatically in the scenario of a high-speed car chase.
It might be quite difficult to escape, though, as despite packing a mighty 537bhp dual-motor powertrain, the i7 Protection takes a lethargic nine seconds to reach 62mph – no doubt a result of having to haul around a mountain of steel armour plating, along with the rear passenger's ego. Thankfully, four-wheel steering should at least benefit the beastly BMW's agility around tight city streets.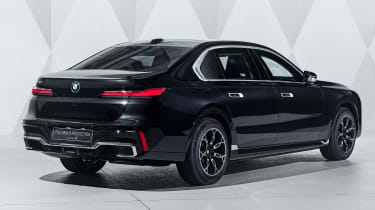 BMW is keeping its cards close to its chest regarding how much the i7 Protection will cost; each model will be bespoke to the buyer and while pricing is certain to vary wildly, we expect the Protection to cost significantly more than the £113,970 base price of the regular i7. First deliveries are expected to arrive in December of this year.
Top 10 longest range electric cars 2023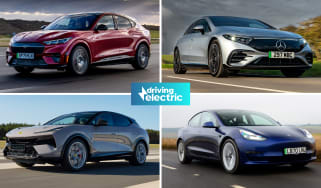 Top 10 longest range electric cars 2023
Top 10 best luxury electric cars 2023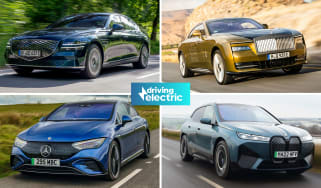 Top 10 best luxury electric cars 2023
BMW i4 facelift to topple Tesla with huge range and tech upgrades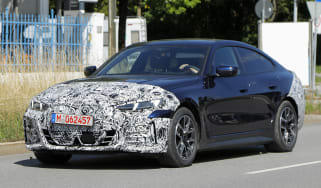 BMW i4 facelift to topple Tesla with huge range and tech upgrades
An updated version of the BMW i4 has been spotted testing, likely sporting a longer range and the latest technology
Electric BMW iX2 is set to take the kidney grille to the next level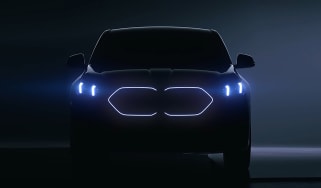 Electric BMW iX2 is set to take the kidney grille to the next level
BMW has teased the highly-rumoured iX2 coupe-SUV, which has been revealed to get enlarged illuminated kidney grilles