Canoo to launch new electric pick-up in 2023
US-based electric car company Canoo has announced a distinctive-looking electric pick-up truck for 2023
A fledgling US-based electric car company has announced a new all-electric pick-up with a distinctive bubble-like shape. Canoo is a California company that aims to break into the electric car market with a set of electric vehicles including this new pick-up, a delivery van and a people carrier.
The pick-up aims to tap into the huge US market for this kind of vehicle. It has a distinctive rounded shape with a large glass area at the front, and is planned to be built in the US for a launch in 2023.
The Canoo truck will have a 200-mile range (though confusingly, the company stated that by the time the truck launches, it will have a 300-mile range) and its electric powertrain will produce around 600bhp, using the same tech as the other vehicles in the company's stable. It uses a 'skateboard' platform that can have any kind of body shape added to make a new vehicle.
The truck is compact, at around 4,674mm long, but the load bay is extendable up to 2438mm, so it can compete with larger trucks for carrying capacity. Folding sections around the truck aim to make the most of the space it has, such as steps at the sides of the load bay and hidden storage areas.
The truck is a two-seater and the interior has a futuristic design with a rectangular steering wheel and the instruments set forward into the cab's domed frontal area.
The Canoo truck will be a rival for the Rivian R1T and potentially the Tesla Cybertruck when it launches in 2023, though it's unlikely to come to the UK.
Vauxhall Frontera to arrive as Crossland EV replacement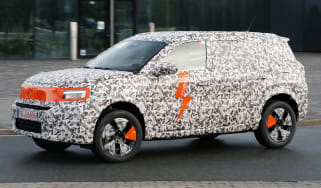 Vauxhall Frontera to arrive as Crossland EV replacement
The Vauxhall Mokka Electric will soon be joined by a chunkier, yet cheaper sibling that's set to revive a classic nameplate
New electric cars coming in 2023 and beyond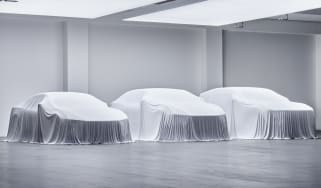 New electric cars coming in 2023 and beyond
With electric cars making up an ever-increasing proportion of sales, the industry is working flat out to launch new models – here's what's on the way …
Formula E-inspired Nissan Concept 20-23 previews hot electric Micra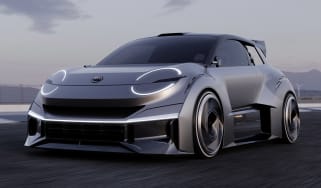 Formula E-inspired Nissan Concept 20-23 previews hot electric Micra
Nissan's latest concept car comes in the form of a high-performance version of its upcoming city EV